"We should have been setting a rigid backup schedule", – that's the thought that eventually comes into IT-department minds after a disaster strikes. Below we shared thoughts and advice for a small business backup schedule, that would not let such drama occur.
What Is The Typical Backup Schedule for SMBs?
There is no one backup schedule to rule them all. However, there is a correct approach to scheduling.
Protect mission-critical data
Find pain-points for your infrastructure. Do you have a domain controller and on-prem Active Directory? If they fail, none of the users will be able to log on to their machines. List these pain-points and protect them.
Protect mission-critical databases and files. Create backups of all operational files, databases, and applications on local and off-site data storage.
Create several versions for mission-critical data. If the latest version is corrupted - you can revert to the previous one. You will lose some data, but not all of it.
Check the frequency for changes in data. The financial report can be changed once a month. An SQL database - once every 10 minutes. Create different backup plans for different data-sets and use the needed frequency.
Balance the Bandwidth Usage
Don't schedule backups of big datasets at working hours. Users won't be happy and your dataset won't be uploaded in time.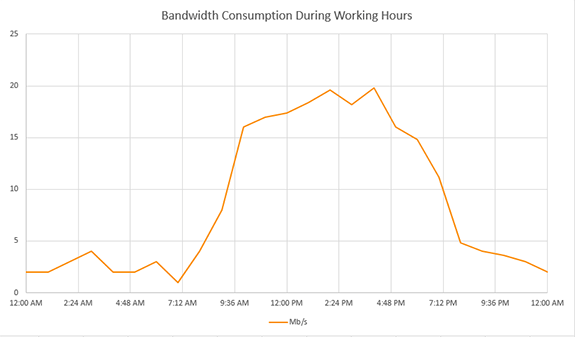 Typically, incremental backups of user files can be performed during the day-time. It's, however, advisable to set maximum speed caps for your backups. With that, your backup software won't max out the bandwidth.
Run daily full backups at night, weekly during weekdays.

Plan Goes First
Plan everything in regards to your backups, document that plan and after that start the backup procedures. There may be many types of data, users for that data, databases, and premises that need to be backed up. If you don't have a plan, but have a dozen scheduled backups there are chances that you will eventually forget about any of those.
Use the Right Tools
Everything that is mentioned earlier in the article is the basis for your data safety. With the right planning should go the right tools. We've developed MSP360 Backup to be as flexible as possible regarding backups scheduling and retention.
The backup scheduler comes as a step of a backup plan wizard and is also available when you editing previous backup plans.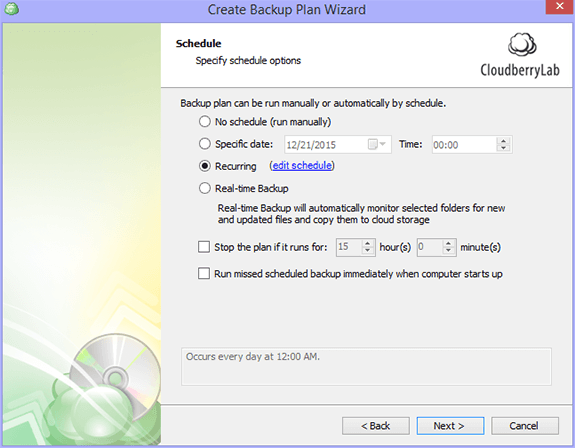 In addition to basic schedule settings, you can also configure recurring backup jobs, which is a perfect solution for the small business or startup environment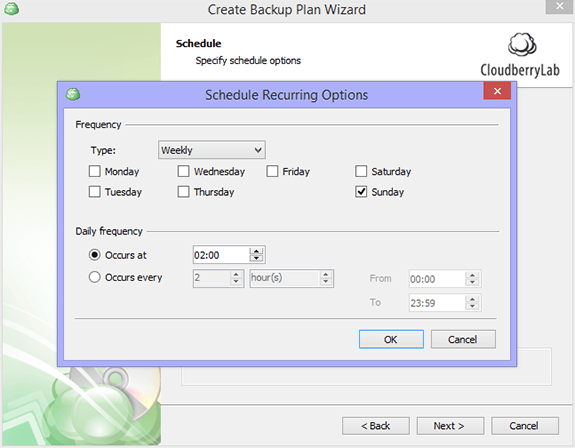 By setting regular full backups and the set of incremental backups that occur during the working week, companies can successfully restore the data after any major disasters, user mistakes or server crashes.
A Few Tips on the Small Business Backup Schedule
The backup schedule won't guarantee you the protection. Here are some more tips that will help you to improve your backup strategy.
Always do a consistency check of the backup that has recently been made to ensure it went without errors and can be restored. MSP360 Backup has a "Consistency Check" feature to help you to evaluate the storage capacity and compare the MD5 hash of files in and outside storage
Perform DR-drills (disaster recovery) by emulating a disaster and restoring your data. This would help to ensure all system works perfectly and your recovery point objective (RPO) and recovery time objective (RTO) are satisfying for your business needs
Make at least three backup copies: two for your local storage devices and third for the off-site storage like Amazon S3, for example.
List all your servers and write down the exact location of each, so the team сould consult it in case of disaster.
Create checklists and Action Plans for recovery in each possible disaster, this would help you concentrate on the process, not discussions.
Write down the phone numbers of each IT-equipment supplier you have. Make sure your notes wouldn't be hit by a disaster, e.g. paper and magnetic tapes are better to be stored in a fire- and waterproof safe.
Further reading Backup Best Practices for MSPs
Conclusion
The best backup schedule for a small business depends on your niche, acceptable RPO and RTO, the number of servers and the data type. Summarizing all points above we can extrapolate a few basic rules:
Base your efforts on research and rigid logic
Document plans rather  than memorize
Use tools to schedule backup plans and control consistency
Keep that in mind, when planning a backup strategy for a small business, and your data will always be safe.