The ever-expanding role of data in every facet of our lives has made it increasingly important to plan for the possibility that something might go wrong. And given the various threats to data, chances are it probably will. That's why you should be prepared all the time.
This article provides an easy five-step backup security measures plan.
1. Encrypt Data and Control the Encryption Keys
Without proper encryption, your sensitive files might find their way into the wrong hands, leading to disasters like identity theft. That's why you should create backup copies of all files and encrypt the ones containing vital information.
Data encryption protects your digital data confidentiality while it is transmitted online or through computer networks, or stored on a particular system. No wonder modern encryption algorithms are a crucial aspect of IT systems security and communications.
These algorithms offer confidentiality and drive primary security initiatives, such as integrity, non-repudiation, and authentication.
Integrity serves as proof that the contents of a message remain unchanged since it was sent while authentication permits you to verify the origin of the message. Moreover, non-repudiation makes it so the sender of the message cannot deny sending it.
Moreover, you should manage the encryption keys to add another layer of privacy and security to your data. Chances are different, incompatible encryption tools may be used to secure your data, leading to numerous encryption keys. You must securely store, protect, and retrieve each of them.
You could resort to a hub-and-spoke architecture for distributed key management that permits decryption and encryption nodes to exist simultaneously in the network. You can easily deploy spoke key-management components to these nodes for integration with local encryption applications.
After activating all the spoke components, every decryption and encryption activity of the formerly clear text data is locally performed to reduce the risk of a single or network component failure having a widespread impact on the overall state of your data security.
FREE WHITEPAPER
Full System Backup and Recovery
Check out our guide to backing up Windows computers, both desktops, and servers: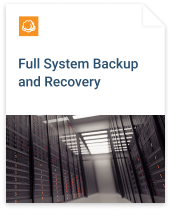 Control the Keys to the Storage
As far as storage of the data backups is concerned, the debate involving cloud storage and on-premises storage still wages on. So, you should consider the pros and cons of each, and make a poignant decision.
One major difference between cloud storage and on-premises storage is the financial aspect. The former are considered operational expenses (OpEx) since they are rented monthly. The latter, however, are capital expenses (CapEx) since they are usually purchased once.
Take a look at the highlights of on-premises storage:
Storage resources are dedicated to the company.
High-cost investment.
Storage resources are procured, owned and handled by the enterprise.
Enterprise secures the storage data and resources.
The features of cloud storage include:
Third-party ownership and management of storage resources.
Storage resources can be purchased pre-paid or on a pay-as-you-go basis.
Software gets updated as part of the active subscription.
Storage resources are often shared in a multi-tenant environment.
No need for IT to install patches and updates.
Don't Let Users In
Introduce users to the importance of backup security measures, rules, and responsibilities. Let them know how secure data backups are necessary for data protection, including personal.
You can go one step further and execute special social engineering attacks to scrutinize user awareness and identify possible security breaches.
Deny any permissions that may be requested to enter the backup site for gathering files. Why? Because backup is not the same as file sharing. Remember, the more people have access to your backup data, the more it is likely that you might be compromised. So, try to limit user access to the bare minimum.
If required, users can search for or browse the metadata information associated with files since it is gathered and stored in the backup index.
Allow your users to browse and search all the data backup up from common resources like file servers and shared laptops, but turn down access requests. You may even restrict end-user access to common resources by turning on the access control on the client data.
Once it is enabled, the access control lists for the data are added to the backup, so users can only access files and folders they have access permissions to. Other folders and files for which the user lacks permission will be filtered and hidden during Browse, Find, Delete, and Restore Data operations.
Create a New User for Backups Instead of Using "Admin"
To implement backup security measures and software on your system, you must operate it under a specific user in the Operating System. In some cases, the software will lack the right to make backup copies of files and folders.
You might be tempted to make the problem go away by giving domain or local admin but this is one of the biggest security mistakes you can make.
The right solution to this backup hurdle involves creating a separate user. When backing up your data to a network share or NAS, provide the necessary permissions to the given user.
Opt for a 3-2-1 Backup Method
Another item on the backup security measures list is the '3-2-1 backup' rule implementation. According to this process, you should make a minimum of three copies of your data. Thus, apart from your live data, you'll have two other copies. This method is meant to mitigate failures on both the backup device and the main device.
One of the most common 3-2-1 approaches is disk-to-disk-to-tape. So, you'll have hard disks on your server storing live data while the hard disks on your backup server will the initial location for backing up live data.
The third step involves connecting a tape drive to your backup server once the initial backup gets copied to the tape. If required, you can replace the tape with another backup media of your choice.
Ideally, you should always store backups on a minimum of two separate media. This reduces the possibility that a device failure may affect data recoverability.
The failure of disks on a particular server may often signal the increased chances of disk failure in a different server. However, when you use different media like cloud storage or tape, the risk gets reduced greatly.
You must store one of the backups in an offsite location. Make it a point to store one backup in a physically different location to protect against environmental disasters, such as floods and fires.
You can easily do this by physically taking your tapes to another secure area post backup, or by using cloud storage services.
You should adopt 3-2-1 backup if you want at least one of the copies of your data to survive in case of a major incident.
Think Ahead
Smartphones break. Laptops crash. The dreaded "blue screen of death" makes an unwelcome appearance – these are just a few of the reasons why it's necessary to keep backup copies of your data. Of course, you might not lose all your data in the event of a disaster, but it's never a bad idea to take precautionary measures.