Cyber-threats were at an all-time high in 2022, with ransomware attacks in many cases leading the way in terms of both number of attacks and impact. Attacks in 2021 grabbed headlines, with incidents at Colonial Pipeline, Kaseya, JBS Foods, and countless other businesses. Those attacks continued throughout 2022, impacting state and local governments, schools, hospitals, and more.
Unfortunately for businesses today, these trends show no sign of slowing down anytime soon as we enter 2023. Attackers continue to innovate, with ransomware gangs changing their tactics frequently to keep up with the latest threat intelligence platforms that can root them out before they are able to get their payout.
Further reading Top 5 Common Cybersecurity Attacks MSPs Should Know in 2022
The good news is that the good guys are also seeing their innovation increase. As attackers pivot to new tactics, so too are emerging technologies designed to protect data proactively and combat ransomware attacks. The result is an innovative cat-and-mouse game, with each side seeking to out-innovate the other, to the detriment or benefit of businesses and individuals around the world.
Managed services providers (MSPs) can be pivotal in helping customers who lack the necessary expertise or time to internally navigate this complex threat and innovation landscape as trusted advisors. This includes both increasing defenses and responding in the unfortunate event that an incident does occur, as well as keeping pace with the most-recent innovations to help respond to the latest tactics and threats.
Further reading How Are You Talking to Customers About Ransomware?
To facilitate this support, MSPs will need to first ensure they are educating themselves on both the innovations happening on the offensive hacker side, as well as the defensive technology to prevent those attacks. This may include reading the news and threat reports for recent attacks, as well as keeping up to date with newly available technology from existing vendor partners and emerging startups. This will allow them to support their customers with the latest innovations and guide them with regard to which of those technologies make sense for their environment and budget.
Further reading One Ransomware Gang Down, More to Go: Now Is Not the Time to Be Complacent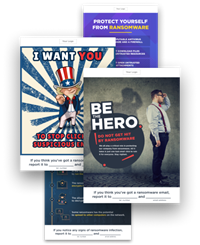 Several advanced cybersecurity categories have seen innovations in defense that an MSP can look to implement. One example is deep learning technology, which market analysts expect to grow exponentially in the coming year. Deep learning can be used, among other things, to learn behaviors of attackers and identify signs of a potential attack in progress. Another example is automation, which MSPs can leverage to respond more quickly in the event of an attack underway — when just seconds matter. MSPs can also use automation to implement defenses more quickly and efficiently at scale, instead of teams manually updating devices one by one across the environment.
Further reading 3 Reasons Why You Should Reconsider Your Endpoint Protection
Of course, in addition to these advanced technologies, MSPs will also want to ensure that their customers have the cybersecurity basics in place to prevent a ransomware attack. These best practices can include patching known vulnerabilities, implementing multi-factor authentication, educating teams on how to spot potential phishing attacks, and more. In many cases, ensuring basic cybersecurity hygiene is just as effective as the latest innovations, if not more so.
As cyber-threats continue to rise, MSPs can play an important and essential role in helping customers mitigate these attacks or respond quickly if one does occur. What's more, MSPs that raise their cybersecurity technology and services capabilities are significantly more marketable to new customers looking for an organization to help them solve their technology pain points (which likely includes mitigating cybersecurity risk). In this way, they can genuinely prove their value as a trusted advisor to customers and continue growing a thriving business base for many years.