As an MSP, you know that remote monitoring and management (RMM) tools will make your life easier by allowing you to oversee and manage devices from a remote location.
But which devices, exactly, should you be managing with RMM solutions? You can't manage all devices all the time using RMM; it's important not to try to apply RMM to situations where it's not a good solution. At the same time, there may be uses for RMM tools that you are overlooking.
To help you make the most of RMM, here's an overview of the key types of IT resources you can manage effectively with RMM solutions, and how you can use RMM to interact with each type.
Remote Physical Server Monitoring and Management
Physical servers that you support are an obvious candidate for management through RMM. Instead of traveling to each data center that you need to manage, you can use RMM tools to access servers remotely.
With RMM, you can monitor and manage:
System and application services: You can make sure that key system processes are running successfully. You can also monitor individual applications, like SQL Server, QuickBooks, or whatever you are supporting.
Backup status: Determine whether the server has a backup routine in place and if it is running successfully.
Hardware health: While you can't monitor all aspects of hardware health remotely, you can collect information such as disk usage and CPU temperature, which provides some insight into the state of your hardware. You can also check how much memory is available, in order to determine whether you need to add RAM or move workloads to servers with more memory.
Patch status: Check whether all available system and application updates have been installed.
Logs: RMM tools will allow you to look at system and application log files. Although you may also use a separate log aggregation tool to collect logs systematically and consolidate them in a central location, RMM comes in handy when you need to view a particular log on a specific server.
Monitoring Virtual Machines
You can use RMM tools to monitor and manage virtual machines as well, although you'll be focusing on somewhat different information than you would with physical machines. With virtual machines, monitoring hardware health is less important, but you should still monitor:
System and application processes: These are just as important within a virtual machine as in a physical one.
Backups: Virtual machines, too, should be backed up. You could do this in multiple ways: you may back up data from directly within the virtual machine by copying it to a remote location, or you may use image-based backup by creating backup images or snapshots of the entire virtual machine.
Memory and disk usage: If the virtual machine is running out of resources, you may need to add more. With virtual machines, you can typically do this simply by assigning more resources to the virtual machine, using your management software.
Be sure, as well, to check the status of the virtualization software that powers your virtual machines. You can do this by monitoring log files for the virtualization platform, as well as checking to ensure that the processes that run your hypervisors and other virtualization tools are working properly.
Workstation Monitoring
RMM tools are highly valuable for monitoring workstations, too. With RMM, you can keep tabs on the following:
CPU, memory, and disk usage: This is just as important on workstations as it is on servers.
Antivirus status: Make sure antivirus software is installed and running.
Licensing status: Check whether all required software licenses are configured and valid.
Updates: Make sure system updates are properly configured and are being installed as required.
Firewall status: Monitor firewall settings to validate that they conform with your organization's policies.
Shutdown problems: Improper shutdown events are recorded in the Windows system log. Monitor for improper shutdowns, which could be an early sign of hardware failure, and could also contribute to disk corruption.
Monitoring Network Hardware
Networking devices may be a less obvious resource to manage with RMM tools, but being able to log into and administer network routers and other devices remotely is an important advantage, especially if you have the widely dispersed network infrastructure to manage.
With RMM tools, you can monitor several facets of your networking equipment's status:
Connectivity: First and foremost, determine whether devices are online.
VPN connectivity: If you are using VPNs, are devices connected to them properly?
CPU and memory usage: Even if you don't run applications on your routers, you should still ensure they have adequate CPU and memory to do their jobs. If they are being maxed out, you may need to add more routers or rebalance network traffic loads.
Temperatures: If routers run too hot, they could fail.
Security events: Check router logs for signs of security issues.
Firmware: If possible, check the firmware versions on the device, and update firmware if it is out of date.
Network Admin Handbook
This eBook provides an overview of how to design an efficient and effective network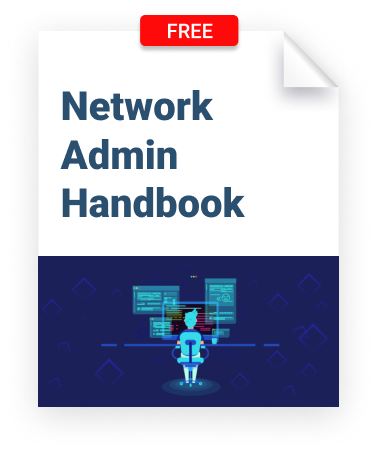 Other Types of RMM Monitoring and Management
Beyond the device-specific management tasks described above, RMM tools are useful for performing various other kinds of management and monitoring:
Backup monitoring: Use RMM tools to check the status of backup operations, and the various devices and storage media that they depend on.
Certificates: Whether certificates are stored on local devices or in the cloud, make sure they are up to date.
Productivity suites: RMM tools can help you check alerts related to the Microsoft Office 365 or G Suite platforms if you support them as an MSP.
SIEM platform: Use RMM to check that your SIEM is running properly if you use a SIEM to help monitor for security events.
Active Directory status: RMM tools are useful for checking the status of domains that you manage with Active Directory, as well as making sure that replication between domain controllers is being performed properly.
Depending on how your systems are configured, the resources described in this section may be located in different places. The advantage of RMM tools is that they will allow you to check and manage those resources no matter where they reside - whether on a local or remote server, in the cloud, or on specialized hardware.
Best Practices for RMM Monitoring
Using RMM tools effectively can be challenging, especially if you are a small MSP or haven't used RMM solutions heavily in the past. Following are some guidelines that can help you ensure you don't use RMM tools in ways that undercut their value:
Don't overdo it: You can't manage every resource on every device with RMM. If you attempt to do this, you will drown in alerts. Focus on using RMM tools to solve your greatest pain points by responding to the most critical alerts and supporting mission-critical systems.
Avoid unnecessary alerts: Along similar lines, disable alerts that relate to insignificant systems. Your goal should be to generate alerts only for critical issues.
Create reports: In addition to using RMM tools to simplify your own workflows, use the data you collect with them to generate reports, which you can share with clients in order to highlight the work you are performing for them. Non-technical, easy-to-read reports that showcase information such as the metrics you monitor and how many issues you have resolved will underline the value you provide to your clients.
Start small and scale up: At first, expect your use of RMM tools to be limited. You can scale up as you learn more about how your chosen RMM solution works, and as you learn to take advantage of automation features built into it.
Further reading RMM Security for MSPs
Conclusion
For most MSPs today, RMM tools are a must-have solution. They allow you to collect a wide range of information and perform a number of management tasks without having to travel to remote sites. In order to get the most value out of RMM, however, it's important to focus on the problems that RMM is best suited to solve and avoid trying to use RMM to fix things that are better handled through more traditional MSP workflows.