With severe weather conditions causing power outages with increased frequency, it makes sense for businesses to take proactive steps to protect their operations. MSPs have an important role to play in this process, since businesses commonly look to their MSPs to help them survive a power outage.
Since power outages can occur at any time to anyone, MSPs should protect their clients' interests by developing a list of procedures and best practices to safeguard their clients' IT architecture and data assets. You should put in place operational procedures that help clients adequately prepare for a power outage.
Let's take a look at what managed service providers (MSPs) can do to help their clients protect their sensitive data and maintain business operations during a power outage.
Have Backups
MSPs should provide data backup and disaster recovery (BDR) solutions to clients to help safeguard valuable business data and prevent data loss during power outages.
Power outages can occur at any time, shutting down software systems and endpoints without warning. In turn, they can cause loss of unsaved business data. Existing files could also be corrupted due to improperly executed shutdown procedures. Likewise, hard disks and other computer hardware can be damaged by a sudden outage.
Performing regular, automatic system backups can help MSPs protect their clients' IT estate from these kinds of problems. In addition, because power surges are common in the aftermath of an outage, you should use surge protectors to safeguard valuable and sensitive electronic equipment like servers and computers.
Further reading Backup and Disaster Recovery
Have Power Generators in Place
As part of preparatory measures, MSPs should advise clients to purchase and install a backup source of power. Portable and standby generators can provide on-demand electricity when there's a power outage. Having an uninterruptible power supply (UPS) unit or battery backup is also a great idea. UPS devicesdevics are available in different sizes and capacities and will supply a steady stream of continuous power to everything plugged into it while protecting against power spikes.
For clients who want to keep on working during a power outage, insist on getting small UPS units for every critical computer system. Keep in mind, however, that such a backup power supply only lasts a few minutes. You should get a power generator if your client experiences repeated, long-term power outages.
MSPs should also ensure redundant Internet connectivity by supplying power to devices like modems and routers. This is essential for companies whose core applications and backups are hosted on the cloud.
Use a networkable UPS so you can get email alerts whenever the main power goes off, and always check up on the health of the UPS' batteries. Their capacity and output decrease with use and age. For best results, do a preventive change every three years.
Move Clients to the Cloud
Moving to the cloud not only protects clients' data and workloads in the event of an outage, but it's also a great way to ensure disaster recovery and business continuity in the event of a local natural disaster or a cyberattack.
Further reading Creating a Business Continuity Plan for Your Customers
FREE ASSETS
MSP Business Continuity Plan
Build an efficient business continuity plan and increase your safety and security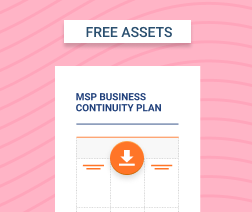 This is especially true when you combine cloud-based data and workloads with UPS units that back up critical local computer systems. In addition, having redundant Internet can help businesses continue business operations during a blackout, thereby mitigating the impact on clients' day-to-day operations and profitability.
Wrapping Up
Prioritizing disaster preparedness is essential for all businesses, particularly those that want to prevent prolonged service interruptions.
No matter where your clients are, they'll likely experience a power outage at some point. You should prepare them for this eventuality to ensure the safety of their IT infrastructure and data.