Office 365 is a classic Microsoft Office along with a set of cloud services. But its backup process is typically unclear, so we are going to cover one backup practice with the use of MSP360 Backup for MS Office 365.
Built-In Office 365 Email Backup Options
Microsoft Office 365 differs significantly from its on-premises version—at least from the backup side. For example, there is no corporate-level built-in backup solution, and you cannot use your existing tools for centralized backup. But Microsoft has a few server-side mechanisms to help you get accidentally deleted data back:
Litigation hold - This option allows you to set a period during which deleted items will not be purged. The administrator can restore stored emails even if a user deleted them from the Trash.
Mailbox retention policies - policies which allow you to remove emails after a certain period of time (but it is also possible to use these as a backup-like tool). Users can't delete emails permanently if such policies are in action. You can use retention policies for a group of users or for an entire Exchange organization.
Of course, you can also optionally export crucial files using Microsoft Outlook, but keep in mind that it is difficult to automate tasks like this and maintain backup storage consistency. That is why we suggest using a specialized Office 365 backup solution. During your decision-making process, you can try MSP360 Backup for Microsoft Office 365 to experience the following benefits:
Perform Office 365 mail backups online using 265-bit AES encryption. You can also protect contacts, calendars, OneDrive files, and other data.
Recover individual emails using item-level recovery.
Maintain cloud storage space by using Retention Policies, allowing you to automatically purge unnecessary data.
Let's take a look at the MSP360 Backup configuration process.
How to Create Office 365 Email Backup with MSP360
MSP360 Backup for Microsoft Office 365 is a cloud-based tool, so you only need to connect it with your account and perform a basic configuration:
Visit our Apps portal and click Sign in with Office (Office 365 Work).

You will be redirected to the Microsoft account page. Enter your Office 365/Azure account credentials and allow MSP360 to access your cloud data.
Add backup storage using the Set up storage pane. MSP360 Backup for Microsoft Office 365 supports only Amazon S3 and Microsoft Azure storage services.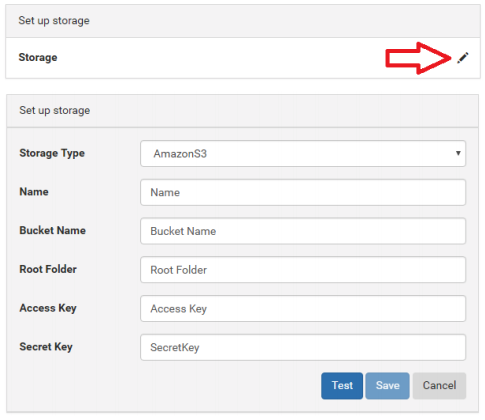 After the backup storage is ready, you can select the data to back up by clicking Configure Backup on the Dashboard. There are various services available for backup—Please select the ones you need.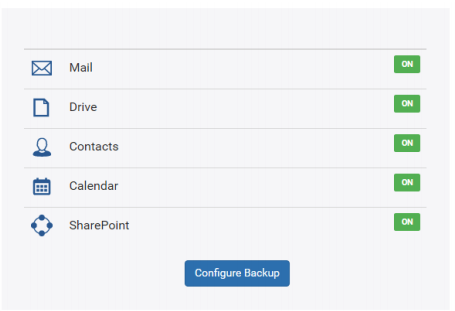 Next, you need to choose which user accounts should be backed up, since MSP360 accesses the data in a per-user manner. Click the Users tab and then select the necessary services to be backed up for each user. You can also change the settings for a group of users using the filter fields above the list.

The new users need to be added via the Office 365 control panel—Then you can click Sync domain in the Actions drop-down menu, thus instructing MSP360 to search for new user accounts.
It is also important to set up an alternative email address for those users who manage their backups, so they can access data as needed. Assign additional emails by clicking the "key" icon next to the necessary user accounts.

MSP360 Backup for Microsoft Office 365 is now ready to protect your data. It will create backups of the selected data every 6 hours and store the backups according to your Retention Policies. But you can also create on-demand backups for each user.
We also offer a separate PDF with detailed configuration instructions—Please have a look in case you come across configuration issues.
Summary
Infrastructure typically grows fast, so basic backup methods will quickly become inconvenient and unreliable. That is why we suggest implementing a separate cloud-based backup infrastructure for your Office 365 email backup.
Try MSP360 Backup for MS Office 365 for FREE now and find out whether it meets your business needs.