Managed service providers encounter numerous challenges regularly. From business development and MSP marketing to IT automation and staff, business managers and owners must do it all. But one of the biggest debates brewing on the MSP front for the last couple of years is about the choice of selling MSP packages as a whole or the base and add-ons separately.
The question is, are your users interested in buying the entire cake or the ingredients necessary to create one for themselves?
What to Expect When You Sell the Cake?
Imagine you are a managed service provider company following the traditional concept of selling the cake to customers.
You streamline your offerings, keeping them all-you-can-eat (AYCE) only so customers receive everything on the menu. Of course, you remove value-added end-user training, such as anti-phishing. This angle proves successful for your business.
According to many MSP decision-makers, it simplifies what the company has to offer and takes away the cognitive load from the clients. As a result, it minimizes business headaches and reduces backend administration charges since a single type of coverage gets billed.
However, when competitors move into your territory, you stand to lose a few prospects. Why? Because they might get offered the same services for a lesser price. Sure, the quality of your service might have been better but it would make little sense from a business perspective to turn down such a lucrative offer.
FREE WHITEPAPER
Guide to Sales Funnel and Sales Operations for MSPs
The main MSP sales strategy parts
How MSPs usually qualify leads
How to handle sales objections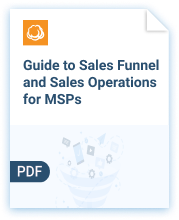 All Hope Lost?
Investigation into the competitor pricing reveals a very low per-device cost. There is a catch though. They are selling a barebones per-device solution with numerous add-ons that would raise the price exponentially, closer to what you are charging in the first place.
You might notice more competitors following this reverse company sales philosophy over time – breaking the offering apart to make it seem cheaper and then charging them roughly the same price one add-on at a time.
Sure, the approach is a bit disingenuous, but the current market seems to find many takers for this approach. Does this indicate the end of your company's transition to a larger, more competitive market and the death of the 'selling your cake' tactic?
Hold On for a Brighter Business Future
It might prove hard in the beginning as you see other MSPs attract a portion of your clients by offering the base and ingredients individually.
But your company will sustain over time and you might even end up acquiring smaller firms that have encroached on your territory. Your clients will eventually come back to you because they have already established a relationship.
So, leave the door open and move on with your business. Just ensure that your operations and services are as efficient – if not more – than the competition. Clients will soon realize that higher prices with matching levels of service are a bigger draw than low-cost, low-quality managed services providers.
A Different Perspective: Selling the Ingredients
Now you might be wondering what it's like on the other end of the spectrum – what if you were the one following a 'selling the ingredients' approach? You will surely beat out other companies in your area by charging less than the average market rate. But you will also bleed money.
You will have to devote a lot more hours each month to keep up with the bare minimum in maintenance, monitoring and other services. And even if it all went smoothly, you would still lose money at the end of the month.
How Can You Rectify the Situation?
Start charging more or at least the average market rate. You will lose some clients at first, but you will retain the ones who are fine paying more since they are already aware about the rates charged by other MSPs in town.
Moreover, by that time, they will have become closely acquainted with your services, infrastructure, and developed a strong client relationship with your company employees. Just make sure you show up on time, show patience with users, act professionally, and conduct monthly site visits to monitor things. Believe it or not, but clients pay attention to this kind of stuff and they will see the value in your actions.
The Solution to Your MSP Sales Woes
Instead of treating the methods of selling the cake and selling the ingredients as two distinct approaches, why not consider the possibility that they may coexist together?
To continue with the cake analogy, there are many people who purchase cakes from bakers and others who buy eggs, baking powder, and flour from the grocery shop. Moreover, there are other bakers that sell freshly baked bread and also stock up on artisanal ingredients like yeast culture and flours.
This means the concept is not unique to the MSP industry. In fact, the cloud is the latest ingredient in the market, an abstraction of technology accepted by users.
So, you might be interested in selling only the cake, but if you offer deals that are profitable and reasonable, you should sell the ingredients as well.
Now, at this juncture, it should be mentioned that customers who want to micromanage and bake a custom cake with the recipe of their choice should be prepared to shell out more than the standard cake preferred by everyone.
Several break/fix turned MSP companies simply changed their pricing structure. They still provide break/fix services but charge clients on a per-endpoint basis. As a result, it is not surprising for clients to get a rude shock when they see the final bill.
Further reading On-Demand vs Break/Fix vs Managed Services Operating Models
But this situation can work in your favor. If you keep an open mind and maintain a flexible sales attitude, you can easily pick up several new clients from other MSPs by selling both the ingredients and the cake.
The combined approach provides the best of both worlds. Yes, you are no longer offering the full cake like you used to but neither are you merely throwing down the ingredients on the prep table like other MSPs and waiting for a call. As long as you're willing to adapt to the new MSP market scenario, your business will be successful.
Conclusion
No two MSPs usually follow the same pricing models. The MSP pricing plans depend on what the client signed up for and what is considered profitable.
So, the plans offered by your firm will reflect its resources and size, ranging from automated maintenance without labor and simple monitoring, to AYCE comprehensive plans that provide clients with unlimited remote labor and onsite for a monthly fee. Ideally, your MSP should fall somewhere in-between the two.