When acquiring a new client, there are always ups and downs. There's usually that initial phase of excitement and exhilaration, where your confidence as a salesperson is at a high. Then, what follows is the realization of having to deliver on your promises, a stressful moment for any business owner. And then, just when you think you're about to hit the ground running, you realize there are even more challenges ahead of you, the majority of which are landmines left behind by a hostile MSP, one you've never interacted with before but who is about to make onboarding more difficult for you.
While this scenario probably doesn't happen too often to you, it can and, if it does, you should know how to handle it. The last thing you want is a bad actor coming in between you and your recently acquired client. These unfortunate situations should be handled quickly but also with care.
If you're unsure of how to handle a hostile MSP, here are a few guidelines to follow.
Have a Sit-Down With Your Client
What's important is that you address the issues and your concerns with your client. You want to ensure that your client understands the complexity of the situation, where the responsibility lies, your limitations, and what you can do to help resolve the matter (if that's possible). Also, when you're having this conversation with your client, it's important for you to be clear, concise, and to the point. Instead of focusing on the intricacies of the technology stack you're managing, talk about what the potential disruption means for your client's business. Help your client understand why the onboarding process isn't going to be as smooth as you expected. Keeping your client in the loop is one of the best ways to show you've got everything under control and you're not afraid to tackle issues head-on.
Further reading Creating a Business Continuity Plan for Your Customers
FREE ASSETS
MSP Client Onboarding Form
Use this form to get the information you need from your new client to onboard them properly. The pack includes:
a ready-to-print PDF file
an Excel file to help create a customizable document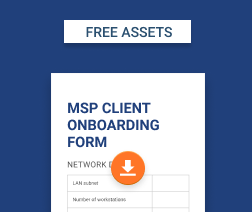 Be the Bigger Person
You're not going to get anywhere by being accusatory. Avoid picking a fight with the MSP your client was using previously. Even if there was wrongdoing, it's best for you (and your client) if you be the bigger person and remain calm during the transition. Remember: It's not about you. Always do what's best for your client. Don't create any more obstacles for yourself. Your client didn't hire you to go at it with a competitor. Be professional. Don't let your emotions get the better of you. Keep your ego out of it. Your client is watching what you do and will surely judge your handling of the situation.
Document Everything
Just because you should be kind to the MSP your client was previously using, that doesn't mean you should let your guard down. Any changes you make or anything the MSP provides you with should be documented. Get everything in writing. You never know what the MSP may say or do in retaliation at some point. You want to protect yourself and your client from any potential issues down the road.
Further reading How to Create MSP Documentation
Not every transition is going to go smoothly. From time to time, you're going to run into issues when you're onboarding a new client, and sometimes it's because of an issue with an MSP the client was working with previously.
Avoid potential issues with your new client during the onboarding process by keeping communication open, being professional, and documenting everything.