If you're onboarding clients, it means you're adding new business and generating more revenue, but the more clients you onboard, the more likely it is you're going to make a mistake. That's why developing an onboarding process to ensure everything is in order is essential for growing MSPs.
If you don't get the onboarding process right, your clients may begin to feel a bit uneasy from the onset. A rocky experience may cause buyer's remorse to hit them hard, which isn't going to help you to keep your relationships with your clients in good standing.
There are ways to ensure that your onboarding process is as smooth as it can possibly be.
Develop a repeatable process
When onboarding clients, we oftentimes forget to provide them with the basics (e.g., a point of contact within your organization, or what they should expect from your IT support when submitting a ticket). Unfortunately, this happens from time to time, which is why having a repeatable onboarding process experience is key to ensuring that your churn rate doesn't get out of hand. Anyone from your team should be able to execute your onboarding process, and developing it shouldn't take up much time.
Your MSP client onboarding process isn't going to be perfect, by any means, but it should try to reassure your clients of one thing: they made the right choice by choosing you. If there are too many bumps during your onboarding process, your clients are going to feel uneasy about working with you. Ask the right questions upfront. Make sure you know as much about them as they know about you.
FREE ASSETS
MSP Client Onboarding Form
Use this form to get the information you need from your new client to onboard them properly. The pack includes:
a ready-to-print PDF file
an Excel file to help create a customizable document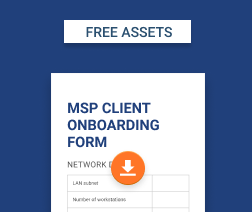 Be clear, concise and consistent
When you're onboarding clients, there are three 'Cs' always to keep in mind during the process: clear, concise, and consistent. Try not to complicate (another word beginning with 'C'!) your onboarding process for your clients. You want it to go as smoothly as possible for them. You can do this by simply outlining the steps of your onboarding process with them. Be as transparent as possible; your clients should know what to expect every step of the way.
Kickoff meeting? What kickoff meeting?
Hold kickoff meetings with new clients to get everybody on the same page. Things sometimes get lost in communication during the onboarding process. Kickoff meetings can help to realign your team and clients around the same goals. Use this time to highlight how both parties can work together effectively. Your clients should know what to expect from you and what you expect from them. Manage their expectations during this meeting to avoid any confusion.
You should also make introductions during your kickoff calls. Who should your clients know from your team? What should your clients know about these team members? Have your team members show some excitement about working with the new account. Make sure that they're professional yet friendly. You want your kickoff meeting to set the tone for the remainder of the relationship — so make it a good one.
Further reading 3 Practices to Communicate Effectively with MSP Clients
Developing an MSP client onboarding process takes time, but once you have it in place, onboarding clients becomes easier, and you're less likely to lose customers in the future.