For small managed services providers, there's typically no need to think about a promotion plan or implementing a tiered structure in their teams. Everyone does everything they can to solve the client's problem. And sometimes, there's no difference between a support team member, a salesperson, and an on-site engineer, since all these roles are carried out by the owner of the company.
For some MSPs, a one-man shop becomes a desirable lifestyle. However, if you want to grow, you need to think about your future corporate structure. To grow, you typically need to gather more clients and, once you do, you will face more calls, tickets, and issues. You will need to employ more tech people to answer these calls and tickets, and solve the issues. Moreover, since you are now aiming for bigger clients, you will face more complex, interconnected projects and eventually issues.
Soon, it will become clear that the flat "everyone does everything" support team structure leads to chaos, unresolved tickets, missed calls, and loss of reputation. Thus, if you are thinking to go for bigger fish with your managed IT business, plan the growth of your support team beforehand.
In this guide, we will define how you can structure your tiered support, how to promote your existing tech staffers, and why you should create clear career expectations for your employees from day one.
Define Your Tech Team Tier Structure
First of all, you should create a tiered system for your support team. This is a strictly defined system where each member of your team knows exactly what type of support tasks they are responsible for. Also, they should understand how to escalate cases and how to communicate with the clients at each step of solving an issue. Below, we define the classic three-tier support tech team structure.
The Differences Between the Tiers
Tier 1. The responsibility of the first tier is to gather the required details about the case, solve the issue, and close the ticket or, if the issue cannot be solved right away, escalate it to the next level. They should typically use your standardized scripts that give guidance on how to handle the issues and specify what kind of information they should gather.
Tier 2. The second level of support typically doesn't use predefined scripts to respond to the cases, since each is unique. Rather, they investigate the issue and communicate with the customer. They should also have more freedom in making adjustments to the client's infrastructure. However, tier-2 tech staffers should report the exact measures taken and, if the case is sensitive, create a detailed plan and discuss it with you and the client before any action is taken.
Tier 3. The third level of support is typically a rare unit for a small or even a medium managed services provider. These are the specialists that are granted full control over the client's infrastructure. They are capable of reconfiguring or testing different environments.
Further reading MSP Help Desk Structure
As we have already mentioned, you should start thinking about a tiered support system once you start growing your business. The more clients you have, the more issues there will be. And, eventually, you will need a strict framework on how to work with and escalate your tickets to solve them as fast as possible.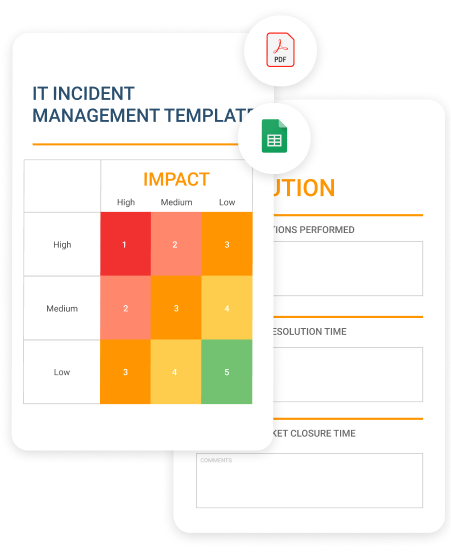 Promote Your Best Ones
Finding a great level-2 technician is hard and can be expensive. Oftentimes, it is easier to educate someone from among your existing tier-1 tech staffers. You should keep an eye on the most dedicated and responsible members of your team and help them grow.
There are three typical ways to promote your tech staffer:
He or she already has the required technical knowledge to become a higher-level tech team member. Your job is to raise their salary and grant the necessary access to do their job.
He or she is a dedicated and willing person but lacks some general technical expertise. Then you or an expert from your team can mentor that person to reach the required level of skills.
He or she lacks very specific knowledge and requires certification. Then you pay for the learning materials and certification.
Further reading Help Desk Certification: The Value for MSPs Explained
The reasons why you need to promote your best people are simple. You will get harder-working and more dedicated employees and your whole team will understand that you are serious about your business.
Create Clear Promotion Expectations
If you are leading a small team, fighting for each and every client, and you are not sure about your future, then clear promotion expectations might sound like a bad joke. However, if you have already started to grow your company and you have either created or are near to establishing a tiered support team, then you should work with the expectations of your team.
The reason behind this is simple. Everyone on your team is working to meet their life goals and they don't necessarily care about the growth of your business. If they do care about your business and they feel attached to the team, that's great. But, for a really good professional, passion for the job is not the only driver. They also want to learn, solve more complex issues, and work with bigger clients.
Conclusion
Your tech team is your single most expensive and valuable resource at the same time. It's hard to find a good technician and it might be even harder to retain one as he or she grows. But the growth and reputation of your business rely on how well your support system is built, and how good your team is. Thus, invest your time and money in your team and they will form the most crucial competitive advantage for your managed IT business.