Before the pandemic, there was a never-ending debate concerning whether or not, as an MSP, you should hire remote employees. Some said that remote employees are less willing to communicate with the rest of the team, so they are difficult to onboard and less effective during working hours. The others argued that you can only maintain full control over your team while they're working in the same office space, and you cannot monitor remote employees' work effectively. And lastly, some said that corporate culture and team spirit could not be established online.
Well, that debate is now over. During the pandemic, most small, medium, and even global companies moved their employees to their homes, at least to some extent. And no evidence has been reported that these companies have suffered from that move.
In this article, we discuss why you should at least think about hiring a remote workforce, where you should start when creating an effective remote workflow, and how you can establish a proper onboarding program.
Why Hiring Remote Employees Is Important
There are several good reasons to hire remote employees:
Larger labor market. The first reason is obvious and yet some tend to ignore it completely. When you search for a workforce in a remote location, you automatically raise your chances significantly of finding a good fit. Those managed IT providers who work in small and distant areas should know that finding an experienced tech staffer is a massive headache. Well, not any more. Just hire online.
Better coverage. If you are aiming to provide the 24/7 support desired by many bigger companies, you can set up a night shift for the first line of support that works different hours. Bear in mind that this approach is suitable for bigger managed IT providers, since you need not only some off-site staffers, but also an off-site manager to monitor their work. All that is quite expensive (which is the main reason you shouldn't try to set up 24/7 support coverage if you are only growing).
Business growth. When you grow, it's always tempting also to start expanding to different locations. Moreover, some of your bigger clients might require and even cover an on-site engineer. None of this is possible if you cannot hire at remote locations.
Further reading Hiring New Employees: 6 Essential Steps for MSPs
Where to Start
Now, before hiring remote employees, you should establish several procedures and workflows, including:
Define the working hours when your remote employees should be online. This is particularly important if you are aiming to provide 24/7 support coverage.
Define standard communication patterns. If you want to create a well-balanced and communicative team of professionals, rather than just lead a remote call center, you should establish at least some team-building communication procedures. Such procedures might include short daily meetings, when all your employees should be online with their cameras switched on, regular in-person informal meetings, and once-a-quarter online or offline corporate meetups where you will present the results of the last quarter and establish goals for the coming one.
Create standardized workflows. Apart from the "cultural" communication practices, you should also create a strictly standardized workflow by which any of your on-site or off-site employees should know who to contact in the event of questions or escalations.
Develop a good knowledge center. When you work with a small team in the office, it is relatively easy to hop on the case of one of your tech staffers and discuss the issue. It might be fast, simple, and efficient. However, if your team is in different locations or even different time zones, direct contact might be at best troublesome. So, you should focus on creating great documentation that includes all your workflows, procedures, and details about your clients.
Improve your soft skills and communication habits. If you are serious about your corporate culture and your leadership, consider using DiSC profiling. This popular tool helps to deepen the understanding of both your and your team members' soft skills.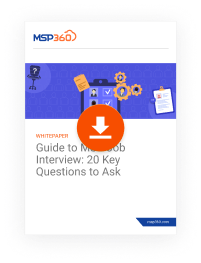 Establish a Proper Onboarding Process
Proper onboarding is the best way to kickstart any of your new team members with their job functions. Also, if you do it right, your new employees will feel more involved and attached to your company. So, here are the top tips to create a great onboarding process:
Host an onboarding meeting. The onboarding meeting should overview in detail your corporate mission, your typical clients, the tech and solutions you use and provide, the position in which you employ the new staffer, and the KPIs that you focus on.
Provide access to resources, apps, and hardware. You should provide clear instructions on how to configure the applications and solutions your new team members will use and make sure they have been granted access to your network and all the required documents and resources.
Make sure that new employees are supervised. Last, but not least, it's obviously easier to supervise an on-site employee. Any of your team members might be ready to help, but when your new team member is working remotely, he or she might feel detached from your team, unless you provide them with a supervisor. The supervisor's role would be both to monitor the work of the newcomer and to help them to fit into your corporate culture faster.
Further reading Guide to Efficient Employee Onboarding for MSPs
(To get proven onboarding techniques for a tech specialist, check out the article about technician onboarding processes.)
Conclusion
There's no need to treat your remote employees very differently from those you work with in the same office. You should rather create such a corporate culture, communication patterns, and workflows that any of your employees will feel an attachment to the team.
As we've already mentioned, a remote team is a great way to find skillful professionals and extend your support offering and your skill set. Just don't forget that you should be dead serious about your hiring and onboarding process to ensure that all of your staffers are at the same level of technical excellence and skills.