Quite often when you reach out to a new prospect, you might hear: "You know, that sounds great, but we already have an IT department in place." Whether this "IT department" is a real department or a one-man army, the answer comes across clearly as "not interested". Or does it? Not really. Companies with internal IT are indeed harder nuts to crack, but there are several possibilities for landing them. In this article, we will overview four such possibilities.
Free Security Audit
Internal IT, especially when we are considering small departments with one or two system administrators, don't always have enough skill or time to perform a good security audit. That's where you can stand out, and this is what companies are interested in, due to the increased number of security breaches.
As a managed IT service provider, you know the typical security loopholes in the corporate infrastructure and network. Find these loopholes and show them to C-level management. Couple the presentation with the facts about recent ransomware attacks and the average cost of downtime and, most likely, you will be heard and your services budgeted.
However, don't be harsh on the company's internal IT. They are doing their jobs and the chances are that they are doing them well. You should offer the company help, rather than a substitute for their team.
Further reading 17 MSP Statistics to Show the Value of Managed Services
Complement Their IT personnel
When you are focusing on a small company with only one "IT guy", you can offer to help with his daily routines and during his vacations. For sure, it won't be your biggest contract and your biggest MRR, but it shouldn't be much of a hassle either. A lot of companies are looking for a spare sysadmin, but don't want to pay a full salary.
On the other hand, local IT can be a complement to your services. There are lots of line-of-business applications that companies use which tend to be cumbersome and buggy, and take a lot of time to get up and running. Local staff might be proficient in supporting these LOB applications, thus removing a lot of hassle from your support.
Focus on Advanced Tech and Projects
If your prospect is growing, offer them complex projects that will support and boost their growth, such as more elaborate and thought-through network infrastructure, better file sharing solutions, or virtual servers to enhance their efficiency at a lower capex cost. Also, if a company is growing to new locations, you can offer your own on-site support person. Even if your client won't buy in lower-cost labor, you still have the expertise to find and hire the right person and monitor his or her work.
If your prospect is already a medium or large company, you can offer them advanced solutions which oftentimes internal IT cannot build, due to lack of skills. Offer your prospect a disaster recovery solution, integration with cloud services or, again, virtualization.
How to Transform Your MSP Operations for Bigger Customers
Learn how to enhance MSP operations, including standardizing operations and service stack, systematizing documentation, and more.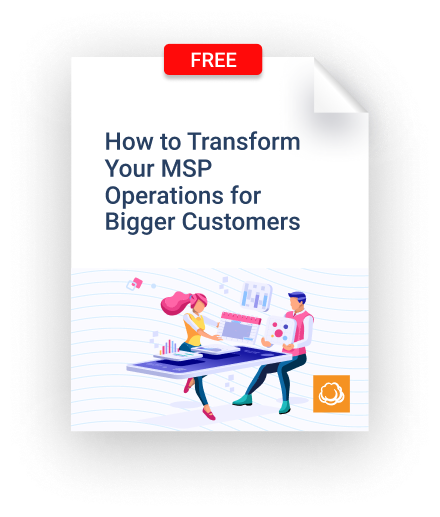 Offer a Strategic Vision
Virtual chief information officer is a service that many big companies are interested in. They might have an internal IT department, but not have anyone knowledgeable enough to push through a strategic view on IT with the board of directors. Hiring a CIO is expensive, and growing a CIO from the local talent takes time, so the C-level might not be interested in that. That's a great time to offer your MSP's knowledge and expertise in the form of a vCIO.
Note that the vCIO should be both a skilled IT engineer and a skilled manager. He should understand the business's pain points and its potential, in order to develop a strategy that will boost growth over time.
Some MSPs use the vCIO service simply to upsell their customers with more services that they might not actually need. That's not considered to be best business practice. At some point, your customer may become aware of such a strategy, and the chances are you will be fired. Hence, while developing a vCIO proposition, you should focus your customer's needs, rather than your MRR.
Further reading The vCIO Process: What MSPs Should Know
Prepare Your Pitch
You already know the possible entry points to prospects with internal IT staff. Now you need to prepare for the interaction with the client. Your typical sales pitch and sales message might not work in such cases, so here are some best practices:
Investigate their website and social media. By doing this, you will understand the size of the company, the industry it's working in, and their competitors, and, more importantly, find out the names of the management you will be pitching to.
Develop an understanding of their business. You need to offer a tailored solution to your prospects, which is why you should understand their business well. Check out industrial forums and talk to your fellow MSPs to learn about the most typical IT hiccups your prospects are facing.
Prepare a targeted pitch. Once you've finished the preparation, you are ready to prepare a targeted pitch for your prospect. The rule of thumb here is to talk business, rather than technicalities, since your listeners are not tech people and are interested in maintaining their business growth.
Beware of Unapproved Changes
Internal IT teams might have their own vision about processes and setting things up. Oftentimes, this can lead to data loss, significant downtime, or a security breach, which you might then have to fix. However, if you are providing all-you-can-eat services, most of the support work you do is typically included in the contract. That means that after the client's IT talent break things, you will be forced to waste time fixing them for free.
To avoid that, your contract should clearly state that any issues resulting from unapproved changes are billable. Make sure that you state this in your master service agreement, and also discuss it with each client you land.
Further reading The Importance of Legal Services to MSPs
Conclusion
As you can see, focusing on companies with internal IT departments is possible. Many MSPs on the market have landed such prospects successfully and work in collaboration with corporate IT talent for years. The key here is to find the principal pain points, customize your message for each prospect, and provide professional services.