Starting from December 1, 2020, MSP360 Managed Backup will no longer work with the following cloud storages:
Aruba Cloud
CenturyLink
Cloudian
Dream Objects
OpenStack platforms
Oracle Cloud
Scality
Think On
When new and improved cloud technologies become available and new developments make previous versions obsolete, we gradually make the older version no longer available. This is part of every product lifecycle.
At the very beginning, MSP360 decided to integrate with a wide range of cloud storage providers to meet the market dynamics of that time. At that time, such integrations were more compliant and easy to adapt. However, rapidly growing cloud technologies brought new standards and business needs. This forced us to change the strategy and to shift focus to the cloud platforms that best meet technology trends and market requirements.
FREE WHITEPAPER
Consumer vs. Professional Cloud Storage
Find out which storage solutions best suit your specific needs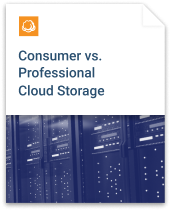 MSP360 announces its definitive decision to discontinue support for cloud storage providers that, for different reasons, are no longer in line with the strategic goals of the company. Further development of these cloud storage will no longer continue.
Technical support will be available only for customers who have MSP360 commercial licenses. We will strive to make the process as non-disruptive as possible and to ensure that the transition is seamless for you.
To all our customers who might be affected, we recommend considering using one of the following cloud storage providers when planning their future backup strategy:
Microsoft Azure
Google Cloud Platform
The features described in the post also apply to CloudBerry Standalone Backup.