As technology evolves at an unprecedented rate, so do the associated threats and cyber risks. Cybersecurity is becoming increasingly important for businesses of all sizes in 2023, and managed services providers (MSPs) must proactively identify and address emerging cybersecurity trends.
However, it is also a landscape that is constantly changing and adapting. New threats are emerging every day, as well as new innovations to help customers defend against the latest attacks. MSPs often find themselves on the front lines of both trends, as the trusted advisors to their clients on cybersecurity and other technology topics.
Here are some of the top cybersecurity trends you should pay close attention to in 2023, and what they might mean for you and your customer.
Ransomware attacks will continue. Ransomware attacks have become increasingly prevalent in recent years, and this trend is expected to continue in 2023. Ransomware attacks involve hackers encrypting a company's data and demanding payment in exchange for the decryption key. These attacks can devastate businesses, and you need to be proactive in protecting your customers. Protections can include implementing strong cybersecurity protocols, such as multi-factor authentication and data backup and recovery solutions, to prevent or minimize the impact of ransomware attacks.
Further reading One Ransomware Gang Down, More to Go: Now Is Not the Time to Be Complacent
IoT devices will be more vulnerable. IoT has revolutionized how we live and work, but it has also introduced many new cybersecurity risks throughout businesses and home environments. IoT devices such as smart thermostats and security cameras are becoming more common, and they are often not as secure as they should be. In 2023, you need to pay close attention to the security of IoT devices within your customer environments and ensure that they are properly configured and updated to prevent hackers from exploiting them.
MSP's Educational Posters on Password Security
The poster pack includes:
Best practices for creating strong passwords
Reminders on how secure passwords should look like
A chart to check if your password is secure enough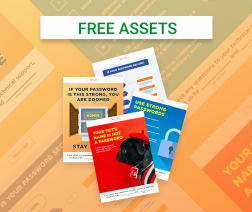 Cybersecurity regulations will be more stringent. Governments worldwide are becoming increasingly aware of the risks associated with cybersecurity, and they are implementing stricter regulations to protect businesses and individuals. In 2023, you must be aware of these regulations and ensure that your customers comply. Failure to comply with cybersecurity regulations can result in hefty fines and damage a company's reputation.
Further reading How to Meet Cyber Insurance Requirements with MSP360 Immutable Backups
Artificial intelligence (AI) will be more widely used in cybersecurity. AI is already being used to detect and prevent cyberattacks, and this trend is expected to continue in 2023. You can leverage AI to provide proactive cybersecurity measures to your customers, such as real-time threat detection and response. However, you must also be aware of the risks associated with AI and ensure that the algorithms used are properly vetted and secured.
Further reading How Deep Learning Is Changing the Cybersecurity Space
Zero-trust architecture will become more popular. Zero-trust architecture is a security model that requires strict identity verification for anyone trying to access a network or system – in essence assuming "zero trust" of devices, users, and applications before it is proven otherwise. This model is becoming more popular as businesses seek to protect their networks from internal and external threats. MSPs can implement zero-trust architecture for their customers to ensure that only authorized users have access to sensitive data and systems.
Further reading The Importance of Proactive Cybersecurity: Staying Ahead of the Threat Landscape
In the year 2023, cybersecurity is only going to become more important for businesses everywhere. You have an important role in helping your clients proactively identify and address these emerging trends in cybersecurity. By educating yourself and staying apace with the latest trends, you can truly act as trusted advisors to your clients and build a deep and valued relationship for many years.