When you're starting from scratch, building your customer base takes time. No matter what industry you're in, a solid customer base doesn't happen overnight.
Growing it requires time, resources, and money. There's also some nurturing involved. The first few steps to build your customer base can make all the difference.
There are a few ways to land your first few customers sooner, rather than later.
Get the Lay of the Land
Even if you're not friendly with too many business owners in your area, start by assessing the IT needs of local businesses in your community. Get your foot in the door by using the resources and connections you already have available to you.
For instance, there's probably a brick-and-mortar store you frequent on a regular basis. Maybe it's the bagel shop you grab your coffee at or the deli where you pick up a club sandwich before heading back to work. An employee at that location may even know your name and talk politics or sports with you whenever you stop in.
See what you can learn about that business during one of your next visits. For example, that employee you normally chat with, can he or she provide you with some insight into who's providing IT support? Is there an IT guy who visits the location on a regular basis, or does the owner's nephew show up when the systems and network go down? It doesn't take much for you to ask a few questions while pouring yourself a cup of coffee.
Hit the Pavement
You don't always have to go digital in this digital age of ours to acquire new customers. Old-school marketing tactics are still effective in today's ever-changing world, and they're usually less expensive than digital advertising.
For example, consider how hard it is to ignore someone handing you a flyer when you're walking on a sidewalk. While you're probably going to toss the flyer into the trash after turning the nearest corner, you may not, and that's who you're trying to target — the person who keeps your flyer. That person may end up being your customer or, at the very least, contact you.
The same is the case when you go storefront to storefront in your community. If you pass by a local business that's open, get up the courage to simply walk in the door, introduce yourself to the person behind the counter, and drop off one of your flyers. What's the worst that could happen (besides being thrown out for soliciting, which, I can promise you, isn't going to happen)?
He or she isn't going to throw out your flyer in front of you. It will more than likely end up in a stack of papers for the store's manager or owner to review at some point, which isn't necessarily where you'd want it to end up, but that's why you'll follow up at a later date.
Further reading How to Turn Your MSP Prospects into Clients
Get by with a Little Help from Your Friends
When you're trying to acquire your first few clients, turn to your network whenever you can. And who can you rely on in your network? Your friends and family members, many of whom work. Take inventory of where they work and what they do. Don't worry about whether they're decision makers. They don't have to be. If they're not decision makers, they work for them. Work closely with your network to identify potential opportunities.
Of course, after you acquire your first few clients, there's more work to be done if you want to be successful. But remember: What gets you your first few customers won't get you your next 10, but that's for another day.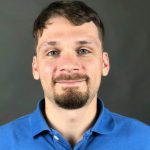 About the author
Alexander is the head of marketing department at MSP360. He is an expert in IT marketing and has extensive knowledge of cloud storage services. Alexander cooperates with cloud vendors, MSPs, VARs and communicates the market needs and trends to our team.