Running a one-man shop is stressful. You have to serve as head of sales, support, accounts payable and accounts receivable and more, all at once. And if the business runs solely on you, when you're not working, you're not making money. Even taking a sick day can set you back for the month.
That's why most businesses need employees. While hiring your first employee comes with its challenges, waiting too long to add someone to your payroll can result in spreading yourself too thin.
Don't have any employees? You're not alone. There are approximately 25.7 million nonemployer businesses in the United States, according to the U.S. Census Bureau. Not all businesses need employees, but if scaling your business is one of your objectives, hiring your first employee should probably be the next item on your agenda.
If it is, you can better prepare yourself for the hiring process by reviewing the sections below.
FREE DOWNLOADABLE ASSETS
MSP's Marketing Templates for Selling Backup
Struggling to win new clients? Use this set of white-label marketing materials to close more Backup-as-a-Service deals.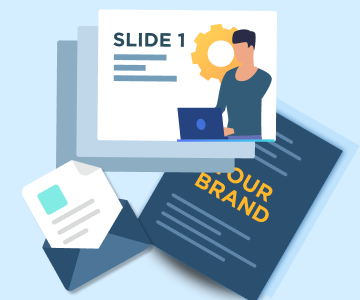 The Million-Dollar Question: When Should I Hire My First Employee?
If you've never hired an employee before, contemplating whether you should can be stressful. But it's actually an easy decision to make if you ask yourself the right questions.
The first question is the following: Do I need I need help to keep up with the demand for work? The most obvious indicator it's time to hire someone is you're turning down work. Hiring an employee can help you keep up with increasing demand from your clients (which is a good problem to have if you're able to deliver your services effectively and efficiently).
You can only work at full capacity for so long, especially if you're looking to scale your business. Taking on new customers is essential to scaling your business, but to accommodate them, you must be able to provide the services they're paying for, even when you're behind in work.
Keeping up with your workload keeps your customers happy, which in turn puts money in your pocket. If you find yourself sacrificing quality for quantity, it may be time to begin looking for some extra help. Determine where you could use some assistance within your business and go from there.
How Do you Go About Hiring Your First Employee?
After deciding that it's time to hire additional help, the next step is beginning the MSP hiring process, which can be somewhat challenging if you've never been through it before as an employer.
First, assess your business for its strengths and weaknesses. The most important thing during this exercise is to determine how hiring someone will help you to provide better value to your customers. Think about it like this: Where could you use some additional help within your business?
For example, would hiring a technician enable you to refocus your efforts on business development? If so, would you need an entry-level employee, or someone with deep technical knowledge and experience? Defining the specifics before seeking help can save you time during the hiring process.
The most important thing to remember is to take your time. There's no reason to rush through recruiting. Hiring an employee is costly — and so is terminating one — so finding the right candidate the first time around should be your utmost goal.
What to Do When Things Aren't Going Well With Your New Hire
Of course, no matter how carefully you plan your first hire, things can sometimes go wrong. Even an experienced interviewer can't tell with absolute certainty whether a candidate is going to be the right fit for a vacant position, so beating yourself up when a hire doesn't work out isn't only pointless but counterproductive.
When you realize the person you hired isn't the right fit for the position you filled — whether because of a culture clash, a skills issue or something else — the best thing you can do is handle the situation immediately before it becomes part of a bigger problem (and undoubtedly, it will grow into one if you decide to wait). Keeping someone who's not the right fit for your business is a drain on your time, money and resources. Delaying the inevitable can — and probably will — negatively impact your clients, too.
Becoming an employer is a big step for any business. Ensure you're ready to hire your first employee by determining whether you need help in the first place. Then, evaluate candidates carefully, and don' be afraid to take your time to find the right person. And if you find out the person you hired isn't a fit, don't become distraught. Act swiftly and immediately to protect yourself from additional losses.