In the always-evolving landscape of cybersecurity, staying ahead of the latest threats is more important than ever. The year 2023 has brought new challenges and alarming trends, particularly in the realm of ransomware attacks. The recently released "2023 State of Ransomware Report" by Malwarebytes Threat Intelligence has shed light on the severity of the situation, revealing an unprecedented surge in cyber threats that demand our immediate attention.
These trends are especially important for managed services provider (MSP) business leaders and team members such as yourself to pay attention to. By staying informed on the latest threats, you can help your customers navigate the dangerous digital world around us and secure their organizations for many years.
Ransomware Continues to Rise. Ransomware, a form of malware that involves encrypting a victim's data or systems and demanding a ransom in exchange for release, continues to be a major scourge facing businesses of all sizes. According to the Malwarebytes report, there were a total 1,900 attacks recorded in just four countries (the US, Germany, France, and the UK) within a single year. This is an astronomical number that cannot be ignored.
United States Continues to Be Top Target for Attackers. MSPs with customers in the US beware — the United States proved to be a major target for attackers during the year, according to the report. The US accounted for 43 percent of all global attacks (1,462 in total), with a 75 percent increase in the average number of monthly attacks between the first and second halves of the year. The second most attacked country was the United Kingdom, with 196 attacks recorded during the year.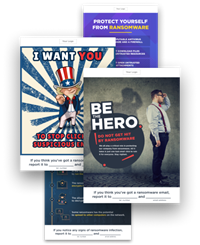 France Sees Fastest Rise in Ransomware. While the US recorded the highest number of total attacks, the report found that attacks on France were climbing the fastest. In a span of just five months, the country witnessed a nearly twofold increase in such attacks. This rapid uptic emphasizes the adaptive nature of cybercriminals, who exploit vulnerabilities and weaknesses with remarkable efficiency. As France grapples with this surge, it is a stark reminder that no nation is immune to the ever-looming threat of ransomware.
Attackers Increasing in Diversity. Ransomware attacks are increasing not only in quantity, but also in diversity. The United States, for instance, faced an onslaught of unprecedented proportions, with 48 distinct ransomware groups launching a barrage of attacks. This multitude of threat actors underscores the diversity and complexity of the ransomware ecosystem. These groups employ various tactics, techniques, and procedures, making identification and prevention challenging.
For MSPs, this report is a stark reminder that ransomware remains a major challenge facing customers today. As their trusted partner in technology and services, you are on the front line of helping these customers defend against these types of attacks.
MSP tactics to help advance the cybersecurity maturity of their customers can include building a comprehensive strategy to ensure that the customer has the right technology in place, services for ongoing maintenance and monitoring, and training to help customers' employees not to fall victim to phishing or other vectors for ransomware delivery. These are tactics that will help not only with the rapid rise in ransomware, but also with the continued rise in cyberattacks of every kind around the world.
As the digital landscape continues to expand, so does the range of cyber threats. By staying informed, vigilant, and prepared, we can collectively work towards a safer digital future, where the promise of technology is fully realized without the shadow of cyber threats looming over us.