Only a couple of years ago, we couldn't imagine remote work being that common. Both businesses and individuals now enjoy the opportunities it offers. If you need something from a remote computer, it's not necessary to get it in person; you can access the machine via one of the dedicated services, regardless of how far away it is. This is useful in lots of situations; for instance, you might need to get hold of a scan of a document that is saved on your Mac computer while you're on vacation in another state; or you want to establish a remote desktop connection on Windows to help a customer with some program configuration.
In this article, we'll overview the MSP360 Windows remote connection solution, as Windows is the most popular OS. We'll cover software for both personal and business use: MSP360 Remote Desktop and Managed Remote Desktop. Both solutions are secure and easy to use.
How to Set Up Managed Remote Desktop for Business Use
For business, we offer Managed Remote Desktop, which combines remote working functionality with centralized monitoring and management opportunities. When you have a lot of endpoints to work with, it is easier to do it from a single pane of glass rather than remember all the IDs and their assignments; the reporting functions come in handy, too.
To install Managed Remote Desktop, choose the appropriate edition at https://www.msp360.com/remote-desktop/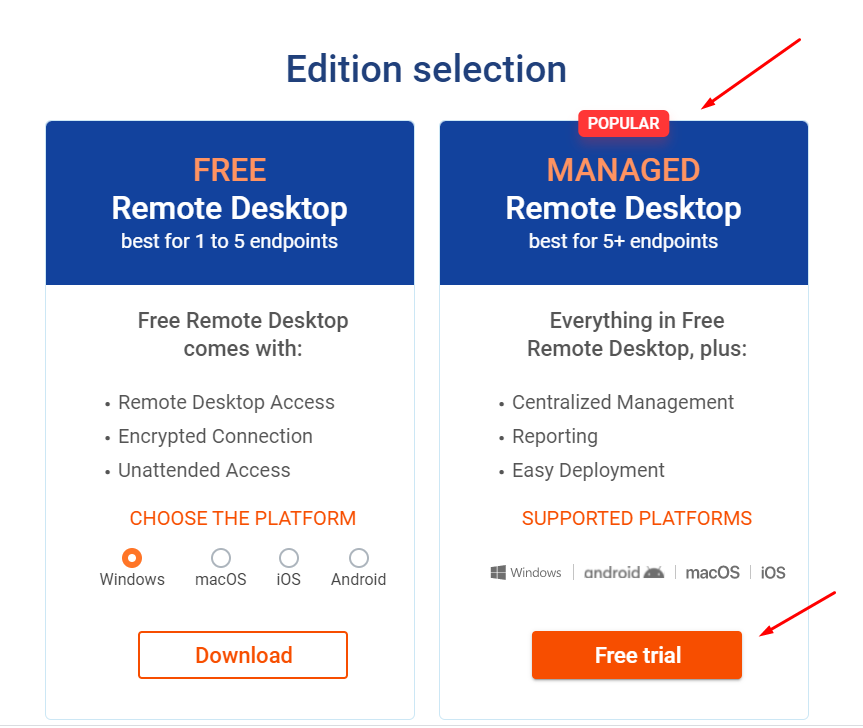 Fill in the required information. You'll be redirected to the Managed Remote Desktop console.
Here, you can download the agent for your own computer and configure and create a build for your customers' endpoints. Click Downloads and choose the Windows edition from the Managing Installation Packages section. Once the file has downloaded, launch it to install the solution.
For your host endpoints, you'll need to create a company. This entity is needed in order to configure a custom build for a group of clients. Click Organization / Companies.

Hit Add company, give the company a name, and click Create.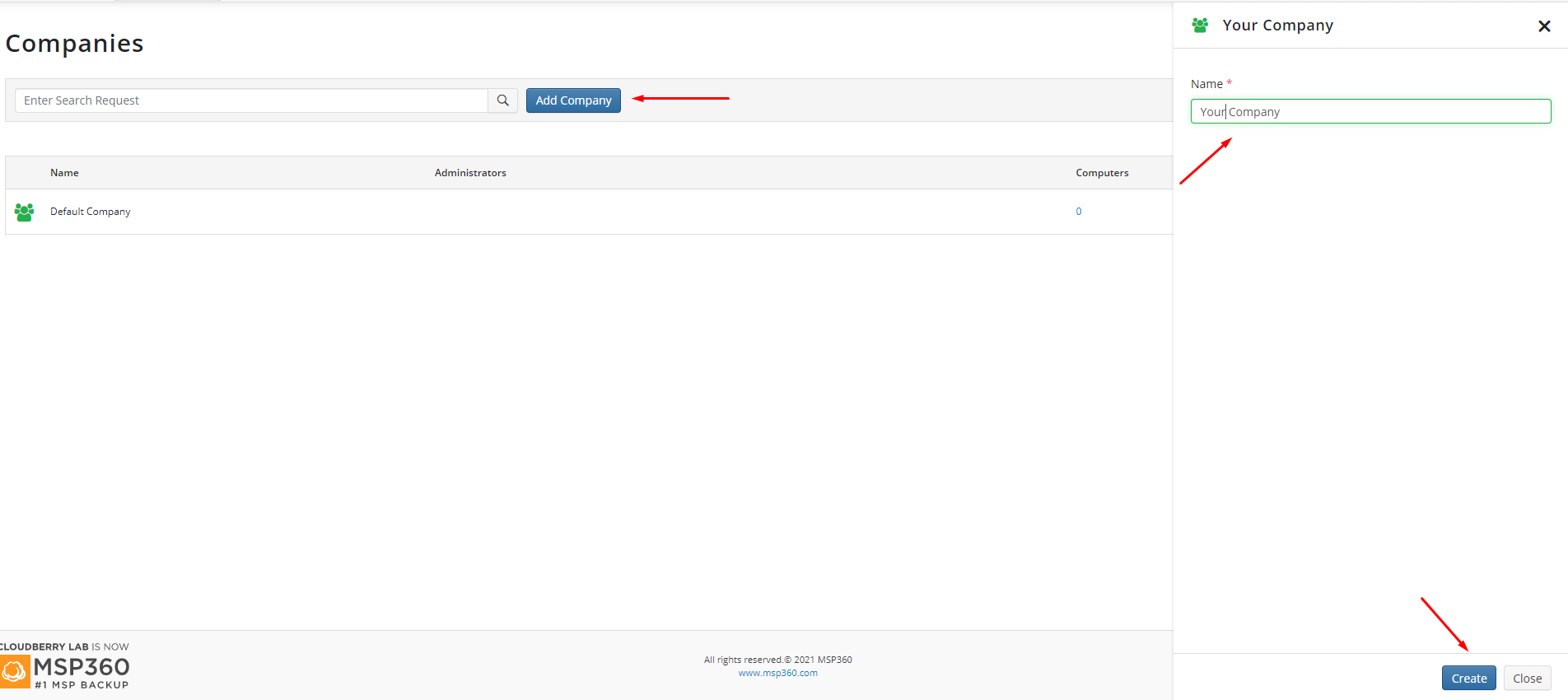 To create a build, either click Computers / Add a Computer or just Downloads. In the Remote Computers Installation Package section, hit the Remote Computers Installation button.

Configure the build in the slide-in that appears.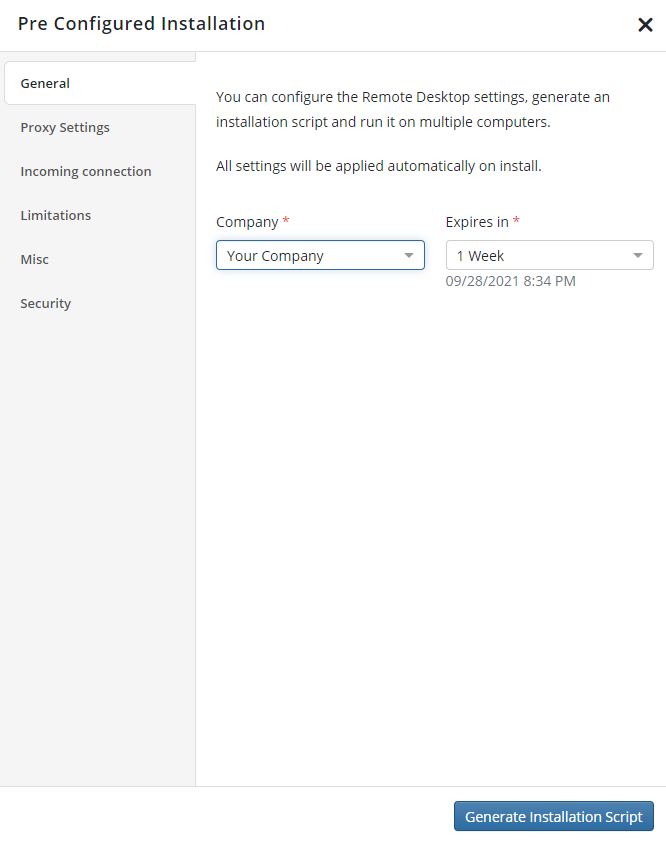 The process of configuration is explained in the guide below:
Further reading Getting Started with MSP360 Managed Remote Desktop
However, it's worth mentioning one option that it is highly recommended to enable: a custom password, which is needed to prevent unauthorized access to your host computers. You can set this up in the Security tab.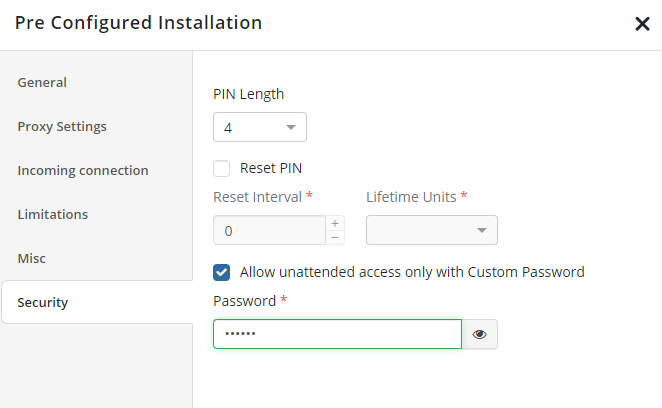 After you configure the build, click Generate Installation Script. You'll get a URL that allows your users to manually install the solution on their computers, and a command prompt script that can be used, for instance, within any RMM solution.
After Managed Remote Desktop is installed on the host machines, you'll see these machines in the Computers list.

To connect to a machine, click the plug icon to the right of the name of the endpoint.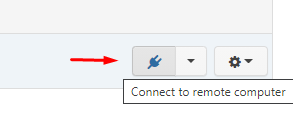 Once the connection is established, enter the password you specified earlier. Send Ctrl-Alt-Del, type the Windows password, and you're ready to rock. Information on your sessions will be recorded and stored in the Organization / Statistics section in your console.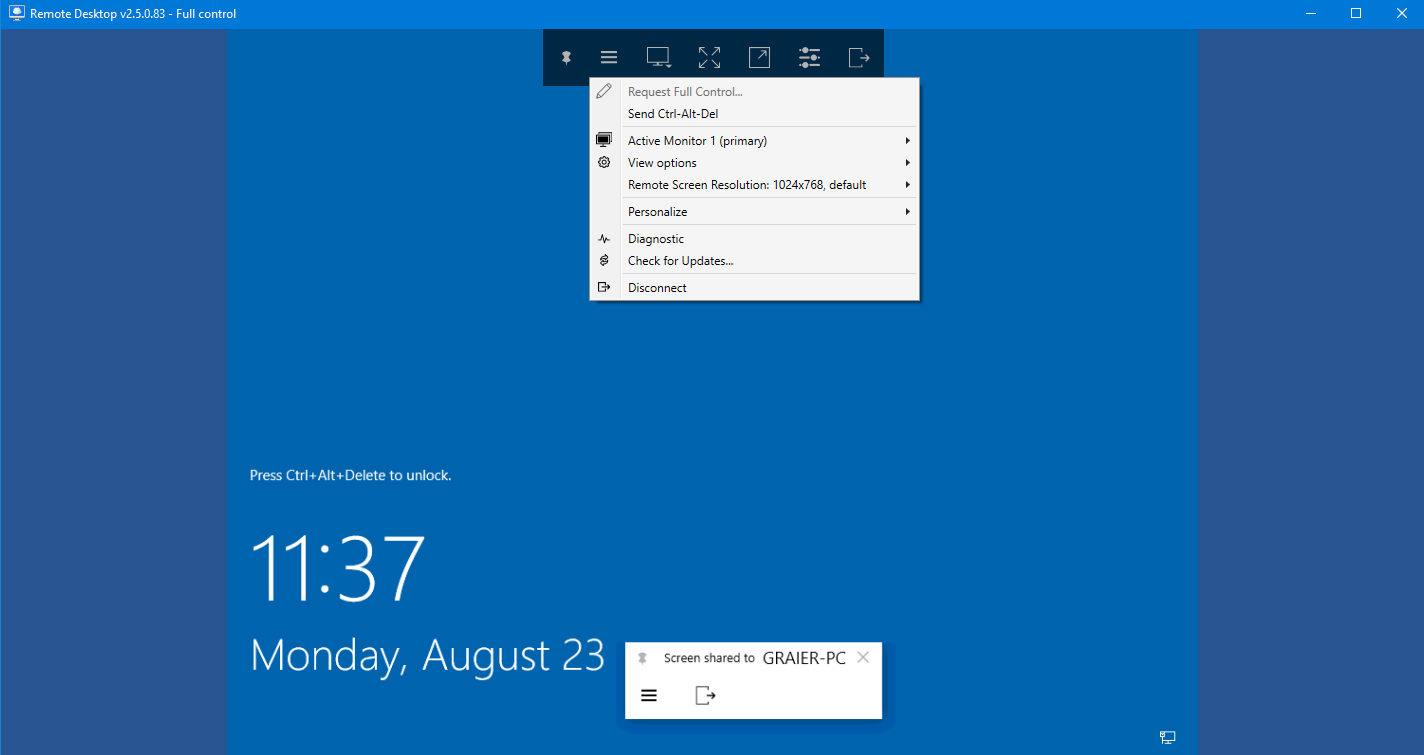 How to Set Up Remote Desktop for Windows
If you have 1-5 computers, the simplified Remote Desktop version functionality is usually enough. To install the software, visit https://www.msp360.com/remote-desktop/ and scroll down to the Edition Selection section. Choose Free Remote Desktop.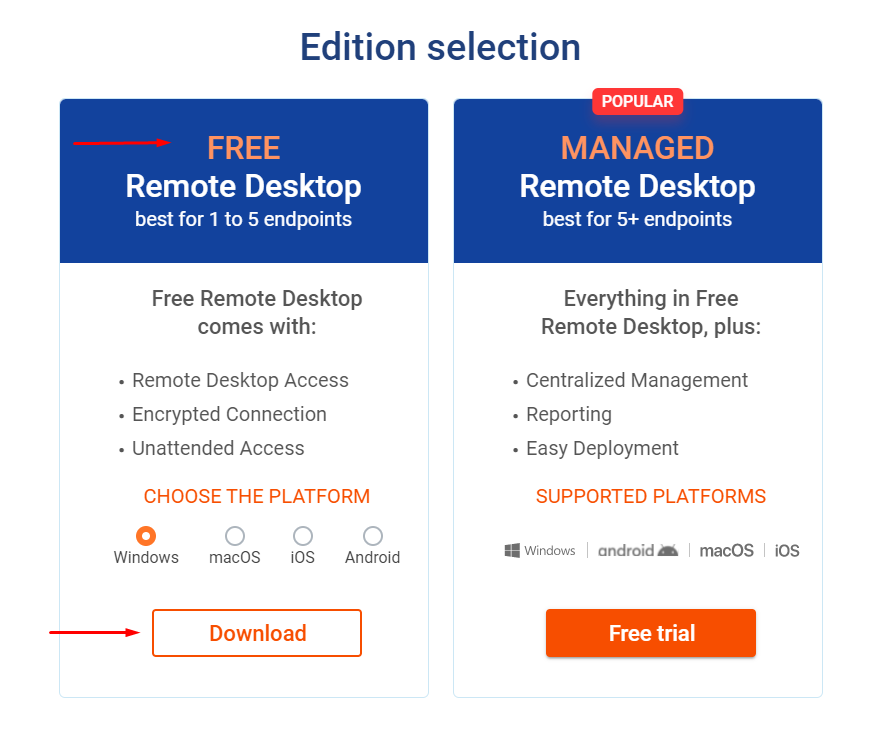 Click Download. You'll be redirected to the download page. Fill in the form and click Download once more. You'll get the installation file. Launch it and follow the wizard instructions. Free Remote Desktop should be installed on both host and guest machines.
Run the solution. Here's what you will see.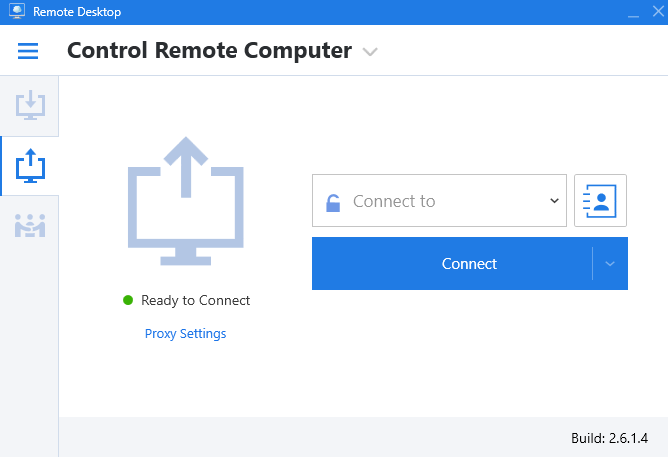 To establish a connection, you just need to type the host endpoint ID in the Connect to field. You can connect to several endpoints; in this case, click the icon on the right.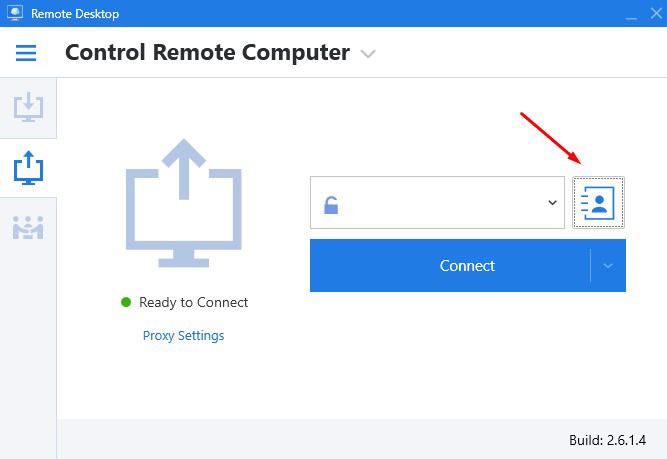 Then, hit the Add computer button and fill in another computer ID. Once you've finished, click OK.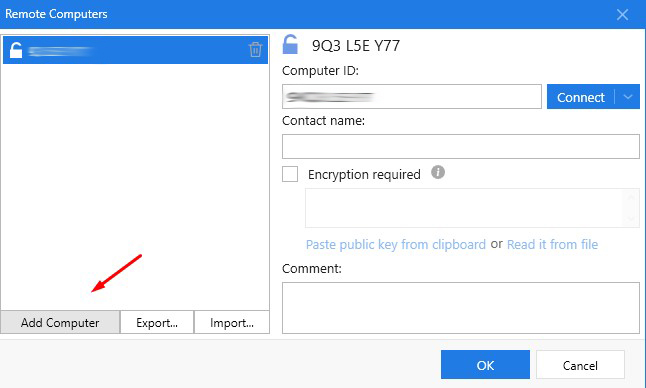 When you've finished with these settings, click Connect, and you'll get the same screen as in the Managed Remote Desktop version. After the connection establishes, click the menu icon at the top and then Send Ctrl-Alt-Del.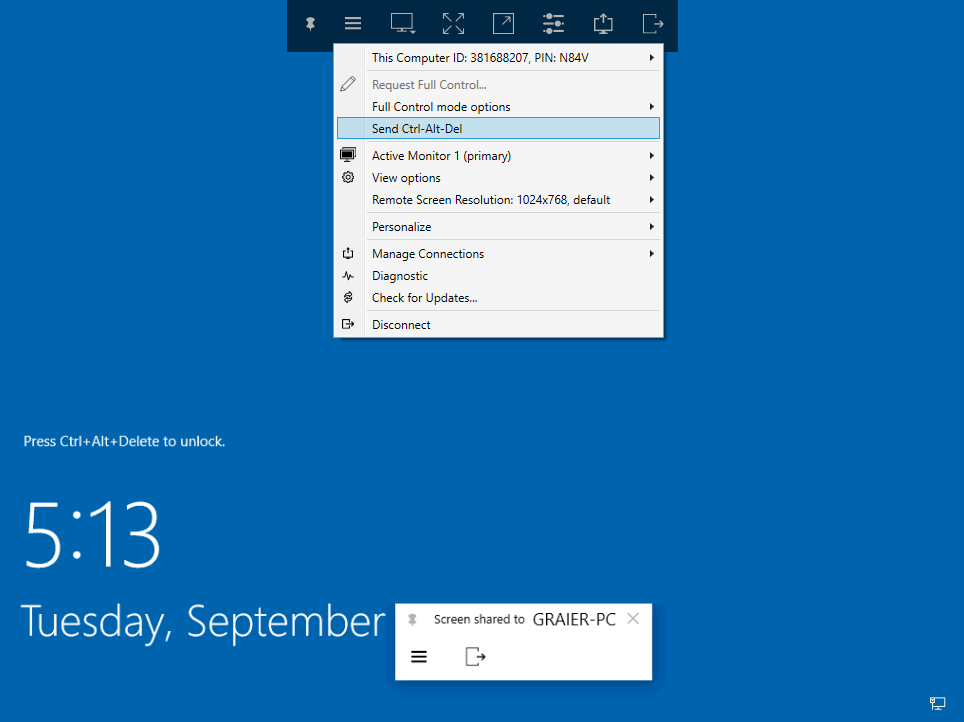 Type the Windows password, if needed, and you're done!
Both Managed Remote Desktop and Free Remote Desktop are simple solutions that allow you to connect to any computer with their agents installed quickly and easily. Managed Remote Desktop offers you additional functionality for business use. Should you have any questions, please contact us.