With the recent vaccine breakthroughs in COVID-19 occurring around the world, IT security service providers for healthcare clients have been on high alert. Cybercrime is more prominent in this industry than ever, as cyberattacks aim to disrupt medical efforts and IT systems. While government officials are telling hospitals to do what they can in order to protect against these attacks, there's only so much they can do on their own.
Disconnecting systems from the internet whenever possible and ensuring all backup systems are ready to go should be the top priority for managed security service providers (MSSPs). Do so by introducing new features, such as managed remote desktop capabilities, that can make your clients' lives easier.
However, with hospitals busy enough as it is due to the virus, it's up to MSSPs to guarantee the safety of their clients using the following tips:
Increase General Security Measures
While it may seem like an obvious point, the first thing any MSSP needs to do for their client is to increase general security measures. One of the benefits of MSSPs is the centralized management platforms they provide. Focusing on improving this platform can help secure the privacy of your client by allowing for greater oversight.
Further reading Core Managed Security Technologies and Software Any MSSP Needs
For years, MSSPs have been the right choice for clients, due to security benefits such as risk identification and threat management. As cyberattacks become more sophisticated and targeted, though, MSSPs need to update their counterattack strategies. Security measures can be difficult to improve, however, without becoming a burden to your client, because taking the necessary steps to protect them can encumber the very services you provide.
There are two primary ways that you can deal with this: restricting access to areas of your client's server to only those who the client deems worthy, and enforcing rules on password-changing. You should have your clients rotate between strong passwords every few weeks, or even every few days if their work is extremely sensitive.
Further reading Zero Trust Security Model: The Biggest Advantages and Obstacles
The most effective strategy to accomplish this is to use password managers to generate strong passwords and then store them in a virtual vault secured with 256-bit AES encryption, which is considered the gold standard when it comes to password manager security. The best password managers also operate using zero-knowledge protocols, meaning that all encryption happens before the passwords are sent into the vault (so not even the manager has access to them).
When increasing your security measures, focus on also improving the accessibility your clients themselves have to their servers. Locking down servers while also providing clients with security measures such as password managers can help you accomplish both your goals. Remember, all it takes is one employee of your client logging into the server in the wrong area and you may have a potential breach on your hands.
MSP's Educational Posters on Password Security
The poster pack includes:
Best practices for creating strong passwords
Reminders on how secure passwords should look like
Chart to check if your password is secure enough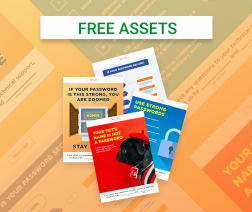 Improve Technical Support and Troubleshooting
In the unfortunate event that a security breach occurs, the last thing your healthcare clients need is a difficult time reaching a representative. Especially with the sensitive nature of the information many cyberattacks are targeting, improving the communication structure of your platforms should be on your to-do list.
As far as troubleshooting potential problems go, any MSSP needs to have a clear overview of their client's business and the services they provide. For healthcare clients, it's about recognizing the information most likely to be targeted by hackers.
Don't allow the IT team your client employs to handle all troubleshooting issues. Communicate clearly with them the areas that may pose a risk to the client and recommend or deploy security add-ons that can tighten against data leakage.
IT teams may be smart but work closely with them to tackle a problem, so that they can understand it as well. This will help to prevent future data privacy issues while also cementing your expertise with the client. Additionally, be willing to offer certain benefits to your clients that other MSSPs won't.
For perspective, offering 24/7/365 customer support should be a given, yet many MSSPs refuse to always be there for the client. With cyberattacks on healthcare only set to increase as the distribution of the vaccine begins, there will need to be a clear line of communication between you and your clients.
Protect Your Clients' Servers
The attacks happening in the healthcare industry this year have been unprecedented and, unfortunately, it is not always possible to prevent a cyberattack. More important than anything else when it comes to providing adequate security to your clients is offering server backup and restore. In the event that one attack is so detrimental that the entire server is breached, having a full backup and restoring it for your client can also restore their faith in you.
Medical organizations have been slowly creating platforms built for COVID-19 health matters that allow for the isolation of certain data when it is needed for analytical reasons. These new platforms differ from older ones in that they are more focused and streamlined. In time, the hope is that different types of data can be included on these secure platforms, but organizations are taking it one step at a time to ensure there are no security issues.
To succeed and protect your clients as an MSSP, providing new proxy servers specifically designed to protect key data, rather than recycling older platforms, can give your healthcare clients' servers an edge against cybersecurity attacks. A proxy server is simply a server that acts as a gateway between the internet and your clients' computers and hides their IP addresses.
Avoid the use of public proxy servers, because, even though they are free, they can oftentimes slow your internet connection and inject ads into the websites you visit. The best kind of private proxy server to use is virtual private networks (VPN), which are typically much more secure, since the VPN provider has their reputation on the line. Popular VPNs such as Surfshark, for instance, are very affordable, while offering split tunnelling and strict no-logging features that enable you to encrypt specific streams of traffic coming through your servers.
On top of these measures, remember to offer complimentary server back-ups and restoration, in order to assure your clients that the protection of their information is at the forefront of your mind.
Conclusion
As an MSSP, keeping your clients' servers safe should always be the main priority. Offer valuable benefits, such as system restore, that will earn and maintain the trust of your clients. Healthcare providers have their hands full dealing with COVID-19, and this pressure has only increased with the development of vaccines around the world.
MSSPs and MSPs, in general, are responsible for protecting the data of healthcare clients with impressive security measures and unrivaled support. Now is not the time to leave sensitive information at risk of cybersecurity attacks. Improve your systems and protect your clients today.