The most valuable part of your MSP may not be apparent at first glance. Clients may sign up with your firm based on your staff's technical capabilities and the tools that allow them to deliver quality service. But those are usually not the things investors and finance staff scrutinize the most when they are considering a purchase or proposal.
Skilled technicians are always a worthwhile investment, as well as the buildings, vehicles, and technology that support your business. Clients in multiple vertical markets across large geographical areas may be just as vital to the operation. However, the most critical piece of an IT services business is often made of paper.
MSP contracts represent long-term financial commitments and help you secure those highly sought-after recurring revenue streams that bolster your business. The potential income detailed in those documents is the true value of the organization. Firms with the most substantial and concise MSP contracts are typically worth much more than those that rely on project work or operate on month-to-month verbal agreements.
Your CFO and other company stakeholders should also be fans of MSP contracts. When your clients run into cash flow issues, the suppliers without viable agreements in place tend to get paid last. MSP contracts provide a security blanket for you and your business. If a customer runs into tough times, with this type of agreement in place, your company will have legal recourse to recover at least partial payment for services rendered.
In this article, we will dive into MSP contracts and guide you on certain key aspects you should include in your contracts. After reading this, you'll have a firm understanding of contracts and should be able to improve your own, or create new ones for your clients.
Why Do MSPs Need Contracts?
As more and more MSPs take steps to transition from hourly-based project and reactionary services to recurring, fixed-fee, proactive managed services, it is imperative you adopt clear and tight MSP service contracts in your organization. A carefully thought out and constructed contract can provide you with both marketing benefits and legal protection.
Further reading The Importance of Legal Services to MSPs
Apart from the legal protection and issues that can arise from that, it contributes to proper negotiation and helps with managing the client relationship. Managing expectations with clients is crucial to MSPs, and having contracts that are clear alleviates a lot of the issues with managing client relationships.
Later, we'll cover in more detail what to include in your contracts but, in summary, the contract highlights the following key points:
It sets the ground rules between you and the client during the relationship
It helps establish roles and responsibilities within the relationship
It establishes protocols for settling disputes, and limits your liability
Types of MSP Contracts to Have in Place
There are several types of contracts MSPs can have.
Service Level Agreement (SLA)
An MSP SLA is a written agreement between you and the customer. This agreement outlines the expectations that have been contractually agreed upon; for example, expected response times for service requests submitted by the customer. An SLA document is usually broken down into several categories based on the priority level of submitted support requests, with a minimum response time and minimum time to resolution value.
As an example, a server outage that impacts key business operations might be considered a "severity one" issue. In this case, the MSP might contractually agree to a minimum response time of one hour, and an expected resolution time within eight hours.
Statement of Work (SOW)
The statement of work (SOW) clearly documents the items included in its particular service offering, deliverable, or implementation, including SLAs, minimum requirements, and exclusions. Used in conjunction with a master services agreement (MSA) for a first-time client engagement, additional SOWs are used to sell new, or modify existing, services during the lifetime of a client relationship. For example, for the first service sold to a client, they will countersign the MSA and an SOW for that service. For additional services sold, or additions or modifications to the original SOW, the client will simply countersign additional SOWs. Using a one-time MSA along with SOWs reduces the total amount of additional paperwork needed to continue delivering new projects and services to a client during the lifetime of the relationship.
FREE ASSETS
SLA and SOW Templates for MSPs
Create well-documented processes to provide an outstanding level of services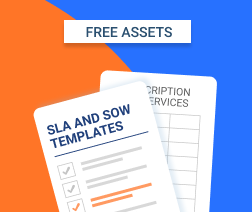 Master Service Agreement (MSA)
An MSP master service agreement (MSA) is one of the first agreements to be set up. This defines the obligations of two parties – you as an MSP, and your client. A master service agreement is typically designed on a case-by-case basis and there is no ultimate guide for all industries and states.
An MSA outlines the terms of your relationship with the client, including billing, project specification, retainer fees, and other legal and contractual details. It typically does not go into too many details, like exact pricing or the scope of your services. That should be covered in the additional documents – scope of work (SOW) and service level agreement (SLA). The MSA identifies the general obligations and liabilities of the parties. When you are designing it, consider that, first and foremost, it should protect you as an MSP from accusations of gross negligence.
Main Parts to Include
Below is a broad outline of what you can include in your contracts.
1. Who
Who are the parties involved? Of course, you have the client and yourself, but what about any third-party vendors, like line of business (LOB) software vendors and phone or print/copy vendors that you are expected to deal with on the client's behalf? You should outline these relationships in detail.
2. What
What services are you providing? What devices are you covering? The inverse of those two questions is also important. What services are you not providing? What devices are not covered? What do you expect the client to provide in terms of access, resources, etc.? Again, be clear to include services you do NOT provide.
3. Where
Are only remote services included or are on-site services included as well? If on-site is not covered, what is the hourly rate to do any on-site work? What client locations are included? Are on-site visits for employees that work from home included?
4. When
What are your standard operating hours? When are your company holidays? What are your SLAs for response time, resolution, etc.? Do after-hours services need to be charged at a different hourly rate? How long is the contract for? How can it be cancelled?
5. How
What are your processes for customers to submit a service request? How do they escalate an issue? How are customers expected to pay you and how often?
6. Confidentiality
You have access to your client's data. Assure them that you recognize that this access is a point of concern and that you are bound to provide reasonable confidentiality in regard to their data and business practices.
7. Non-Hire
Your employees represent a significant asset to your business. Protect yourself from customers engaging your employees directly by warning them not to do this, and providing a financial recompense to yourself if they do.
8. Liability
There are a ton of templates out there that you can use for this, but it is best handled by your attorney. Make sure you include wording that covers warranties, disclaimers, indemnification, remedies, etc.
9. General Provisions
This is critical to the enforcement, effectiveness, and overall performance of the contract. It can also be very specific to your situation, so make sure you consult an attorney on this part as well.
Of course, this is not a complete list. Your business needs might have additional requirements, but you can use this list as a way to start your own outline of what you want covered in your managed services contract. Many of these items apply for break/fix engagements as well.
Let's explore some of the options available for managed service contract terms.
Short-Term vs. Long-Term Managed Service Contracts
If you offer your clients a short-term contract – for example, a month-to-month contract – then you should expect the sales cycle to be reduced. Clients are typically willing to sign deals more readily if they know they can exit them easily (for example, due to bad service or a better alternative).
Some MSP businesses offer 30-day rolling contracts and use this as a sales strategy. If you go this route, you will live and die by the quality of your service. This can be attractive to many small businesses, but conventional wisdom says that these short-term contracts aren't attractive to a potential buyer of your business. What if somebody buys your MSP business and, 30 days later, all the client contracts they've acquired decide they don't want to work with you?
If you're a growing MSP with no immediate plans to sell your business, then 30-day contracts are a good option. However, if you're looking to build the value of your business for a potential acquisition, then longer-term contracts would be more attractive.
A one-year managed service contract is not unusual. But know that there are MSPs who ask for 3-year contract terms from their clients!
In longer-term contracts, you might be able to offer your clients additional benefits – making it a more attractive offer for them to sign. For instance, you could lock in today's prices for the next year. This can help them budget their IT service needs for their next twelve months – without worrying about price increases.
Some clients will prefer longer contract terms, whereas others will find short-term contracts more appealing. It's up to you to decide which you will offer, and how you position them to clients. Remember that one size doesn't fit all.
If a client wants to end their contract, then you need to have a contracted notice period in place. Offboarding a client means additional work for your MSP business. You need to hand over passwords, third-party service accounts, and much more. It's not something that can be done overnight.
Typically, most providers ask for a 30-day notice period for contracts. That means that if a client wants to break the contract, then they need to give at least 30 days' notice so that all parties can adequately prepare. In some longer-term contracts, a 60-day notice period is standard practice.
For instance, if you offer 1-year contract terms with a 60-day notice period, then it's good practice (if not the law in some places) to be clear that the 60-day notice period is approaching. Quietly ignoring the notice period, then insisting that clients have missed their contract get-out and must sign another 3-year deal, is not an ethical way to do business.
Be open and be transparent about your contracts. If a client is unhappy, then have an honest conversation with them about how you can address the situation.
The Client Breached the Contract: Now What?
The best way to avoid a breach of contract is through a clear understanding between you and your client. When your client is unfamiliar with the scope of your services, problems are likely to arise. Likewise, tension and frustration can occur when your clients are unsure of what they are required to do. You should communicate clearly with your client about the obligations due in a contract and have this documented. You should also let them know ahead of time if any obligations must be changed or delayed. Of course, this all needs to be done in a professional manner.
Anything in writing can be used in a breach of contract case. Everyone in your business should keep this in mind before you commit anything to paper or a computer screen. If you feel a breach of contract is looming on the horizon, recording meetings and phone conversations can be helpful, but keep in mind that it may not be admissible in court in your state. Disputes with your clients are no fun, so it's best to settle disputes before a breach occurs. It can still happen with open communication and a will to reach an agreement or compromise.
But for those times when a breach can't be avoided, you and your attorney can litigate your case to a positive outcome. A tight contract, a history of clear communication, and the existence of written documentation can help you call for accountability where it is due.
When It Can't Be Avoided
The first thing to do in a breach of contract is to talk to the right person. As much as possible, try to avoid legal action in any case. Having to go to court can be expensive and takes a lot of your time. The results, too, are unpredictable even if you are certain that you are in the right. Bring the matter to the person's attention, and see if you can work something out.
If that doesn't work and you have to get formal, then you can start by sending your client a registered letter. This is to notify them that you feel their actions constitute a major breach of contract, and that you will terminate and seek damages if they do not correct their actions. The next step is either to take the matter to a small-claims court or to go get a lawyer. If your last option is to go to court, make sure that these items are present in your contract:
Written notice of breach of contract
A definition of obligations for both parties
Specific examples of breach of contract
A specific statement of the damages
It's common to find breach of contract disputes in today's courts. And it's practical and wise to avoid them in the first place. But whether you're facing contract fraud, non-payment claims, or failure to comply with a non-disclosure agreement, it doesn't have to be an uphill battle. Be sure to create a quality business contract in the first place. It will ensure accountability both from you and your client. And a quality contract will be your best arsenal should you ever need to bring your case to court.