This article explains how to configure MSP360 Drive to map your cloud storage account as a local disk on your local computer. If you do not have a cloud storage account yet, you can check our list of supported cloud storage providers.

Configuring MSP360 Drive
To configure MSP360 Drive:
1Click the Drive icon in the system tray.

2Select Options.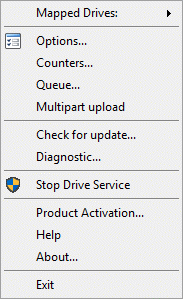 3Switch to the Storage Accounts tab, then click Add.
4In the Storage Provider list, select the storage provider for your storage account.
Note: if you're already using MSP360 Explorer, you can import your cloud storage account credentials.
5Specify credentials for your Cloud Storage account:
In Display name field, specify the storage account name.
Select the Account type.
Specify access credentials in the corresponding fields.
Select Use SSL check box if your connection requires it.
Select Use native multipart upload
6 To make sure the specified credentials are correct, click Test Connection.
7Click OK.
8 Switch to Mapped Drives tab.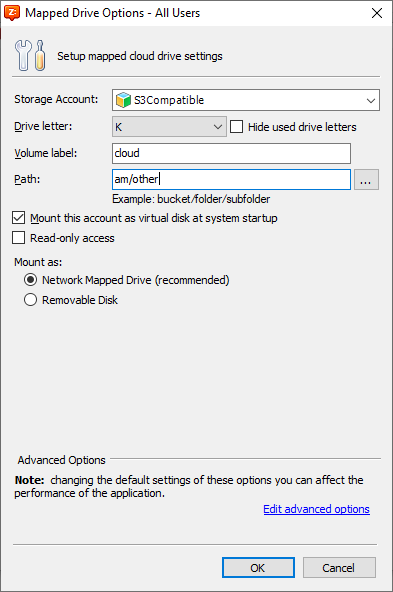 9 Specify the following parameters:
Select the letter you want to use as a mapped disk label in Drive letter drop-down menu.
In the Volume label field, specify the required volume label.
In Path field, specify the required path to bucket or directory in a bucket.
Select Mount this account as virtual disk at system startup check box, if you want to use this as a virtual disk subsequently.
Select Read-only access check box if you want to specify the read-only access to this drive.
10 Once you are finished with mapped cloud drive settings, click OK, then restart your computer. From now on you can access your cloud storage directly from Windows Explorer or any other file managers.
You can always access MSP360 Drive from the system tray.
Featured Product