We are excited to announce the release of version 2.4.1 of MSP360 Connect (formerly Remote Desktop), with new awesome features and performance and usability improvements.
Slow-Connection optimization
We have implemented the first part of the multi-step connection-optimization initiative. By pressing the "Adjust image quality" button...

you can now select from multiple, easy-to-use presets...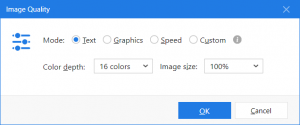 or create a custom one that fits your unique scenario. As I mentioned above, we are already working on automated picture optimization, which will become the second step in our campaign to increase responsiveness and lower input latency.
Upcoming Features
One of the hottest upcoming features, coming in the next major version update, is the ability to receive sound from the remote machine, so that now you will be able to participate in a secure meeting or check your voicemail. And that's not all; I'll share additional info in my next few blogs.
Conclusion
As always, we are listening to your feedback. Apart from the new features described in this post, we have made many other changes and optimizations under the hood. Don't forget to update to the latest version of MSP360 Connect via Main Menu > "Check for updates", or by downloading the latest build from our site.