Getting Started with MSP360 Managed Remote Desktop
When you're solving users' problems as an MSP, there's often no necessity to go to them in person. Many issues can be addressed remotely – much more quickly and cheaply. All you need in this case is an appropriate solution for remote access, such as MSP360 Managed Remote Desktop, which is integrated into MSP360 Managed Backup Service.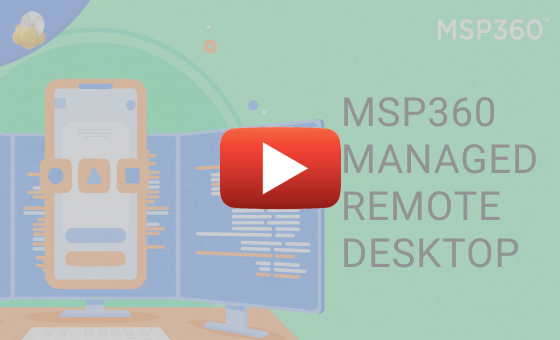 MSP360 Managed Remote Desktop allows you to monitor the computers of all the users and companies you support and connect to these computers when needed. Currently, the solution works as a host on Windows OS only. Though, devices on Windows, macOS, and iOS can be used to connect to clients' PCs. That means that an MSP can connect to a customer's PC using any of the operating systems listed, but the user's OS should be Windows.
In this article, we'll describe how to install the solution on your PC and your customers' computers. Also, we'll cover monitoring with usage statistics.
How to Set Up and Install the Solution on Windows
Managed Remote Desktop should be installed on every PC you're going to work with; this solution needs a two-way connection.
MSP360 Managed Remote Desktop
Feel free to test-drive our new MSP360 Managed Remote Desktop oriented towards Managed Service Providers
Extensive management capabilities
New Statistics page
Deploy Helper feature
Before setup, in the Settings tab, click General, scroll down and make sure the checkbox Enable Remote Access for all computers is marked. If not, mark it and hit Save. This will allow you to work with other computers remotely. You can also skip this step and proceed to the installation; the solution will remind you to enable this option during your first remote connection.
Now, get the solution for your PC. Currently, it works on Windows. Go to Downloads and click the Download Build button near the Remote Desktop.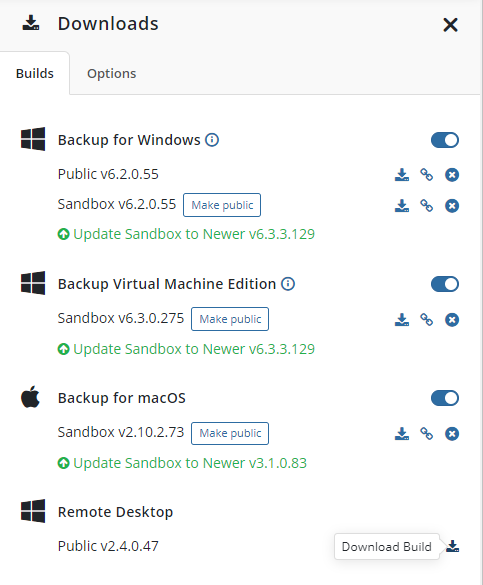 Then, in the Managing Installation Packages section, hit Remote Desktop for Windows. The download will start automatically. This installation file is for your main computer - the one you're going to use to control other machines. After it downloads, find the file in your Downloads folder and double-click it. The wizard will guide you through the process of installation.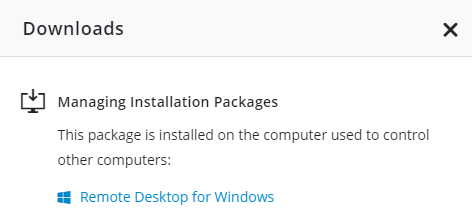 Now it's time to set up Managed Remote Desktop for your customers' PCs. There are two ways to do this.
Managed Remote Desktop Host Installation
After you've installed the solution for yourself, don't close the page. In the Remote Computers Installation Package section, click Remote Computer Installation. Here, you can generate a build for one of the companies you work with and install it on the relevant computers. Please note that this build will fit this company only.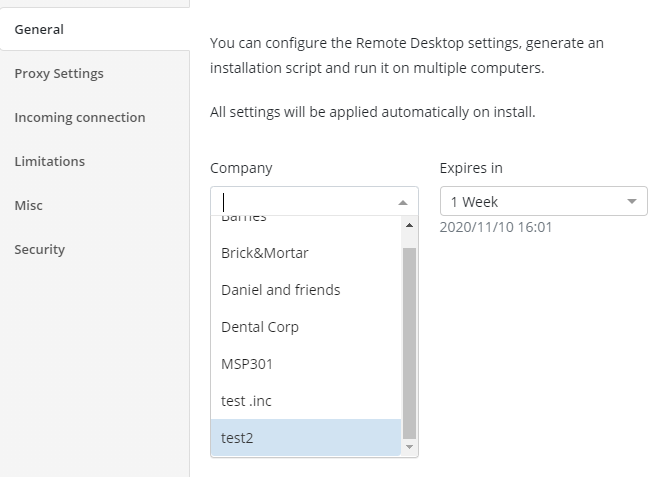 The expiration date is the date when your build will become inactive. By default, it works for a week.
If the company uses a proxy server, define its settings in the Proxy Settings tab.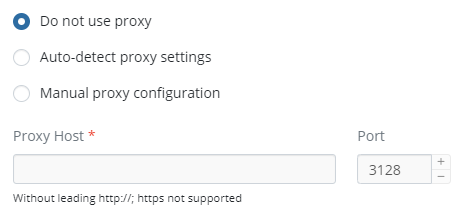 Use the Incoming Connection section to specify the connection parameters.

In the Limitations tab, you can restrict the outgoing connections and access to configuration and GUI if needed.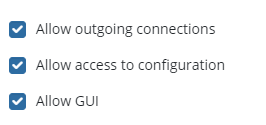 The Misc tab contains keyboard shortcuts, sound, and tray options.
The Security tab is where you can additionally protect your users' computers. Here, you can set the PIN length and its frequency of change. Additionally, here you can define a password that you'll use to access the computers so that no one but you will be able to do it.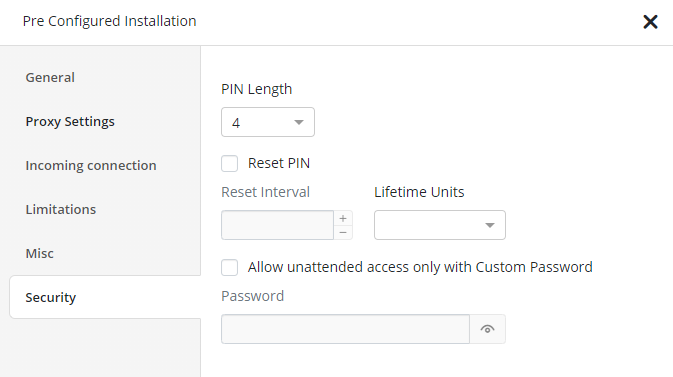 After you've set everything, click Generate Installation Script at the bottom. You'll get two options for applying your preconfigured build: the URL and the command line script that should be used with the installation file. The first one is for your customers – they will be able to download the build version for their company. The second one is used mostly for bulk installation (we'll cover that later in this white paper). Once the software is installed, you'll see it in the console: RMM/Remote Management.

Managed Remote Desktop Client Installation
The second installation option requires the MSP360 Backup solution to be installed on your customer's computer. In this case, you can get Remote Desktop for it via a direct connection. In the MSP360 Managed Backup web console, go to the RMM tab and click Remote Management. You'll see a list of your customer's computers. Choose the one you need and hit the plug icon near it. The solution will be installed automatically. This way works well if you only need to deal with a single issue on a single computer. In other situations, it would be better to install via URL or script.
Managed Remote Desktop Usage Statistics
The usage statistics help you to track all your connections and check their duration. It can be useful for analytics. For example, if you want to calculate your expenses, you will always know how many man-hours were spent on an issue. To check this information, proceed to Reporting / Remote Desktop Statistics. Here, you can see:
The administrator responsible for the remote session
The client's company
The client's computer
The start of the session
Session duration
Also, you can sort this information by date.

Managed Remote Desktop for macOS and iOS
If you have a Mac or an iPhone that you are going to use to help your clients, get the appropriate version for your device from the same place as it was described for Windows, just click Download Build for your OS. For macOS, you'll get a .pkg archive, and the iOS link addresses you to App Store.
After you install Managed Remote Desktop, you will be able to connect to your customers' computers through the solution's web version.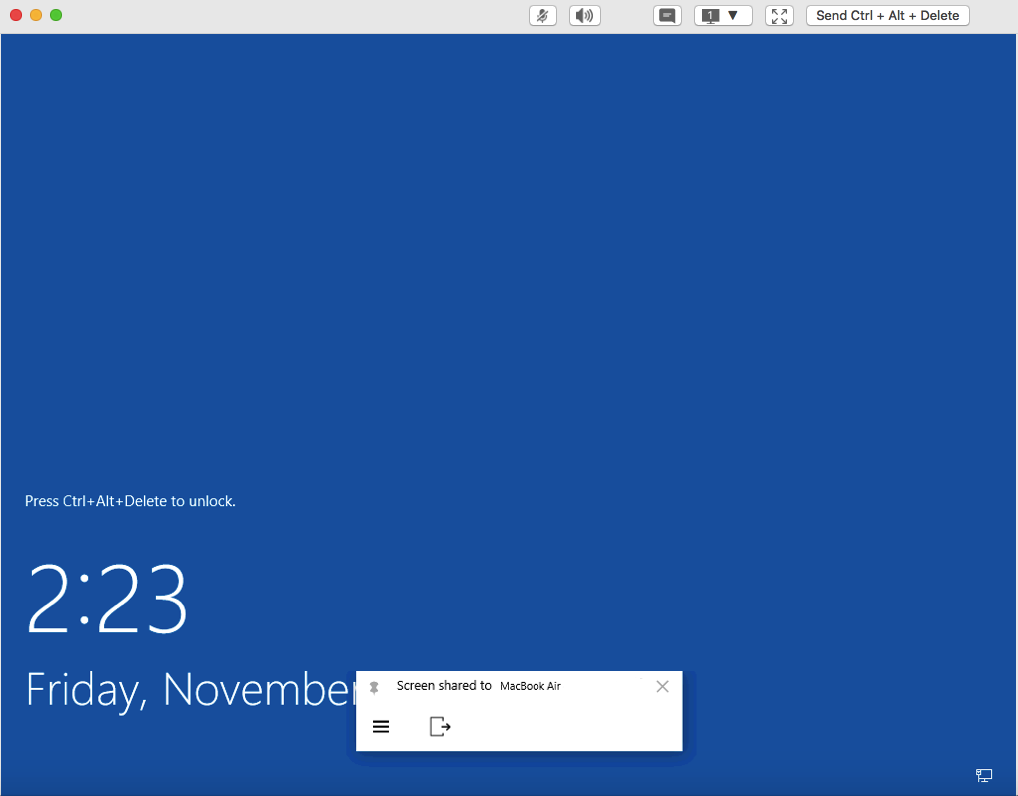 As you can see, there's nothing difficult in the installation of Managed Remote Desktop. If you have any questions, please contact our pre-sales team.