Introduction
You've probably heard the phrase "No news is good news ''. When it comes to your MSP business, it's definitely not true. In fact, it could be a sign of trouble. Effective client communication is an enormous part of a long-term growth strategy. If your clients are suffering in silence, you're probably going to lose them without a chance to amend the relationship.
Happy clients don't usually reach out and say things are going well, but frustrated clients are equally as likely to keep their problems to themselves until it's too late. The last thing you want is to find yourself saying, "I had no idea" to a client who's about to walk out of the door. As an MSP relying on monthly recurring revenue, losing one or two decently sized clients could have a serious impact on your revenue, margins, and company health.
Staying aligned with your client's needs means cementing your relationship with each client and making sure they understand your value. That starts with open client communication. The more your clients know you and understand your products, the better off you'll be.
So, how do you manage effective client communication at all times to prevent those unpleasant surprises? Don't worry; there are some simple ways to keep your eyes and ears on your clients' needs.
1. Find Ways to Help
Client communication is a two-way street. Just as you expect them to reach out when they have an issue, your clients want you to check in and confirm things are going well and address problems before they can grow. Since your ultimate goal is to be indispensable to your clients, you should concentrate on doing whatever it takes to support the success of their business. For example, provide more touch points, surveys, face-to-face meetings, and business audits that allow you to do more for your clients.
To make your client communication efforts work, any touchpoint you put into practice needs to be done consistently. Make them a part of your service-level agreement (SLA), so your clients know how and when to expect to hear from you.
The more embedded you are in their company, the harder it will be to replace you. Now you need some listening posts to keep you informed about what your clients need most. Listening posts are ways for companies to assess the customer experience at the individual level as well as in aggregate. By leveraging listening posts, you can proactively identify client needs and find ways to improve your weak points and meet their expectations. The listening posts should be constant and methodical. Call them and make a purposeful effort to check out your clients' needs. This is where account managers or other customers service-related personnel can shine.
2. Expand your Services
There are always other ways that you can support your clients' success. Expand your list of services to include other options—like cybersecurity, backup and disaster recovery, or cloud—that speak directly to the issues your clients are dealing with. If you've added the touchpoints from step one, you'll be positioned to keep your finger on the pulse of your clients' needs.
Introducing new services is an easy and convenient way to initiate a conversation with your clients. Take cybersecurity, for example. Your clients are starting to ask more questions about what you are doing to keep them secure. As you add more cybersecurity offerings, you can begin conversations with them about different security products and your role in implementing and managing them. Cybersecurity is a topic you'll want to address sooner rather than later. It's easier to take a proactive approach today than to have to answer questions about what you should have done differently in the event of a cyberattack in the future.
FREE WHITEPAPER
4 Essential MSP Business KPIs to Track
Define the potential issues, find most prospective growth factors, and cut ineffective operations.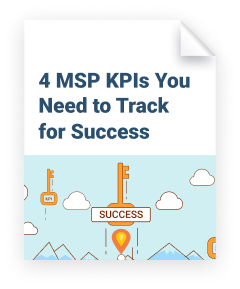 3. Be an Advisor
Take your client partnership from provider to advisor. Provide your clients with references, leads, and referrals that help them grow. It doesn't mean you need to be running active campaigns on their behalf but keep your ear to the ground and offer referrals when they surface. What may seem small to you could make a huge difference to a client's business.
If you help your clients succeed in more than just their technology, they'll return the favor. Small business owners talk, and if you can help them grow their business on top of providing great technical support, they'll let their peers know. Creating a referral program will incentive your clients to become your biggest fans and is a cheap and sustainable program for you to keep up.
4. Offer Expertise
Consider a specialization. When you choose a niche or vertical, you'll have the perspective and specific understanding that your clients need when it comes to their industry, and you can use it to offer free guidance as a part of your services. Share what you see going on in their industry, relay the issues your other vertical-specific clients are struggling with, and share how they solved the problems. Over time, you'll be an expert on vertical-specific regulations and compliance needs.
5. Assign Appropriate Resources
Another option is to implement dedicated account managers with very defined metrics and goals around retention and growth. Consider a certain number of calls per day, on-site visits to observe behaviors, and other ways to collect client information without having to do it all yourself. It's a more expensive approach but allows you to get a little more creative and make your clients feel your dedicated attention.
If you're looking for something more in-depth, you can monitor and chart your client's communication patterns. What kind of inbound communication do you see? Is it the same people all the time? The same issues? You'll be looking for spikes in complaints and inquiries, or complete communication drop-offs, which are real red flags. Drop-offs mean your clients could start taking you for granted. They'll assume everything is fine and forget the value you bring to the table, which means the first cheaper deal to show up at their doorstep could turn into a contract termination for you.
And if you're willing to put in a little more personal time for your larger accounts, it might be time to enact some C-level interactions. This approach is referred to as account-based marketing. Make calls from one leader to another, launch C-level specific initiatives, or even offer a C-level exclusive lunch to show your appreciation and come prepared with a 20-30 minute thought leadership presentation about what you see coming down the pipeline for your market. Follow it up with a networking event that adds more value.
Conclusion
As you can see, client communication is all about getting your feet on the ground of your accounts in an ongoing, methodical, constant way. With the right balance employed, that deadly silence can be replaced with healthy, ongoing client communication that establishes and strengthens long-term partnerships.