Just because you have a successful Managed Service Provider (MSP) business today doesn't guarantee you'll remain successful going forward. Market conditions are always changing – not least in the MSP industry, which continues to grow steadily as more players enter the market – and MSPs must constantly adapt to keep ahead of the competition.
That's why we've put together this list of five ways that MSPs can differentiate themselves from the crowd. Practices like the following are critical not just for keeping existing clients, but also for acquiring new ones in the face of fierce MSP competition.
Customer Service
Providing customer service is part and parcel of any MSP business. But offering truly top-notch customer service experience can help you stand out from the crowd. Indeed, according to Salesforce research study, 89% of consumers are more likely to make another purchase after a positive customer service experience. In a different report, issued in 2017 by Talend, 57% of respondents listed "unaddressed negative reviews" as the top reason to part ways with a brand.
To deliver standout customer service as an MSP, consider practices such as:
Offering 24/7 support availability, rather than providing support only during business hours.
Having managers or executives follow up with clients after incidents or SLA failures in order to emphasize how seriously your company takes the mistake and how committed it is to delivering results for the client going forward.
Avoiding contracts that leave clients feeling nickel-and-dimed. Flat-fee service pricing is one way to achieve this.
Making your pricing transparent and honest, which helps clients feel valued and respected.
The list could go on, but the point is that taking concrete actions to go above and beyond in your engagement with customers will help you take your business further as an MSP.
Find the Right MSP Market Differentiation
It's much easier to compete successfully as an MSP if you focus on a niche where you have special strengths than it is to offer a broad portfolio of services. The caveat, however, is that MSPs that are too narrow in their service offerings risk being written off by clients who need more than one type of service.
To succeed in a competitive MSP market then, strive to strike the right balance between market specialization and breadth of services. One way of doing this is to focus on a specific "layer" of your clients' IT estate—like desktop infrastructure or networking—and offer multiple managed services related to it. A desktop infrastructure MSP could offer desktop setup, patch management, user and‌ application provisioning, and backup and recovery services, for example.
This approach allows you to specialize, but without pigeonholing you to where you're not competitive for clients who need more than one individual type of managed service.
Constantly Generate Qualified Leads
As an MSP, you may be so busy delivering services that you forget how important it is to market. But that's a mistake. You need to make sure you are constantly seeking new customers by generating leads in order to maintain a healthy pipeline and keep new business coming in.
To do this, start by creating a buyer's persona based on these questions:
Who is your ideal customer? (basic profile)
Where are they found? (touch points)
What do they want? (pain points)
To better understand your customers and find the answers to these questions, attend trade shows and user conferences and monitor social media.
Once you've answered these questions, you can launch marketing campaigns that will generate leads for your target buyers. These campaigns could include ads, content marketing, social media marketing, presentations at trade shows or a combination of all of the above, depending on who your buyers are and which channels allow you to reach them.
Minimize Business Downtime with These Recovery Essentials
Direct-to-cloud recovery
Recovery with a bootable drive
File-level and VM restore
Remote recovery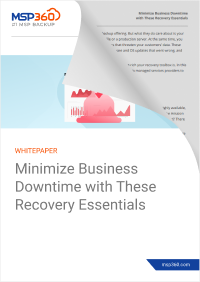 Emphasize – and Demonstrate – Security
We live in an age of never-ending cyberattacks, and even non-technical business stakeholders are keenly aware of the importance of cybersecurity.
For that reason, MSPs who emphasize their commitment to cybersecurity can gain a competitive edge. Although all MSPs should take security very seriously, those who can communicate and demonstrate their investment in security are in a better position to compete in the MSP market.
To highlight your security commitment, consider practices such as:
Detailing the tools and processes you use to secure customer assets.
Collecting and sharing statistics about your security performance, such as how long you have operated without suffering a security breach.
Becoming certified with security or compliance frameworks, like SOC 2.
Your goal should be not just to tell customers that you care about security, but to prove it using hard data that demonstrates just how successful you are in keeping your customers' data and applications safe.
Stay Flexible
Last but not least, competitive MSPs must be flexible MSPs. Technologies change constantly, and your managed services must be flexible enough to change with them.
You might do managed backup and recovery for on-premise infrastructure currently, but you'll likely need to expand to support cloud-based backup as more of your customer data enters the cloud. Likewise, if in the past you primarily supported VMs, learning how to support containers and Kubernetes is increasingly important in a cloud-native world.
To achieve technological flexibility, you need solutions that are robust and flexible – such as MSP360 Backup, a powerful, cross-platform backup and disaster recovery solution that supports any type of backup need and is compatible with a wide variety of backup storage locations.
Conclusion
The fact that the MSP market is so competitive is a good thing. It's a reflection of strong demand for managed services, and a dynamic group of MSP businesses committed to delivering them.
Nonetheless, succeeding in this competitive market requires MSPs to improve their offerings and communicate their value to customers constantly. In order to stand out, think about which services you can offer that will give you an edge over other MSPs, as well as how you can demonstrate to leads and existing clients what makes you different.