Guide to Becoming a Cloud-First MSP
Cloud computing has redefined all parts of the IT industry, including managed services. Today, MSPs must embrace the cloud in order to deliver the best value to customers and optimize their business's operating costs.
This doesn't mean that MSPs have to move every part of their business to the cloud. But it does mean taking a "cloud-first" approach, in which cloud-based tools, services, and infrastructure become the foundation of their operations.
Here's an overview of how MSPs can transition to a cloud-first strategy, along with the special considerations they must address in order to make cloud-first managed services profitable and easy to deliver.
The what and why of cloud-first managed services
As noted above, a cloud-first strategy for MSPs is one in which cloud-based resources provide the foundation for delivering managed services. Given the choice between relying on a local, on-premises resource, or one based in the cloud, a cloud-first MSP chooses the latter.
By making the cloud the default basis of their operations, MSPs gain several critical advantages:
Scalability, because they can increase the rate at which they consume cloud-based resources on-demand.
The flexibility to access cloud-based resources from anywhere, as well as to redeploy them for a new client or a new offering whenever desired.
Fixed and predictable costs, with no large upfront capital expenses associated with the acquisition of on-premises hardware.
Less time spent setting up and maintaining local infrastructure.
Higher reliability, because cloud-based infrastructure is less likely to fail than its on-premises alternative.
Automated updates, which are built into most cloud services.
The potential to increase your MSP profit margins, if you are able to lower your operating costs via the cloud.
Cloud-first limitations
Going cloud-first does have some drawbacks. The biggest is that it makes you more dependent on an Internet connection. In the event that your connection becomes unavailable, or your bandwidth is limited, cloud-based resources can be difficult or impossible to access. However, MSPs can address these limitations by building backup plans into their cloud-first strategies. Have a secondary means of accessing the Internet if your primary connection breaks, for example.
Further reading Best Practices to Develop a Cloud-First Approach and Increase Margins
Building a cloud-first managed service
It's one thing to declare yourself a cloud-first MSP. It's another to plan a managed services offering that effectively takes advantage of your cloud-first strategy.
Some services are easier to transition to a cloud-first model than others. The best candidates for cloud-based delivery include:
Data backup and recovery, which can be streamlined using cloud-based management tools and storage.
Productivity suites, which you can offer as a managed service by reselling cloud-based platforms like G Suite and Microsoft 365.
Storage services, which can be built using cloud-based storage like Amazon S3 or Dropbox.
IT support services, which you can deliver using cloud-based remote monitoring and management tools.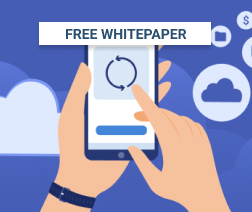 Other types of managed services -- especially those that require your physical presence, such as hardware maintenance -- can't really be adapted for a cloud-first model. But again, that's OK; you don't need to move everything to the cloud in order to go cloud-first.
Further reading Offering a Cloud-First Bundle Is Key in 2022
Getting the most out of cloud-based managed services
No matter which managed services you transition to a cloud-based approach, there are a couple of considerations you'll need to address in order to make delivery as smooth as possible.
One is contracts. Your SLAs, MSA, and possibly other contracts may need to be updated if you switch to cloud-based tools and services.
Another consideration is whether to build managed services based on third-party cloud services and infrastructure that you essentially resell, or to construct your own original cloud infrastructure or services offerings.
Further reading Cloud-First Bundling to Boost Profitability
Selling cloud-first managed services
Your MSP sales strategy will also need to be revamped when you go cloud-first. You will need to be prepared to address common sales objections to cloud-based offerings, such as customer concerns about security and what happens if Internet connectivity goes down.
You also need to make sure that you pitch your services in a way that makes the value of a cloud-based approach clear. You need prospects to understand easily why they should purchase a cloud-based managed service, rather than one that is delivered using on-premises tools. At the same time, if you offer managed services that are based on existing public cloud offerings, like G Suite or Microsoft 365, you must make it clear how you add value, so that prospects purchase these services from you, instead of directly from the upstream vendors.
Further reading How to Turn Your MSP Prospects Into Clients
Pricing cloud-based services strategically can also help drive sales. Although profit margins for cloud-based services tend to be lower than for those that you deliver using on-premises tools and infrastructure, that does not mean you can't offer discounts in certain cases.
Further reading Selling MSP Services with a Cloud-First Approach in Mind
Conclusion
Going cloud-first can bring many opportunities to your MSP business by making your managed services more flexible and cost-efficient. At the same time, however, cloud-first MSPs need to address the special challenges that arise when designing and selling cloud-based managed services. Keep the tips above in mind as you navigate these obstacles, in order to bring your MSP business fully into the cloud age.