Cloud-First Bundling to Boost Profitability
So you've decided to go cloud-first for your MSP business, meaning you're leveraging the cloud wherever possible to power your managed service offerings.
Now, it's time to build managed services that allow you to take full advantage of a cloud-based approach. Here are tips on how to do that.
Managed services you can deliver using the cloud
No matter which types of managed services you deliver, there is a good chance that you can use cloud-based tools or infrastructure to build them in one way or another. The following are several common managed services that can be delivered in whole or in part using the cloud.
Backup and recovery
Managed backup and recovery is an obvious solution to build using the cloud. You can take advantage of the cloud in three ways in this context:
Cloud-based backup tools for managing and automating backup operations.
Cloud-based storage for storing backup data.
In all of these ways, the cloud makes it possible to build more flexible and reliable backup and recovery services than those that you could offer if you relied solely on on-premises tools and storage.
FREE WHITEPAPER
Full System Backup and Recovery
Check out our comprehensive guide covering system state, system image, and application-aware backup and recovery, as well as bare-metal recovery: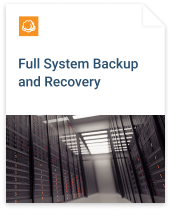 Productivity suites (G Suite and Microsoft 365)
If you offer a productivity suite as a managed service, using a cloud-based platform such as G Suite and Microsoft 365 can greatly simplify the effort required to deploy and manage the software. It eliminates the need to set up and maintain your own hosting servers, and to provision each workstation with the productivity apps.
It also makes it easier to scale up quickly; if more clients want the service, or you need to support more employees at an existing client, you can do so instantaneously using a cloud-based offering.
Further reading How to Sell Microsoft 365 as a Managed Service
Shared storage
You can set up and manage file servers to provide shared storage as a managed service. Or, you could take advantage of a cloud-based storage solution, which saves you from having to manage the hardware yourself. It also makes it easy to scale up the size of the storage seamlessly, without worrying about adding more storage devices.
There are two categories of cloud storage you could use for this scenario. One is an object storage solution, such as Amazon S3 or Azure Blob Storage. This would require you to build your own tooling for users to access the storage. But because this type of storage is so cheap, your profit margins are likely to be fatter. The other approach is to resell a consumer-grade personal storage solution like Dropbox or Google Drive, which will generally be less profitable but is easier to offer, because the storage infrastructure and end-user tooling are integrated into a single, resellable package.
Antivirus
Rather than installing and running antivirus software locally on each workstation or server that you support, you can take advantage of a cloud-based antivirus tool. It may still be necessary to install agents on each device, but this process can be easily centralized when using cloud antivirus. Cloud-based antivirus tools also reduce the processing burden placed on local devices when scanning systems for vulnerabilities, so your clients will benefit from improved performance, too.
Further reading Top 5 Antivirus Solutions for Managed Service Providers
Support services
Having to be physically present in clients' offices in order to provide IT support is an inconvenience for you, and means slower service for them. Cloud-based remote access tools make it easy to deliver support from anywhere. This saves you time (and, by extension, money), while also keeping your clients as happy as possible.
Updating contracts for cloud-first managed services
When you start offering managed services based on cloud offerings, you may need to adjust your MSAs, SLAs, SOWs and other agreements. Factors to consider include:
If the cloud service you rely on to deliver the managed service has a certain SLA, your own SLA should reflect that. You don't want to guarantee a higher SLA to your clients than you are getting on the backend from a cloud provider.
A tool or infrastructure that you deploy on-premises will be available as long as you keep maintaining it, but a cloud service could be discontinued without notice. This risk should be reflected in your MSA, so that you have protection in the event that you can no longer offer a managed service in the same way due to a change in the cloud service on which it depends.
Data ownership and stewardship are different in the cloud than on-premises, because you have less control over what a cloud provider does with cloud data. If control over data is an important factor in a managed service that you offer, consider including in the MSA or SOW specifications about where data will reside and the extent to which customers are guaranteed ownership or control over it.
Because cloud-based managed services depend on Internet connectivity to work, there may be a higher risk of unexpected disruption than there is for those that run on-premises. This should be reflected in your SLA or MSA.
FREE ASSETS
SLA and SOW Templates for MSPs
Create well-documented processes to provide an outstanding level of services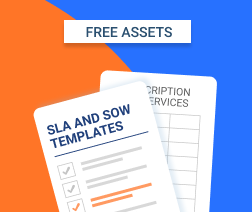 Offering your own cloud
The cloud-first managed services described above can be delivered by any MSP using tools and infrastructure that are available in existing public clouds, like Amazon and Azure.
However, larger MSPs might consider going a step further by offering their own original cloud services. This will require building your own cloud infrastructure and software from the ground up, which is a lot of work; however, this can be more profitable than relying on third-party cloud solutions.
There are two main types of cloud services that MSPs could offer under this model.
Infrastructure as a Service (IaaS)
IaaS means offering access to cloud-based virtual machines, storage and other types of infrastructure resources over the Internet. If you set up your own data center and virtualization software, you can deliver these types of resources to clients to build your own IaaS offering.
The public cloud providers, like Amazon and Azure, already offer IaaS quite cheaply. It may be hard to compete with them on price. However, for certain MSP clients, a custom IaaS offering may be more attractive than the alternatives from the public cloud, even if it costs more.
For example, clients who need to keep their data local, but who still want the flexibility of an IaaS model, may find an MSP's private IaaS offering attractive. So could those who need a certain type of IaaS service that is hard to find in public clouds, such as virtual machines running an operating system other than Windows and Linux (which are the only options supported by the mainstream public cloud IaaS offerings).
Software as a Service (SaaS)
MSPs with sufficient resources can also set up software applications on their own infrastructure and make them available over the Internet to clients using an SaaS model.
For example, MSPs could use a platform like LibreOffice Online, an open-source hosted version of the LibreOffice productivity suite, to provide an SaaS productivity platform that is an alternative to G Suite or Microsoft 365. As with IaaS, the ability to offer special features or customizations that are not available from mainstream SaaS offerings is the key to designing a profitable custom service.
Another example is to deliver a custom SaaS e-commerce platform using an open source platform like WP eCommerce. If you can do this in a way that solves particular clients' pain points more effectively than existing SaaS offerings, your managed service will gain traction.
Mixed IaaS/SaaS for MSPs
MSPs may also use a mix of self-built IaaS and SaaS solutions to deliver managed services.
A prime example here is Disaster Recovery as a Service, or DRaaS. To offer DRaaS, you need storage infrastructure, which you can set up and manage on your own, as well as software (like MSP360, which can be deployed under a variety of hosting architectures) to power backup and recovery operations.
By using their own cloud infrastructure and a flexible backup and recovery software solution to build a DRaaS offering, MSPs gain a high level of flexibility and customizability. They can also maximize profitability by minimizing their data storage and software licensing costs.
Learn more in this article on adding DRaaS to your managed services offerings.
Conclusion
Most of the managed services that MSPs offer today can be delivered at least in part with the help of cloud services. By leveraging the cloud, MSPs can save money and increase the flexibility of the solutions they offer to clients. But before you jump head-first into the cloud, keep in mind that you may need to adjust your contracts. Remember, too, that you must find ways to differentiate your cloud-based offerings from those of existing public cloud vendors in order to compete successfully.