If you're an MSP who provides backup and recovery services, and any of the data you back up could contain medical information, HIPAA is a law you need to know. Although at first glance HIPAA may not seem to have major ramifications for data backup, it actually includes extensive provisions that regulate how data is backed up and how backup data should be secured.
Keep reading for tips on what MSPs need to know about HIPAA, and how to factor HIPAA requirements into managed backup and recovery services.
What is HIPAA?
The Health Insurance Portability and Accountability Act, or HIPAA, is a U.S. federal regulation designed to protect medical information. It was introduced in 1996 but remains highly relevant in the present era of pervasive data breaches and ransomware attacks.
The chief goals of HIPAA include:
Keeping medical information secure by ensuring that parties involved in the management of medical data adhere to privacy and confidentiality requirements.
Keeping medical information secure by mitigating the risk of cyberattacks and other threats to data security.
Because HIPAA was introduced decades ago, before the advent of technologies like cloud computing, it is not specific in most regards about which tools or technologies businesses need to implement. Instead, HIPAA imposes high-level requirements, and leaves it to technology experts – like MSPs – to interpret them in the context of present-day tools and processes.
Why HIPAA Matters for MSPs
HIPAA imposes privacy and security requirements on any business that collects, stores, manages or otherwise interacts with medical information. Companies that are subject to HIPAA requirements are known as "covered entities," in the jargon of the law.
Thus, it's not just healthcare businesses that need to comply with HIPAA. Any entity that handles medical data in any way – including MSPs who offer backup and recovery services to healthcare companies or their vendors or partners – may also need to be HIPAA-compliant.
Essential Guide to Backup for MSPs
Backup best practices and tips on how to protect your customers' sensitive data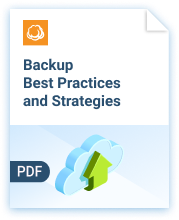 HIPAA Backup Requirements
If your role as an MSP is to back up or recover data that includes medical information, there are several specific HIPAA requirements you'll need to follow to a tee:
Establish a backup plan: HIPAA requires covered entities to have a backup plan in place that enables them to "maintain retrievable exact copies of electronic protected health information." MSPs must therefore ensure that any healthcare data they back up is an exact copy of the original information, and that it can be recovered to match its original state.
Establish a recovery plan: Backing up data is not enough. HIPAA also requires covered entities – or the MSPs who manage their backup operations – to develop a specific data recovery plan for recovering protected data whenever needed.
Backup testing: MSPs who back up medical data must also establish a backup testing plan so that they can perform "periodic testing and revision of contingency plans," according to the text of the HIPAA law.
Backup encryption: HIPAA requires that medical information, including but not limited to data backups, be secured using encryption.
Backup network security: Finally, MSPs that deal with healthcare data must implement "technical security measures to guard against unauthorized access to electronic health information that is being transmitted over an electronic communications network." HIPAA isn't specific about what these network security measures include, but common protections would include tools like firewalls and monitoring the network for security threats.
For MSPs who deal with protected medical information, then, it's critical not just to back up data, but also to implement and test a recovery plan. Equally important is ensuring that backup data remains secure in storage, as well as when it is being transferred over the network.
How MSP360 Backup Can Help with HIPAA Compliance
MSP360 Backup makes it easy for MSPs to meet HIPAA compliance mandates, no matter which types of data they are backing up or which recovery mandates requirements they face.
MSP360 provides a variety of backup options – full backup, incremental backup and so on – which help MSPs meet HIPAA's requirements to perform complete and accurate backups in an efficient way. In addition, MSP360 offers a number of security features for protecting data at rest and in transit.
With MSP360 Backup, MSPs can manage HIPAA-compliant backup and recovery operations without having to set up additional tools or processes. HIPAA compliance is built into the platform.