What's new this week in the news for MSPs? Azure and Microsoft 365 services problems continuing; Google debuts Google Workspace for remote worktools integration; US Department of Homeland Security Cybersecurity and Infrastructure Security Agency issues Emotet warning; and COVID-19 clinical trials hit as ransomware targets medical software company.
Let's see what it's all about.
Azure and Microsoft 365 Services Problems Continuing
Microsoft cloud services have been impacted by a significant Azure Active Directory authentication issue that has affected users globally. An additional Outlook/Exchange issue affected Europe- and India-based Office 365 and Microsoft 365 customers.
Beginning on October 7th, Microsoft Office 365 users started reporting problems with accessing their admin center dashboards. At 2:30 p.m. Eastern Time, the users took to Twitter and other social media, saying they could not access their services. This outage continued until 4 p.m., when users began reporting restoration of their services.
Nevertheless, Microsoft is warning users that there could be residual issues related to Outlook and Exchange.
Google Debuts Google Workspace for Remote Worktool Integration
Google saw the need for a more cohesive G Suite platform that would bring together its entire suite of Google cloud tools for office and remote work, such as messaging, meetings, docs, and tasks.
Google Workspace effectively rebrands G Suite, but it goes beyond the visual aesthetics of new logos for the entire G Suite product line. According to Javier Soltero, the vice president and general manager of Google Workspace, "Teams need to thrive without meeting in, protect their time to focus on the most impactful work, and build human connection in new ways."
The framework for Google Workspace was announced in July. It is the beginning step in Google's vision for Workspace. It has been rolled out to business customers and, over the coming months, all Google users will get access.
An all-in-one view that unites collaboration tools was the idea behind Google Workspace. Core tools remain ready to use at a moment's notice and become available in context. In docs, an "@ mention" of someone will trigger a pop-up that displays their details and suggests context, or even actions, such as sharing the document. There are also picture-in-picture capabilities that allow users to see and hear the people they collaborate with while they work are included in Gmail and Chat.
These capabilities will be rolled out to Docs, Slides, and Sheets, which will allow users to get the same nonverbal cues, while working with a partner or group on a project as if in the same room.
US Department of Homeland Security Cybersecurity and Infrastructure Security Agency Issues Emotet Warning
A warning that state and local governments need to take steps to ensure that their systems can block attacks against Emotet malware came from the US Department of Homeland Security Cybersecurity and Infrastructure Security Agency. Emotet debuted as a banking trojan in 2014 and has since grown into a malware complete with its own botnet. In July, an increase in Emotet attacks was detected and has continued rising, leading to CISA's recent warning.
CISA suggests several primary security tactics to protect against Emotet attacks. These include:
Block email attachments that are commonly associated with malware, such as DLL, EXE, and ZIP files, since they cannot be scanned
Implement filters at email gateways, and be sure to include blocking of suspicious IP addresses at the firewall
Implement domain-based message authentication, reporting, and conformance validation system for emails
Enforce multi-factor authentication (MFA)
While some say the warning comes late, Saryu Nayyar, chief executive officer of the security information and event management firm Gurucul Solutions Pvt Ltd, notes that warning late is better than never. Many other countries gave warnings a month earlier, she commented.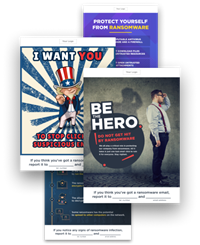 COVID-19 Clinical Trials Hit as Ransomware Targets Medical Software Company
Following a ransomware attack on a business that provides software to medical companies, COVID-19 vaccine clinical trials and research into other diseases have been delayed. The attack targeted eResearch Technology and was first reported by the New York Times.
Employees discovered two weeks ago that they were locked out of their data by ransomware. Companies using their software, such as IQVIA, which helps manage the AstraZeneca vaccine trial, and Bristol Myers Squibb Co., which is leading a group of companies developing a quick COVID-19 test, have also been affected.
After taking its systems offline and contacting cybersecurity experts and the US Federal Bureau of Investigation, it seems ERT has ticked all the boxes of a standard ransomware response. Ransomware groups are attempting to use the current pandemic to gain payments. Many have noted increased attacks on the healthcare system since the beginning of COVID-19.
While the form of ransomware in this attack is not yet known, many of the previous attacks against hospitals and medical companies were linked to Ryuk ransomware.
That's a Wrap for News You Might've Missed
I hope this update has been helpful. MSP360 is your resource for MSP news. Stay home, stay safe and healthy, and remember to check back every week for more highlights.