MSP360 Backup 6.1.3 offers the full support of the Azure blob rehydration feature which enables the prompt restore of your data from archived blob to online tier within 1 hour.
Update your MSP360 Backup to the latest version and use your Azure storage more efficiently than ever.
To Manage Rehydrate Feature
1. In MSP360 Backup, find the restore plan you want to edit, then click Edit.
2. Follow the restore wizard steps until Destination.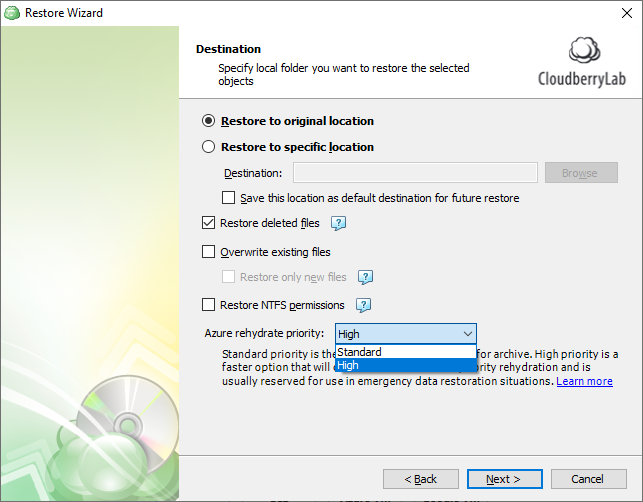 3. In the Azure rehydrate priority drop-down list, select the required restore priority.
Standard priority: The rehydration request will be processed in the order it was received and may take up to 15 hours
High priority: The rehydration request will be prioritized over Standard requests and may finish in under 1 hour. High priority may take longer than 1 hour, depending on blob size and current demand. High priority requests are guaranteed to be prioritized over Standard priority requests.
4. Finish the restore wizard to save changes.
Read more about Azure blob rehydration in the Access Tiers and the Set Blob Tier articles at Mircosoft Azure Docs.