If you think working from home is a waste of time, think again. You might be missing out on some of the true gems this unique situation offers. Working from an office or going to customer sites can help MSPs stay super-busy, but they may not get a lot done.
Now we're given the unique opportunity to make the most of each day, with fewer (hopefully!) interruptions. This gives us the ability to get things done which we could only have dreamed about doing before.
1. Get Сertifications and Training for You and Your Techs
There is a wide variety of MSP certifications and training that you can take advantage of, regardless of your budget. Some are paid, but others are free.
Certifications
Paid Training
If you are looking to brush up on your training, there are several opportunities, both free and paid. On the paid side, ITPro.tv offers cloud training on Microsoft Azure, Microsoft 365, and CompTIA CySA+.
For those going down the cybersecurity route, Cybrary.IT offers both cybersecurity and IT training.
Free Training
For budget-minded individuals, there are also opportunities to get training for free. These include LinkedIn Learning (formerly known as Lynda), which offers courses on business, software development design, web development and more.
Pluralsight is offering free access to over 7,000 expert-led video courses during the month of April. It will help you and your team learn more about many areas of technology.
2. Ask Vendors for Training
On the topic of training, all the vendors that you've been working with for years would probably like you to get more training in their products. To this end, some may offer free training and possibly an opportunity to get certified for their products. This type of training can come in handy when things get busy in the future when you are back to growing your business.
3. Learn About New Products
Most of us see new products in passing while we're doing research. Unfortunately, when we are busy, we don't have time to explore them. There may be new alternatives that we can offer to our customers, giving them better value at a better price. Now is the time to look for and learn about these new technologies and products. This is especially true for products that offer improved value for remote workforces, such as Office 365, voice over IP (VoIP), and more.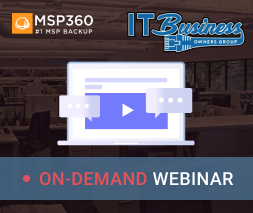 4. Review Existing Tickets
You finally get a chance to review some of the service tickets that you and your team have created. When doing this, here are a few things that you can look for:
Did you label/categorize the tickets properly? When things get busy again, it's going to be important to find solutions to problems faster. Going through and properly labeling and categorizing your tickets will make it faster and easier to find things once it gets busy. This will also allow you to hire additional people, if needed, and bring them up to speed faster.
Review tickets by status: are there any pending tickets that you've been meaning to get to but haven't had the time? This can be a great opportunity to get caught up on them. Even if it's something that you can't do at this time, you can at least give the customer a status update. You can let them know what is going on and explain how, once you're able to go back on-site, you'll be able to solve the problem for them.
5. Write Scripts and Canned Responses
There may be times when several customers contact you with the same question. Working from home can be a great opportunity to create canned responses to those situations. In addition to being a timesaver, having canned responses can also make MSPs look better. It reduces typos and gives you time to improve grammar and correct the mistakes that we frequently make when we rapidly type the same message many times.
Further reading MSPs, Document Your Scripts for Good
6. Review (and Improve) Processes
Reviewing your processes can help you identify and streamline your business and improve efficiency. It can even help you find business opportunities that you didn't know existed. If needed, it can also show you where you can cut costs and improve efficiencies around those processes.
While reviewing these processes, there may be opportunities to apply automation. If there are common workflows, you may be able to apply them to your processes. Automating them can also help you optimize and scale them for when your business is growing again.
Further reading MSP Process Audit
7. Enhance Internal Documentation
While you are reviewing your processes, you should take the time to enhance your internal documentation. In addition to being helpful for your existing staff, it also provides an opportunity to bring new employees up to speed faster. Processes change over time, but it's rare that MSPs take the time to update the documentation to reflect this. Refreshing and enhancing documentation helps make sure it's accurate.
Further reading Guide to MSP Internal Documentation: Principles and Practices
Conclusion
Hopefully, by now you can see the opportunities MSPs have when working from home. Now is the time to make the most of it. Between training, learning about new products, reviewing existing tickets, and updating documentation and processes, you can get your MSP business prepared for the time when your company is ready to grow again.