#1 Backup Products For MSPs and Businesses of All Sizes
Powerful cross-platform backup and disaster recovery solutions that leverage the public cloud to enable a comprehensive data protection strategy.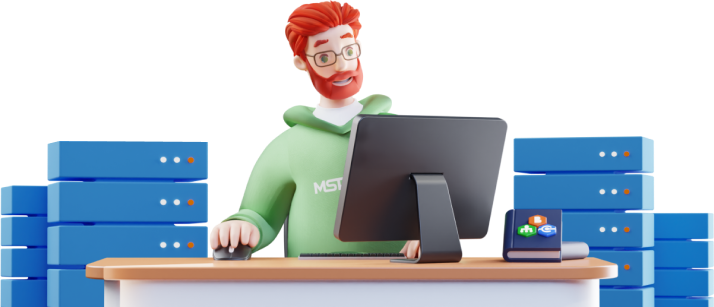 Choose A Backup Solution That Best Fits Your Needs
MSP360 Backup products encompass three feature-rich and cost-effective backup solutions that are adaptable to any IT environment. All MSP360 products are developed in-house, guaranteeing best-in-class security, exceptional stability, and streamlined licensing and billing processes.
Request a Demo
Cloud-based management console
24/7/365 live technical support
MS SQL and Exchange Backup
Still Not Sure Which Product is Right For You?
Managed Backup
MSP360
Managed Backup
is our most advanced backup product that includes a comprehensive set of features that allows the modern MSP or internal IT Team to more efficiently manage, scale and protect their complex IT environments.
Managed Backup
also includes a cloud based management console that can be accessed globally through any device.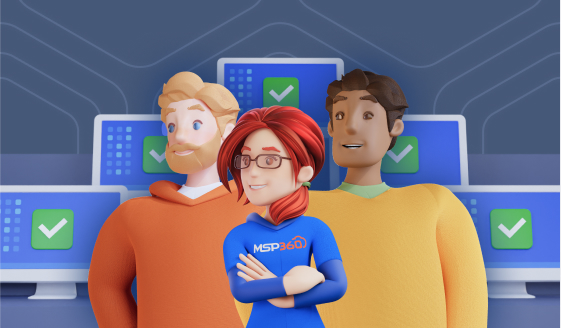 Standalone Backup
MSP360
Standalone Backup
is an on-premise solution best suited for MSPs and Businesses managing 5 devices or less. If you require centralized, web based management and monitoring, check out MSP360 Managed Backup.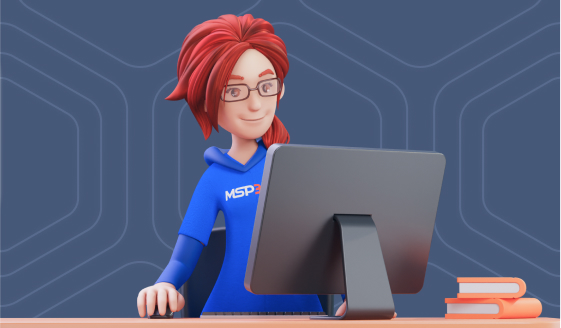 Free Backup
Protect your personal data effortlessly with our
Free Cloud Backup Solution
for Windows, macOS, and Linux. Utilize the power of the public cloud to ensure comprehensive data protection and peace of mind.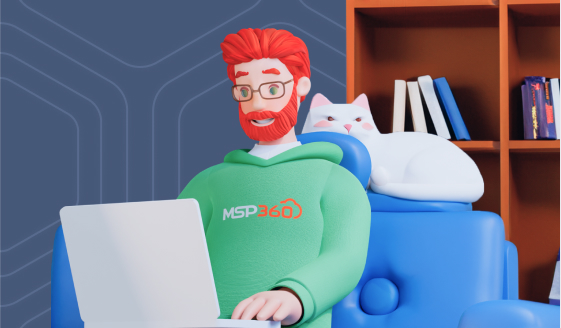 MSP360 Backup Products FAQ
What's the difference between MSP360 Free Backup, MSP360 Standalone Backup and MSP360 Managed Backup?
MSP360 Free Backup is an ideal solution for personal use. MSP360 Standalone Backup is well-suited for MSPs and businesses with fewer than 5 devices. For large-scale environments, MSP360 Managed Backup offers the most comprehensive and powerful solution.
Can I try MSP360 products before I buy them?
Absolutely! We provide a complete 15-day free trial for both MSP360 Standalone Backup and MSP360 Managed Backup. Once your trial period for MSP360 Standalone Backup is over, you have the option to either continue using the free version or purchase a commercial license.
How much do MSP360 Backup products cost?
How can I manage MSP360 products?
MSP360 Managed Backup is administered through the cloud-based web console, while MSP360 Free and Standalone Backup solutions are managed using the local application.
How are the products licensed?
MSP360 Managed Backup follows a per-device licensing model, with options for both monthly and annual payments. MSP360 Standalone Backup offers an annual per-endpoint subscription.
Do you offer 24/7 support?
Certainly! We provide a
premium support
option for MSP360 Managed Backup. For MSP360 Free Backup, support is exclusively available through our forum. As for MSP360 Standalone Backup, we offer support via email.
Backup and IT Management Software Simplified