What is RMM? Remote Monitoring and Management Basics
Remote monitoring and management, or RMM, tools make MSPs' jobs more efficient by helping them to take a more proactive approach to monitoring and administering the various systems that they manage. RMM solutions also enable automation, which allows MSPs to work faster and operate more effectively at scale.
This article provides an overview of RMM, including what it is, what benefits it offers and how to use RMM as part of your MSP strategy.
What is RMM?
Remote monitoring and management is an approach to IT management that relies on pre-installed tools for monitoring and managing IT systems resources from any location.
RMM software is any type of tool or other solution that supports RMM. An RMM tool could be an application that lets you log in remotely to a server, or it could be a tool that collects data about the server and streams it to a central dashboard where you can monitor all of your servers.
In many cases, MSPs deploy RMM platforms that combine multiple types of RMM functionality - remote logins, remote monitoring, remote administration and more - into a single product suite.
Benefits of RMM
RMM offers a range of benefits across different areas of a managed services workflow.
Monitoring
RMM software allows your team to monitor systems 24/7 through a centralized dashboard. You don't have to check each system individually to track its status.
What's more, because RMM tools work in the background, they collect monitoring data automatically, without disturbing your customers.
Further reading RMM: What Do MSPs Need to Monitor?
Faster Support
With RMM tools, you can provide support from anywhere, regardless of where you or your customers are located. You can also easily support multiple customers at once from a central office.
Further reading The Benefits of Remote Support
Automation
RMM tools make it easy to build automated workflows by, for example, setting up automated alerts for monitoring tools, automatically creating tickets to handle support requests and using scripts to automate incident resolution.
PowerShell Remote Alerts
In this document you'll find a PowerShell script that checks the status of the services listed below and sends an email alert if any of them is turned off:
Windows Firewall
Windows Defender
Windows Update Service
Any installed third-party antivirus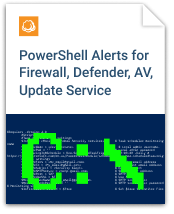 Reporting
Benefits of RMM also include transparent reporting. Using the data collected by RMM tools, you can create various types of reports about your clients' systems. For example, you can automatically generate data about how many times you logged in via an RMM tool to provide support, or how many alerts a client's system experienced in a given time period.
Simplicity and Transparency
By consolidating monitoring and management operations into a single platform, RMM tools simplify MSP tasks. They also make information more accessible to anyone on your team who needs it.
Scalability
RMM tools are critical for scaling MSP operations. By automating workflows and making it easier to support clients spread across a large area, RMM helps your business grow.
Increased Productivity
RMM tools help your technicians investigate issues faster, without having to travel to remote sites. In turn, they increase productivity.
Further reading Core RMM Software Features
Why MSPs Need RMM
RMM tools offer so many benefits that it's difficult to imagine a successful MSP business operating today without the help of RMM.
RMM plays a vital role in helping MSPs make the jump from a break/fix model to offering proactive managed services. With RMM, it becomes much easier to monitor and manage your clients' systems on an ongoing, continuous basis. You can identify and fix problems before your customers even know about them.
In addition, RMM helps you deliver more secure managed services. RMM monitoring and security tools can detect threats automatically. You may even be able to use scripts to automate security incident resolution by, for example, blacklisting an IP address that is generating malicious traffic.
RMM reduces downtime, too. By enabling you to find and fix issues proactively, RMM means fewer disruptions for your customers.
Finally, as your customers' needs change or you seek to offer new types of managed services, RMM provides the flexibility to help you do so. When you spend less time traveling to remote sites or fixing problems manually, you are in a stronger position to offer more services to more customers.
Further reading RMM Security for MSPs: Vulnerabilities and Best Practices
RMM and MSP Profitability
There are hard financial reasons to adopt RMM, too.
Traveling wastes not only time but also money. RMM can improve your operating margins by reducing how much you spend on travel.
RMM platforms that integrate a variety of tools into one suite can also reduce your tool costs. They eliminate the need to pay for separate monitoring tools, remote login solutions and so on.
And by making your technicians more productive, RMM will reduce your labor costs, which may be the single most important factor in boosting your MSP business's profitability.
Further reading Guide to MSP Profitability
Selling RMM-based Solutions to Customers
The benefits of RMM may be clear to you as an MSP, but less obvious to your customers. They often want the cheapest service model, rather than one that includes proactive services via RMM tools.
To help customers understand the value for them of the types of services that RMM enables, emphasize:
Faster results: Automation and remote support mean your customers get what they need from you sooner.
Proactive service: Ongoing, continuous management via RMM eliminates the need for customers to monitor systems or make changes on their own.
Minimal disruptions: RMM helps you deliver managed services with minimal disruptions to your customers. You don't need to send staff on site or sit at their desks.
Self-service: In some cases, you may choose to use RMM tools to let customers check the status of their systems on their own. For example, you could give them access to monitoring data from RMM tools.
Conclusion
From faster support to more efficient troubleshooting to less downtime, RMM offers MSPs and their customers a range of benefits. Whether you're building a new MSP business from scratch or looking for ways to optimize your existing business, RMM should be a part of your strategy.