Remote Management Features You Need in a Backup Solution
In today's world, the idea of physically sitting down in front of each system you support as an MSP seems almost quaint. Instead, most MSPs today rely heavily on remote management tools.
This is true even when it comes to data backup and recovery operations. Managed backup software offering remote management features greatly simplifies the tasks required to work with backup data. As a result, it saves time and personnel costs, while providing better results for customers.
Although many backup software platforms offer remote management features, they vary widely in the specific functionality they offer. To guide you in selecting a backup tool with the remote management features you need, this article offers an overview of which features are the most important and why.
Remote Backup Management Features
The most frequent tasks that you will perform as part of managed backup services center on configuring, executing, and monitoring backup processes.
In order to be able to do this work remotely, look for a backup management tool that offers the ability to do the following remotely:
Work on any OS: A backup solution that works with only one OS is not a great solution. Look for a tool that supports all the major operating systems -- Windows, macOS and Linux.
Workstation and server backup: You also want a tool that enables you to back up workstations, as well as servers. Even if you only back up one type of platform today, your needs may change in the future.
Backup scheduling: Being able to schedule backups to run at a certain time is a critical feature. It helps ensure that backup routines don't get in the way of your customers' operations, and it can help optimize backup performance (by ensuring that backups run when optimum network bandwidth is available, among other factors).
Further reading What Is the Best Backup Schedule for the Small Business?
Flexible backup options: Your remote backup management tool should enable you to back up data in whichever way makes the most sense for a given scenario. The main options include backing up individual files, backing up entire folders or directories, and image-based backup (which means backing up a workstation or server by creating an image of all of its contents).
Versioning and retention: In order to help protect against ransomware attacks and failed backups, your backup tools should allow you to store different versions of backup files. They should also automate backup retention, so that you can remove outdated backups.
Encryption and compression: These are both critical features to keep backups safe and efficient.
FREE WHITEPAPER
6 Ways MSP360 Will Help You Grow Your MSP Business in 2020
Find out how MSP360 meets the needs of MSPs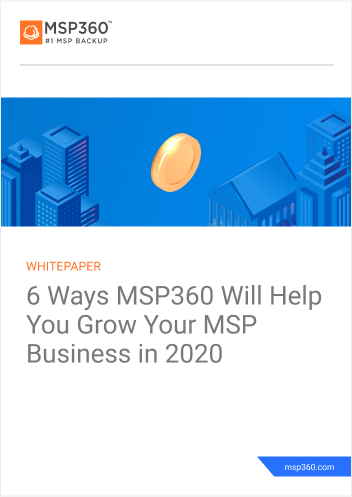 Managing Backup Storage Remotely
Beyond managing backups themselves, being able to configure backup storage remotely is also important in order to leverage fully the flexibility that remote management tools enable.
If you use the cloud for backup, be sure that your remote access features work with any cloud provider you may need to use, now or in the future. Ideally, your tools will also allow you to configure lifecycle management for your backups remotely so that you can move data automatically between different storage tiers to save money.
Local backup storage can also be managed remotely, although your approach will vary depending on how exactly the local storage is configured. If you use local disks, you'll need to be sure you can remotely create backup jobs to back up to/from local storage.
Further reading Backup Storage Management for MSPs
Remote Data Recovery and Restores
Remote management of backup routines and storage is only half the battle. You must also be prepared to manage data recovery and restores remotely. In fact, support for remote data recovery is all the more important, because you rarely have time after a data disaster occurs to travel to a physical site in order to perform recovery.
When selecting a backup tool, be sure it supports the following remote recovery features:
Multiple recovery methods: It should allow you to restore individual files, entire folders and operating system images.
File search: You should be able to search for files, as well, to ensure that they were recovered successfully.
Restore to virtual machines: Sometimes, you may need to perform image-based restores to virtual machines remotely. Ideally, you'll be able to do this not only when the data source and target are the same (e.g., restoring a VMware image to another VMware system), but also when they are dissimilar (e.g., restoring VMware to Hyper-V, or to a public cloud virtual machine service, such as EC2 or Azure virtual machines).
General Remote Access
Managing backup and recovery routines remotely may be your primary goal if you are an MSP who provides managed backup services. However, you may sometimes need to perform general-purpose management tasks as well, such as accessing remote systems for troubleshooting purposes or providing technical support to end-users.
Ideally, you'll choose backup management software that offers this functionality, too. That way, you can work from within the tool you already have open, instead of having to open another one, such as Remote Desktop.
Along similar lines, any tool you select should offer end-to-end encryption. It's the only way to keep your customers' data safe and protect your business's reputation.
Conclusion
Remote backup offers advantages over traditional backup methods. Above all, it's more flexible, and it saves time for both you and your customers.
However, not all managed backup tools provide the full range of functionality you need to manage backup operations, backup storage, and data recovery remotely. You should select a tool like MSP360 Managed Backup, which offers a rich array of remote management features alongside all of the other functionality that MSPs need to deliver managed backup services efficiently and cost-effectively.