MSP360 Managed Backup Routines: Steps to Enhance Efficiency
Managing your clients' IT infrastructure requires constant attention – even when everything is fine, you perform routine tasks to prevent breakdowns. These routine tasks apply to backups, too; to ensure that your customers' data is safe and won't be lost, you need to check whether things are working well. Of course, these checks should be regular.
This article is an overview of routine tasks in the MSP360 Managed Backup console. We explain what needs to be done daily, weekly and monthly to keep your backups working properly. This guide is based on our onboarding team's expertise. Additionally, we asked one of our clients, Steve Putnam from PC Wizard, who has been working with our console for more than seven years, to describe his routines.
Further readingThe PC Wizard Drops Costs by 40% Switching to MSP360™ Backup
Please note: the intervals given are just a recommendation; the frequency of tasks may vary depending on your needs.
What to Do Daily
There is not much work to do daily if everything is going well; with proper settings, all backups are automated. Still, it is worth checking whether the scheduled backups are running correctly. Go to the Reporting tab, Backup History section. If you see green marks only, it means that there were no issues with your backups. A yellow mark is a warning, and a red one means that your backup failed. You can click on any mark to get detailed information and resolve the issue if needed.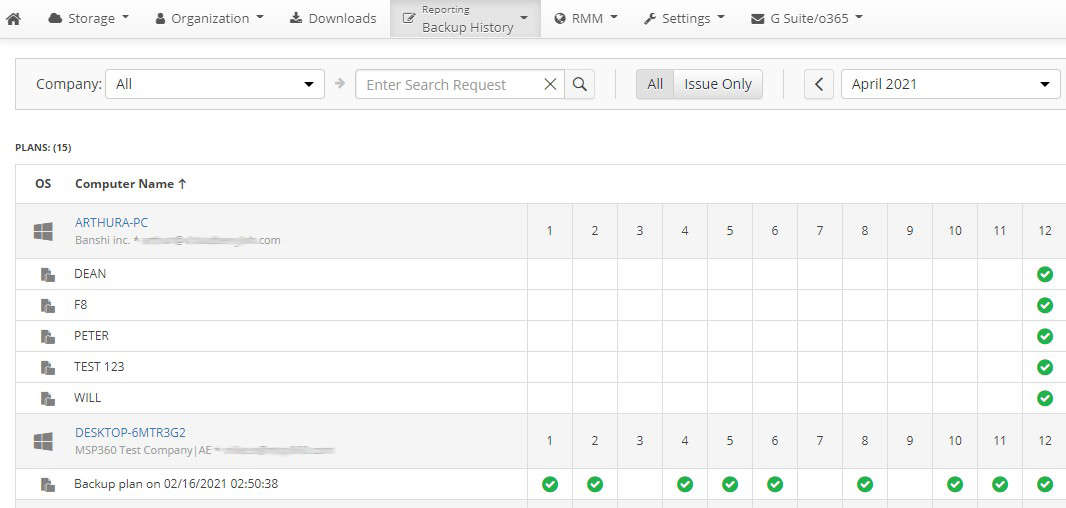 When reviewing the statuses of your backups, pay attention to consistency checks; a successful consistency check means that all the data that you've backed up is in storage, ready to be restored.
Another section to visit is the Monitoring/History in the RMM tab. Here, you can check which backups are running (and whether they are taking longer than expected) or marked as overdue. Some of these backups will probably need your attention.
Last but not least in your daily backup routines, look through your email and ticket system to see whether any customers need their data restored.
We wanted to get a second opinion about daily MBS tasks for an MSP. Here is what Steve Putnam told us:
"Each morning:
Check the ticket queue for any restore requests that may have been submitted after hours. Perform restores.
Investigate any failed backups. Resolve any issue(s) and rerun backup. Notify the client that there was a problem and that we fixed it.
Check overdue backups. Run any that were missed.
Check Monitoring panel for jobs that are still running, looking for long-running jobs.
Check offline devices to be sure that there is nothing unexpected. Sometimes this requires starting/restarting the Remote Monitoring Service on the end-user device."
What to Do Weekly
A very important weekly task is checking the Audit Log section in the Organization tab. Here, you can see the history of log-ins and major changes. Every record contains information about the date and time of log-in, the IP address, and what was done. Thus, with the audit log you can monitor major changes made by your administrators. Also, if someone gets access to your console, you'll see an unfamiliar IP address.

If some of your users have storage limits, check these limits every week to ensure that the users have enough space to store their vital data. Proceed to the Reporting tab, Storage Usage section. You'll see a list of companies with their users, and the users' storage limits. If you see a number 90 or higher in the Used (%) column, it is probably worth checking whether some data can be deleted to free up the space or whether the limit should be raised.
Steve additionally recommends reviewing the disk space alerts on the external USB backup drives: "We do our large image/Hyper-V backups over the weekend, so Monday is the time to check for low space. Our RMM is also set up to create an alert for low disk space on the external drives."
What to Do Monthly
Monthly tasks are greater in number, as there are many things to take into account regularly but which don't require constant attention. Mostly, when correctly configured and protected, the MSP360 Managed Backup console does everything automatically, so you don't need to monitor it every day or week. However, monthly maintenance is necessary, as some tasks require attention. Here are some examples:
Upgrading agents. To keep the agents on clients' machines up to date, visit the Downloads tab once a month, update the builds, and install them on the endpoints via Group Policy or RMM.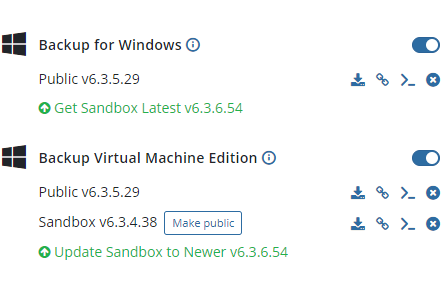 Managing licenses. For all the backups to run smoothly, the appropriate licenses must be purchased. In the Organization tab, Licenses section, you will find a list of all your licenses grouped by type. A red warning in the right column means that one or more of them have expired and might require renewal. Buy new licenses if needed, or release existing ones if they are not used on that particular computer and can be moved to another one.
Further readingLicense Management in MSP360 Managed Backup Service

Checking billing. If you use our built-in billing, regularly check that everything is well in the Reporting tab, Billing section. You can send the data to ConnectWise or Autotask, or export it as a .csv file.
Further readingHow to Use Billing in MSP360 Managed Backup Service

Checking for free space. In the Reporting tab, Capacity Report section, you can check whether you have enough space in all the storages you use.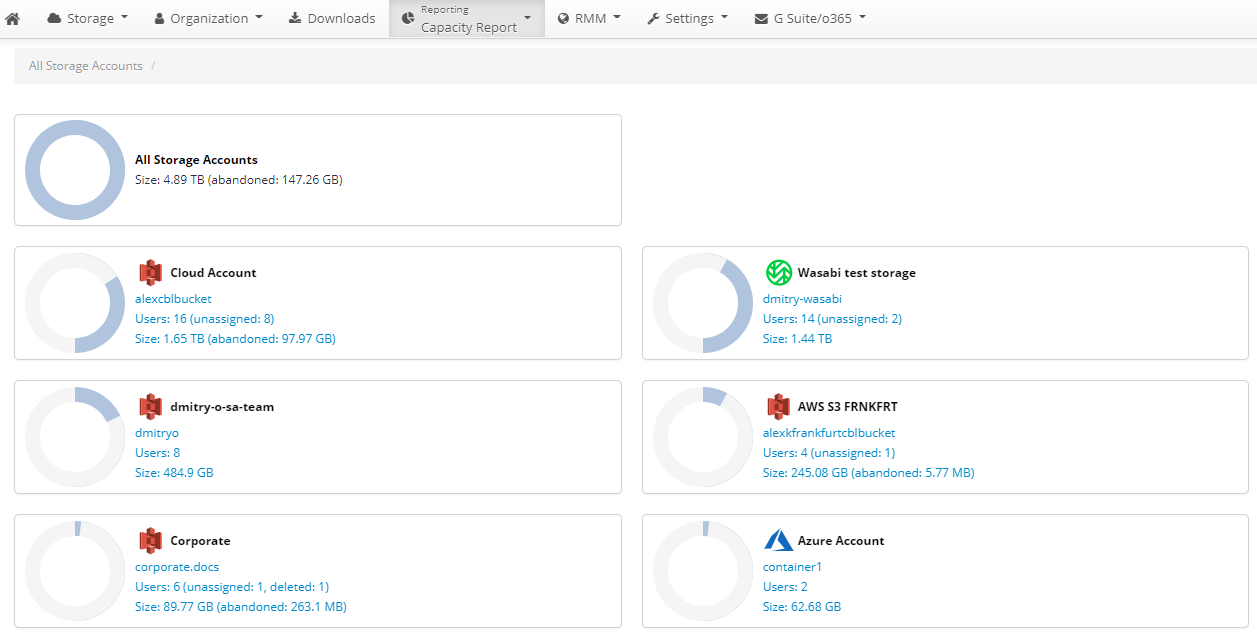 Testing restore points. As the main objective of creating backups is to be able to restore data, it is worth performing tests for your restore points. Try to restore and open files or restore and run virtual machines (or launch them via the Restore Verification feature in the agent) to ascertain that everything is well and that, in the event of disaster, your clients will be able to get their data into a working state. This is probably the most important part of your routine tasks.
Conclusion
Routines don't take much time, but with simple maintenance such as this, you can feel certain that your clients' data is safe. Investing a few minutes in routines every day will help you to avoid potential problems, as you will be able to spot and prevent them. MSP360 Managed Backup provides you with all the necessary tools for this.