Introduction to the PowerShell Module for MSP360 Managed Backup Service
You may already know how the Remote Deploy feature can help you to manage backups on a number of computers. However, the MSP360 PowerShell Module extends its capabilities even further. This module is developed by our in-house specialists and receives regular updates.
In this guide, we'll explain the capabilities of our PowerShell Module and also show you how to find and install it.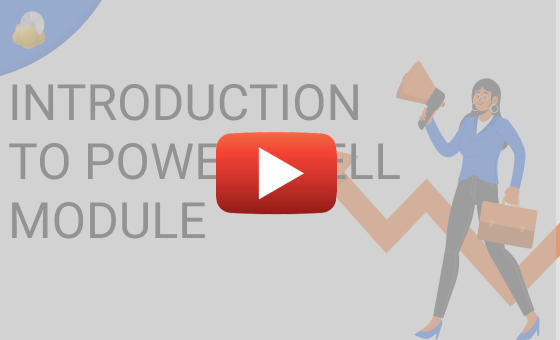 The PowerShell Module for MSP360 Managed Backup Service: Capabilities
The MSP360 PowerShell Module is a multifunctional tool. With it, you can carry out all the same actions that you perform through the MSP360 Managed Backup Service console or agent, and even more. Scripts created using this module can help you with:
Bulk changes to plans. For example, adding compression or encryption to plans on several computers at once.
Easier console monitoring and management using the API. If you have a .csv table containing many users, you can import them to the MSP360 Managed Backup Service console, instead of adding users manually.
Simple updates. For new installations through RMM or GPO, you can create a script that will request, download, and deploy the latest MSP360 Managed Backup Service update.
Billing information. If your RMM or PSA doesn't support our solution, you can request billing through PowerShell to use the information in your billing system.
Checking server connection. Test your connection to be sure that everything works well and there will be no delays with backups.
And more. There are many other functions that are useful in a variety of cases.
How to Install and Use the MSP360 PowerShell Module
Installing the Module
To install the module, run Windows PowerShell with administrator rights. For the module to work, the PowerShell version needs to be 3.0 or above. You can check whether you need to update it with the Get-Host | Select version cmdlet.

Run the installation script. You can copy-paste it from here.
iex (New-Object System.Net.WebClient).DownloadString('https://git.io/JUSAA'); Install-MSP360Module;
If you experience any execution policy restrictions, run the Set-ExecutionPolicy RemoteSigned cmdlet and then reinstall the module. Everything should then work fine.
Our developers are constantly working on the module, adding new cmdlets. You can check which cmdlets currently exist by running the Get-Command -Module msp360 script in PowerShell. Here is what you will see: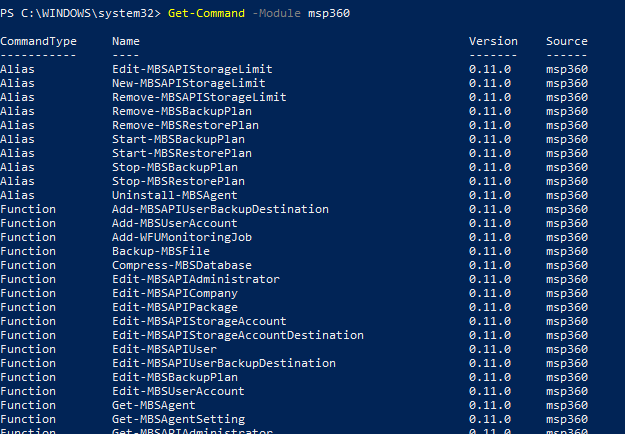 Use the Get-Help cmdlet with the name of any cmdlet that appears in the list to get detailed information.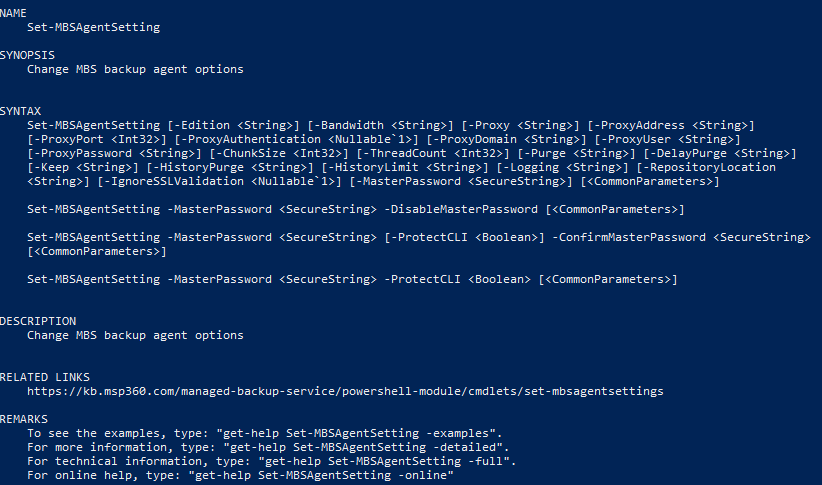 With these cmdlets, you can create scripts to change your backup plans or MSP360 Managed Backup agent settings one by one or in bulk. To perform bulk changes, write a script with the required functionality. We recommend testing it on your machine before mass deployment.
Using a Script for Bulk Plan Changes
After you've prepared and tested the script, it's time to put it to work. Go to the Remote Deploy section of the MSP360 Managed Backup Service console: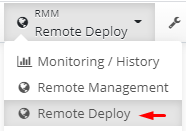 Create a new configuration for all the computers on which you want to make changes. Here's a link to the instructions: Getting Started with Remote Deploy in MSP360 Managed Backup
In the Backup Plans tab, create a file-level backup plan for a single file that exists on all computers (like windows.ini).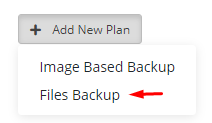 Schedule the plan to be started every 15 minutes. This interval will allow the script to launch faster. In the Pre-/Post-Actions tab, check the Execute this command before backup runs box and put the script that you've written in the field below.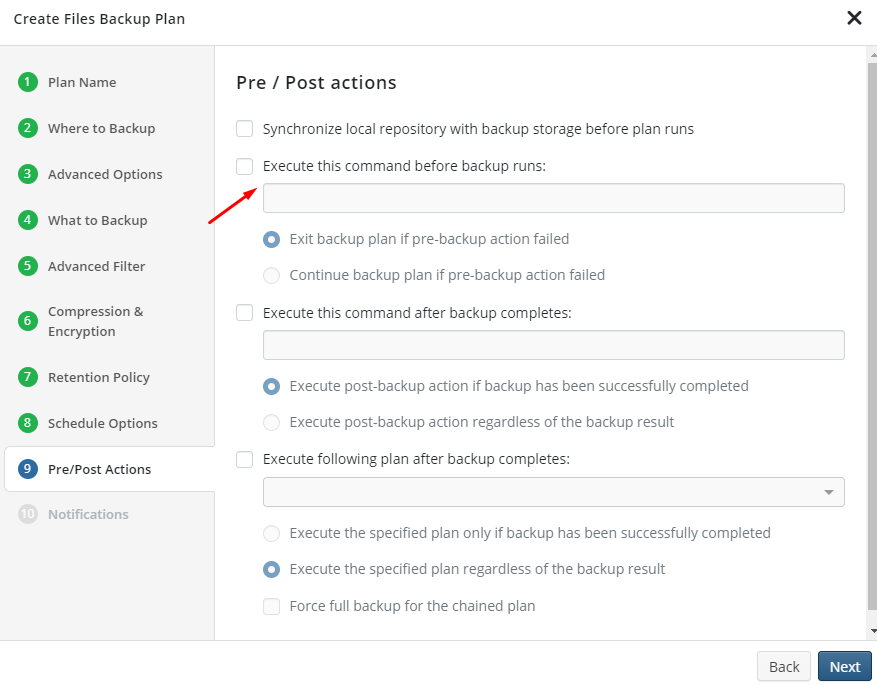 Run the plan. The script will make changes to all the computers you chose when customizing your configuration.
Our PowerShell Module extends the functionality of the Managed Backup Service solution. It helps to automate the routine tasks and customize the settings of your plans more deeply, so that you can manage the backed-up data much more effectively. You can get more information by visiting https://kb.msp360.com/ or contacting our pre-sales team.