Individuals and companies alike enjoy the convenience and seamless functionality of cloud-based computing. The ability to access business-critical information, infrastructure, and functions from any device or location holds even more appeal as more offices move to accommodate remote workers.
However, as convenient and user-friendly public cloud environments may be, they are hardly the place to store sensitive data or confidential communications. Yet secure cloud environments can come with a hefty price tag, so what should responsible yet budget-conscious organizations choose to help handle their workloads?
This is why more organizations are turning to hybrid cloud computing, which combines the benefits of both private and public cloud computing. Mission-critical and sensitive information can reside in secure cloud environments on-site, whereas day-to-day, cost-sensitive data, and apps can be hosted in multi-tenant cloud data centers off-premise. This is referred to as hybrid cloud computing.
Further reading Hybrid Cloud Backup: All You Need to Know
In this article, we will discuss the strengths of hybrid cloud computing as well as the possible security risks of hybrid cloud computing, as well as providing you with hybrid cloud security best practices for ensuring the safety of data when using the cloud.
How to Secure Hybrid Cloud
Private cloud data centers are physically located in secured premises, but this doesn't necessarily mean they are 100% safe. Private cloud-based computing travels through a private network infrastructure which can still be at risk of data leaks or man-in-the-middle interferement. Although private cloud computing is much more secure than public cloud data centers, they are not immune to hackers. It's important to be aware of how to secure hybrid cloud systems in your organization.
Securing hybrid cloud computing permits organizations to enjoy the enhanced security of private cloud models while allowing less sensitive data to remain on a public cloud server. Software companies, and especially DevOps teams, enjoy using hybrid cloud computing because it enables them to streamline operations as it pertains to continuous integration and continuous delivery (CI/CD).
This is because CI/CD together complement the implementation of public or hybrid cloud infrastructure, permitting developers to deploy code faster in a cloud computing environment and for security teams to have access to applications and infrastructure for continuous testing.
However, overall IT infrastructure can become complicated in this dual model of mixed deployments. With that in mind, here are some top tips for ensuring hybrid cloud security best practices:
Hybrid Cloud Visibility and Control
It's recommended that organizations that utilize hybrid cloud-based computing have a dedicated cybersecurity team that can oversee operations. These professionals will be at the forefront of securing your hybrid cloud network.
For these types of organizations with private cloud servers, the following hybrid cloud security best practices are vital:
The Importance of Cybersecurity Awareness to Prevent Security Breaches
Surprisingly, the most common culprit in cloud security breaches is your own employees. Using the principle of least privilege (only giving employees access to apps that they actually require to do their job) is the best method to protect yourself. Empower employees and remind them how to secure the hybrid cloud network with good cyber hygiene.
Most cloud vendors have cybersecurity protections built-in. The following items will help know how to secure hybrid cloud networks:
Keep in mind, it's also unrealistic to expect that your organization and its employees won't have to play an essential role in keeping your network safe. Keep in mind that organizations are entirely in control of keeping on top of security updates, managing guest access, and setting up configurations.
Further reading 8 Dos and Don'ts for Creating a Robust Cybersecurity Training Program
MSP's Educational Posters on Password Security
The poster pack includes:
Best practices for creating strong passwords
Reminders on how secure passwords should look like
A chart to check if your password is secure enough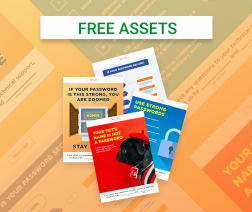 Assessing and Surveilling Your Security Risks on the Cloud
Unfortunately, cybercriminals are always hard at work finding loopholes or vulnerabilities to compromise network endpoints and cloud channels.
By its very nature, cloud computing can be less transparent than traditional networks. This is because cloud servers are managed and operated by third-party vendors. On-site, private cloud storage solutions may be the best choice for highly sensitive data or confidential information.
You should make sure that any such private cloud storage solution you use comes with zero-knowledge encryption assistance, which means your data will be encoded using complicated algorithms that are very difficult for even the most skilled of hackers to crack. This is vital to ensure high levels of security for when you are transferring data files between local storage and in the cloud.
Additional hybrid cloud security practices you can follow include:
Organizations must be proactive about preventing data breaches or cyber-criminal activity, which means acutely understanding the risks and vulnerabilities within your network.
Conclusion
While many are excited about the flexibility and functionality of cloud-based storage and networks, it's important to understand the security risks as well. A secure hybrid cloud network, which can provide the benefits of both private and public cloud servers, can be an ideal mix. Understanding the best security practices for your hybrid cloud networks, as well as having good communication with your cloud vendor and employees, are key aspects of securing your network.