Top Open-Source RMM Software for MSPs
If there's one thing that MSPs have collectively ascertained from the COVID-19 pandemic, it's that RMM tools are here to stay and evolve. And that includes open-source RMM software, plus both paid and free RMM solutions.
The Rise of MSP RMM Software During the COVID-19 Pandemic
You see, while there's no denying that the pandemic has negatively affected the business world, MSPs are seemingly experiencing some sort of a boom. Through a survey that sampled hundreds of professionals across IT security, emerging tech, and managed services fields, CompTIA established that 75% of the MSP respondents had witnessed a spike in business opportunities since the beginning of the pandemic.
Well, you can blame that on organizations increasingly shifting from on-premise to remote working environments.
It turns out that by March 2020, only 41% of companies had solid remote working capabilities. So, of course, the rest have been energetically hiring MSPs to power, manage, and maintain their remote IT capabilities. CompTIA's survey even established that most of the new business opportunities have been coming from organizations in desperate need of switching from on-premise to the cloud. Now that's a goldmine for MSPs all right. But, to fully capitalize on it, you need reliable RMM tools that'll help you keep the clients happy. And, to be more specific, you might want to start with an open-source RMM software solution.
Read along to find out why, as well as discover some of the top free, open-source RMM software tools you could consider for your MSP business.
The Purpose of RMM Software for MSPs
Since RMM refers to remote monitoring and management, it involves using specialized resources and tools to remotely keep tabs on your clients' IT infrastructure.
At the center of it all is RMM software, through which IT service providers get to remotely manage their clients' PCs, networks, software, and endpoints (Learn more about endpoint monitoring in our article: Introduction to Endpoint Monitoring and Management). They can, for instance, conduct routine maintenance checks, apply system patches, install new software, as well as introduce updates.
In simple terms, therefore, RMM software saves you the trouble of physically visiting your clients' premises just to conduct basic maintenance checks. The most comprehensive ones even give you the privilege of attending to multiple computers at the same time.
Now, all that considered, the tools are primarily categorized into paid commercial RMM software, free RMM software, and free open-source RMM software.
Paid vs. Free Commercial vs. Open-Source RMM Tools
At the very top, remote monitoring and management solutions are classified into:
Free RMM software.
Paid / premium RMM software.
It's only after you've dived deeper that you get to further branch out into free open-source RMM and free commercial RMM.
Here's how they all compare:
Category 1: Free RMM Software
Free Commercial RMM Tools
Free commercial RMM refers to the premium category of RMM software that happens to offer some of its features for free.
Make no mistake about them, though. Although they might be generous enough to grant you access at no charge, they are not built like their open-source counterparts. You see, the kicker is, free commercial RMM tools always come with a caveat. It turns out they are not entirely free of charge.
Consider Pulseway, for instance. Thanks to its free, all-in-one IT system for remote monitoring and management, you can monitor your clients' networks in real time, take complete control of their machines, administer patches, automate maintenance tasks, as well as stay posted with instant alerts.
The only problem is, the free version covers only two client systems. Nothing more. If you'd like to accommodate additional clients, you'll have to upscale to a premium account. All in all, therefore, this subcategory of free RMM software is only suitable for beginners who'd like to try out and get a feel of what they stand to get from the corresponding paid versions.
Free Open-Source RMM Tools
Unlike the free commercial tools we've just explored, open-source RMM software is completely free of charge. There are no caveats here. You can expect full, uninterrupted access to all the features and provisions without any financial commitment.
Hence, you should be able to run open-source RMM software on as many machines as you like. You won't be required to pay any license fees to introduce additional client networks. And that's not all. Since open-source systems provide access to their underlying code, you'll be free to customize even the smallest details. All you need is adequate documentation from the developers and technical coding skills.
However, the sad bit is, you won't be getting any technical support from the software developers. Open-source RMM software always leaves you to figure everything out by yourself, and then maintain the whole system without help from a customer support team.
On the flip side, though, that doesn't necessarily mean that help is completely unavailable. By revealing their underlying code, the best open-source RMM software often attracts large communities of developers, who then collaborate extensively to develop the tools even further. You can reach out to them for technical tips, as well as patches and updates.
PowerShell Remote Alerts
In this document you'll find a PowerShell script that checks the status of the services listed below and sends an email alert if any of them is turned off:
Windows Firewall
Windows Defender
Windows Update Service
Any installed third-party antivirus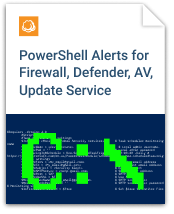 Category 2: Paid RMM Software
Paid RMM solutions are the premium tools that'll charge you to access and use their features. There's no standard pricing range, though. What you end up paying here depends on the specific RMM software you choose, its pricing model, plus the size of your client network. Usually, premium RMM software solutions charge users periodically, based on their volume of workstations, number of agents, and billing schedule.
Pulseway, for example, starts at about $16 per month per client system. Then the likes of Ninja RMM and SolarWinds RMM prefer to proceed with custom quotes based on your needs.
With Site24x7, however, at least you get to choose the features and pricing you want from a set of priced plans. In particular, its MSP package starts at $45 per month for 50 websites or servers.
Now, the best thing about all these paid RMM tools is they come with adequate technical assistance. You'll find that customer support is readily offered across several contact channels. What's more, some of their enterprise packages even provide dedicated support agents and specialized onboarding.
Then, while you use the software, you don't have to worry about maintaining its tools. The software vendor takes care of all the core resources and infrastructure.
Further reading Top Paid Remote Monitoring and Management Tools for MSP
Overview of the 3 Top Open-Source RMM Software Solutions
ITarian RMM
Formerly known as Comodo One RMM, ITarian is a remote tracking and IT management suite that helps MSPs link up with their clients' networks to conduct operations management, troubleshooting, system monitoring, and file control.
In addition to that, the software facilitates secure resource and document access through role-based permissions plus user groups.
And, speaking of security, ITarian RMM has also proven to be quite a reliable solution when it comes to patch management. You can use it to not only analyze operating systems, but install the accompanying updates as well. It's also possible to automatically deploy resources, implement audit logs, and control remote devices across different geographical locations.
If you're particularly keen on tracking your clients' networks, you'll be pleased to know that ITarian is further capable of automatically monitoring the status of devices, plus the corresponding active services and performance levels. You also get to explore files and folders, as well as copy and paste content between remotely networked machines.
Additionally, when clients raise queries, you can count on ITarian to automatically assign their tickets to your support agents. All you need to do is set your own task-handling rules by creating a custom workflow, and then leave the software to implement everything.
OpenNMS
Just as the name suggests, OpenNMS is indeed an open-source system that specializes in enterprise-grade network monitoring and management. "NMS" here stands for "network management system". And yes, it's completely free of charge.
Make no mistake about it, though. Although OpenNMS publicly reveals its code as open-source software, it's actually a commercial solution that's duly copyrighted.
Then, get this. OpenNMS comes in two versions: a free one, known as OpenNMS Horizon, plus a paid package called OpenNMS Meridian. Fortunately, though, there are no huge feature differences between the two. Meridian is only priced because it comes with specialized technical support. Otherwise, you should be comfortable with the Horizon version.
The software itself is built to give you well-rounded network management capabilities. It packs tools for service monitoring, performance measurement, device provisioning, and event management. Hence, you should be able to keep all your clients' core processes running, track their overall network performance, control all their linked endpoint devices, and perhaps define the accompanying system events.
OpenRSM
OpenRSM is yet another renowned open-source RMM software solution, but with a core that fundamentally focuses on remote asset management and network monitoring. "RSM" in this case stands for "remote systems management", which sums up the three core modules offered by the software:
Remote Desktop control.
Network monitoring.
Asset management.
Collectively, the modules facilitate tasks like status reporting, user credential management, path distribution, server configuration, software delivery, and system auditing. All of these can be deployed on both Linux and Windows operating systems, from where the system will proceed to power remote agent-based management.
Another impressive thing about OpenRSM is its ability to bypass even virtualized resources. That means that if your clients are running virtual machine instances, you can count on this software to see through everything and query the underlying operating systems and hardware.
Unfortunately, however, OpenRSM isn't the simplest open-source RMM software. Beginners are bound to experience difficulties learning the ropes. But then again, on the flip side, technically skilled users are sure to enjoy the extensive customization freedom the platform offers. It is, without doubt, one of the most flexible open-source RMM software solutions on the market.
Then Remember...
For the best-possible client experience, your best bet would be combining RMM software with a remote-assistance tool. This will help you interact with your clients in real time while attending to their issues.
Well, I'm not the one to brag, but MSP360 Connect happens to be a great solution in that segment. MSPs love it because:
It comes with an incredibly intuitive interface.
It's easy to install and use.
It securely accesses both desktops and servers.
It's perfectly optimized for real-time customer support through text and voice messages.