MSP360 Managed Backup Console Overview
This guide will overview MSP360 Managed Backup Web console, each of its tabs, most popular features, and tips and tricks.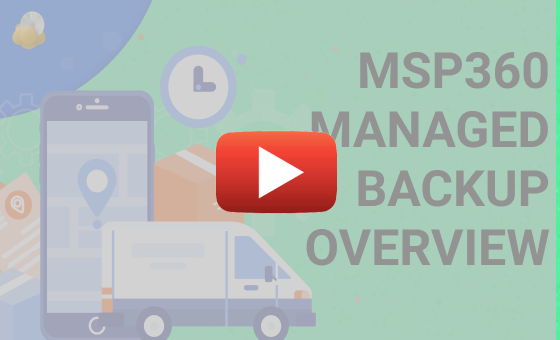 Dashboard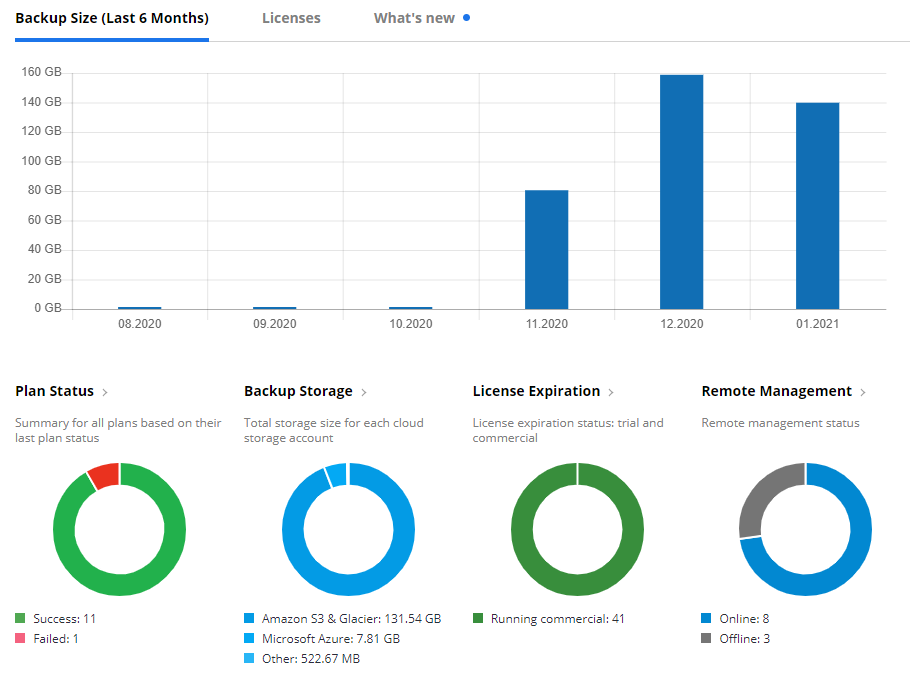 Dashboard is the home section of the Managed Backup Web console. It shows the size of your backup datasets over the last 6 months, pie charts of your current backup plans, your most-used storage, active licenses, and available endpoints for remote management.
It will also show you information about new versions of MSP360 Backup and other product news.
Storage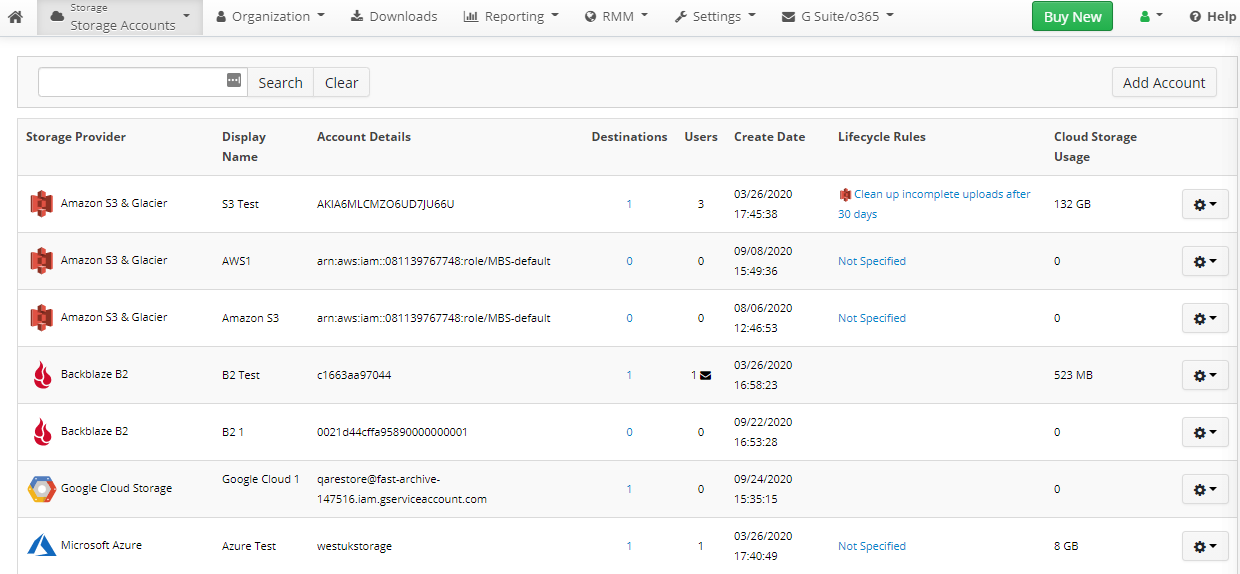 The Storage tab allows you to manage your storage accounts and storage limits. The storage limits functionality was introduced for resellers and we do not recommend you to use it if you are running as an MSP.
When you first enter the storage account tab, you will be asked to add the cloud or local storage you are planning to use. To do that, click one of the storage solutions and follow the "Add Cloud Storage Wizard".
If you are not sure which storage you should choose or how to add specific storage, don't hesitate to contact our pre-sales team for instructions.
Organization
In the Organization tab, you can create and manage profiles for the users and companies you work with, assign licenses, see purchase history, and create administrators to ease the management of your managed backup solution.
MSP360 Managed Backup user management is hierarchical and consists of three main entities:
endpoints - desktops or servers with installed backup software
users - which can aggregate a number of endpoints
companies - which can aggregate a number of users
Note that you can experiment with the user/company structure and adjust it to your workflow. For example, you can create just two users - one for your desktops and one for your servers - and not use companies at all. Alternatively, you can try a more classical approach: one company per client.
Users Tab
Let's begin with the first section - Users. Here's an overview of tips and tricks relating to creating a user:
When creating a user, disable sending email instructions, unless you want your users to do their own setup.
It is not necessary to set, remember, and enter the user's initial password to the backup software. This can be done remotely from the Remote Management section of the RMM tab.
To simplify license management, it is advisable to accept the default settings and allow users to activate licenses from the "Global Pool".
Licenses and Purchase History Tabs
Let's move to the Licenses section. Here you can buy, activate, and release licenses from your users.
The Purchase History is pretty self-explanatory, so let's skip it and move to the Companies tab. This section represents a list of all the companies you work with, including their names, the number of users, licenses, and backup destinations, types of licenses, and storage usage limits. You can set custom options for each company, which will be applied to all users that are allocated to that company.
Administrators Tab
The Administrators section allows you to create entities with granular access to MSP360 Web portal functions. These accounts cannot be used on the endpoint devices.
For example, if you have dedicated support staff who manage the given client, create an administrator for those staff, with access to the Remote Management and Backup History tabs, and lock the admin account to the client's company.
If you have an accountant, you can create another administrator account with access to the Licensing and Purchase History tabs.
MSP360 Managed Backup.
Simple. Reliable.
Powerful cross-platform backup and disaster recovery that leverages the public cloud to enable a comprehensive data protection strategy.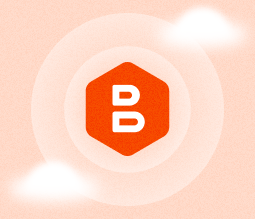 Downloads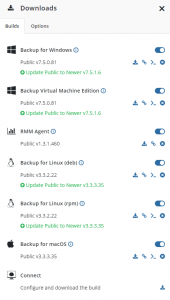 The Downloads tab allows you to download software packages, in order to install them on the endpoints.
When you click "Downloads" from the drop-down menu, you will see a slide-in at the right-hand side of the screen, with a list of the builds for different systems. You should first enable the needed build and then click the Download Build button.
Note: When a new version of the MSP360 Backup software is released, you will be notified about this in the Information section of the MSP360 MBS home page and in the Downloads section. To update the endpoint software, you should click the appropriate option in Downloads to make the newest edition of the software a public one. If you choose the "Allow automatic update" option, your endpoints will be updated to the latest version simultaneously with the start of any backup plan.
The last section, Audit Log, keeps a history of your operations within the console.
Reporting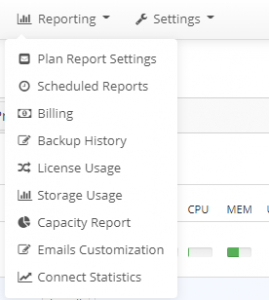 The Reporting tab gives you an overview of various aspects of your MSP360 Managed Backup usage and allows you to create and customize related reports.
The tab Plan Report Settings allows you to customize your per plan backup and recovery notifications.
Note, that the backup and recovery Plan Reports should be set up in the tab Settings, section Notifications for all companies or they can be managed on a per company basis in the tab Organization, section Companies. Simply edit the settings of the needed company in the sections Backup Notifications and Restore Notifications.
This feature works well for a small number of users and endpoints. If you have more than ten machines, we'd recommend using scheduled reports instead.
Scheduled Report is a flexible feature that allows you to create group reports about backup and recovery plans, licensing, storage usage, and backup history.
Please note that the MBS console uses the UTC time zone by default. To change this, please go to the Settings / General tab.
Other tabs in the Reporting section are pretty self-explanatory. Keep in mind that in the Capacity Report tab you can click any of the storage accounts to see more detailed info on usage per storage account.
Remote Management

The Remote Management and Monitoring tab is the heart of the MSP360 Managed Backup console. It allows you to see the status of your existing backup plans, set up new ones and remotely connect to the users' endpoints when needed.
The Monitoring / History section stores information about all the backup and restore plans.
The Remote Management section gives you the ability to create, modify, and delete backup and restore plans of your choice. It's the main place to see all the endpoints under your management. Here, you can also find additional information about each endpoint, including disk space, and CPU and memory usage.
The other nice feature of the Remote Management section is the ability to connect remotely to each of your endpoints. This feature is called MSP360 Connect (Formerly Remote Desktop), and it is extremely useful in solving your customers' issues.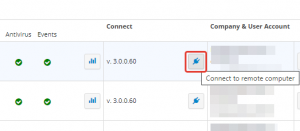 Remote Access
MSP360 Connect allows you to access the users' computers without visiting these users in person.
To allow remote access, you should first go to the tab Settings, section General and click the Enable Remote Access for all Computers options.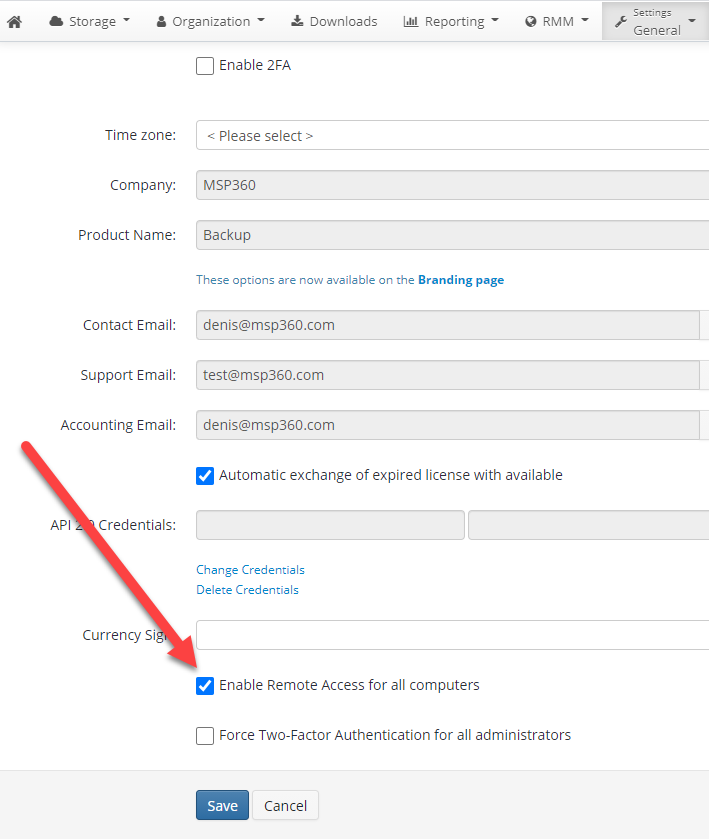 After that, you should install the Connect tool. It can be enabled through the Downloads tab. Click the Download build option and download Connect for Windows to be able to control other computers. After that, you should create installation packages for your clients. To do that, click the Remote Computers Installation button and create the package with the needed options. Once you're done, click the Generate Installation Script button and proceed with installing the solution on your users' machines.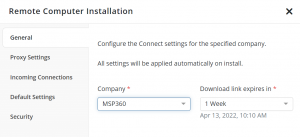 Another way is to install Connect automatically in the Remote Management section. To do that, click the plug button near the name of the endpoint you want to connect to. With Connect, you can get full access to a computer, send files to or from this computer, and talk to a user to get a detailed explanation of an issue.
Settings
In the Settings tab, you can edit general information, switch time zones, modify security settings, set up backup and recovery plan notifications, and configure integrations with the most popular RMM solutions on the market.
We strongly recommend enabling two-factor authentication in the General section. Another helpful security feature, IP Allowlisting, can be enabled under the corresponding tab.
Additionally, here you can create your own branding to personalize your services for the endpoint users. This can be done in the Branding section.
G Suite/O365
MSP360 Managed Backup allows you to back up the cloud email environments of your customers, including the most popular solutions: Google G Suite and Microsoft Office 365. The backup is capable of Mailbox, SharePoint / Google Drive backup, and item-level backup and recovery, and can be licensed per account.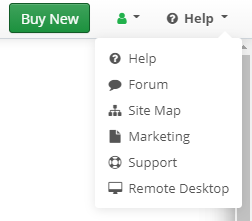 If you still have any questions, visit our Web help section or the forum, or feel free to contact our pre-sales team. They will gladly guide and instruct you with any setting or setup feature that you might have a problem with.