MSP360 Connect (Formerly Remote Desktop) Essential Features
MSP360 Connect (formerly MSP360 Managed Remote Desktop) is a handy solution with various features that makes your remote working processes easier while providing a high degree of safety. With this, you can get access to any services on your customer's computer, chat or talk with a user to fully understand an issue, and send or receive files.MSP360 Connect Managed is integrated into Managed Backup Service, and this all-in-one solution helps you to address most of the customer's needs in the field of IT services.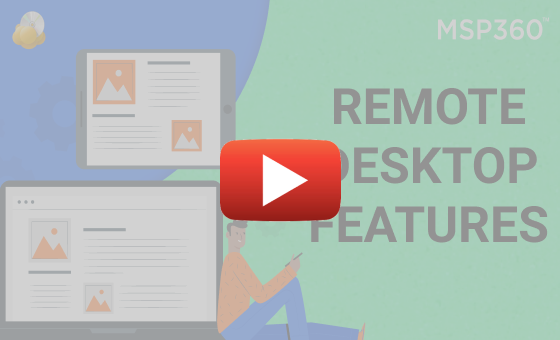 Setting Up Connection
To use MSP360 Connect, you'll need to enter your Managed Backup Service console. Then, proceed to the RMM/Remote Management tab to see a list of all your computers. Choose the one you need to connect to and click the plug icon near it.       

Accept the offer to launch the MSP360 Connect solution. You'll see a new window that will show the connection status. If your custom password is set, you will be prompted to type it.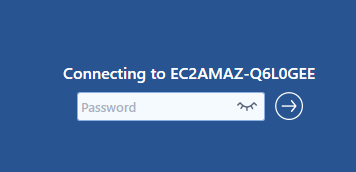 If the user's computer has a password, you'll need to enter this as well. Here is how the main window looks before authentication.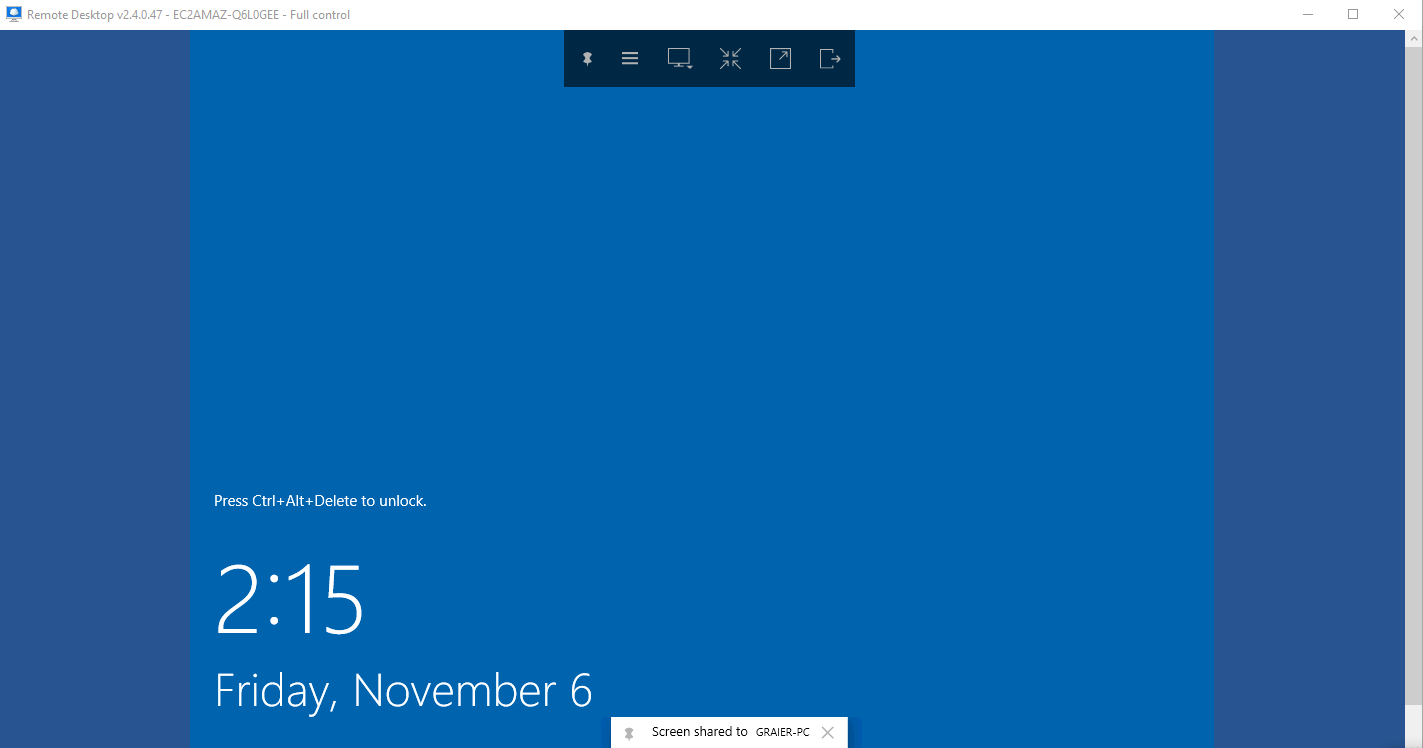 At the top, you can see your own menu – that is, an administrators' menu. At the bottom, there is a users' menu, but at this point, they can't do anything except breaking the connection. You have many more options, going from left to right:
Auto Hide. Hides this menu, leaving just a minimized part of it. This becomes useful later when you're working on the issue.
Menu. Here, you can unlock the user's computer, change some options, and email our support.
The next two icons are viewing options: select a monitor or change a whole view.
The last one disconnects you from the user's PC.
So, to start working, send Ctrl-Alt-Del to the user's system using the menu icon and enter the user's system password, if needed.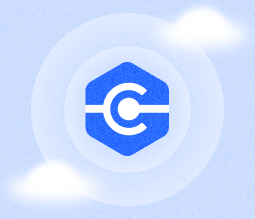 Features Overview
On the remote screen, you'll see the user's desktop with all its shortcuts and open programs. This is your main working window, where you'll be able to help users with their issues. In this step, both control panels extend their functionality.
User Options
The user panel is the white one at the bottom. If you don't like it there, drag it to another part of the screen.

There are several options available. Menu (the first icon) contains all of them: the ones you can see on the panel and some others, such as session recording (to capture the screen during the session), or Diagnostic, which a user can click to contact our support.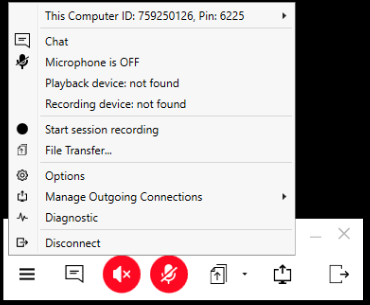 The next icon is for chatting; a user (or you, since you have all the controls) can initiate a chat so that they can explain the problem to you.

You'll get a message on your own screen.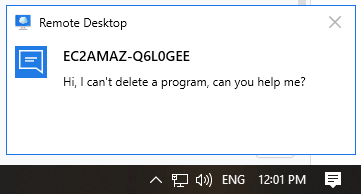 Two icons to the right of the chat icon can be used for voice communication. The next one is for file transfer; if you want to send any file from the user's computer to yours, click File Transfer to open the transfer interface.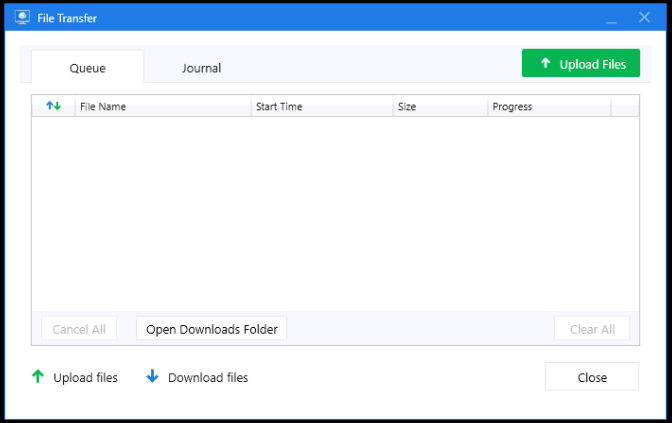 Upload files from the user's machine and download them from yours using the same icon on the administrator's panel.
The next option is Manage Outgoing Connection – with this, you can use the computer you're connecting to as a bridge to another computer, for example, in a local network.
Administrator Preferences
Some functions from this panel are similar to those of the user. From this panel, you can initiate a chat or voice dialog, send a file, or start to record the session. Apart from the preferences that we've described above, here you can change some additional options: show a cursor to the user if you're explaining something or get information about their computer.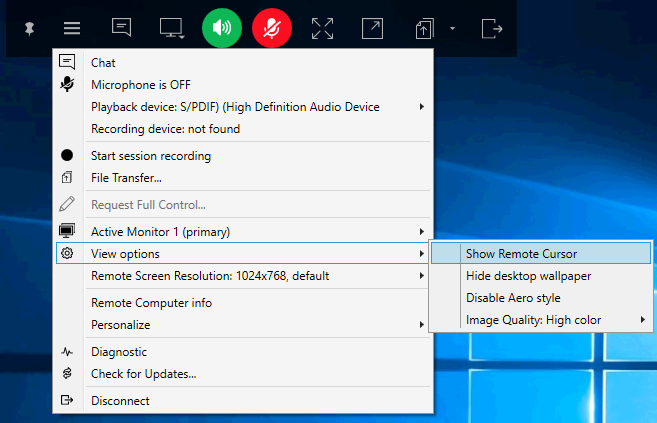 In this step, you can do anything with the user's computer: install or delete programs, run the command line, run antivirus, and many more. All you need is the Internet connection and your MSP360 Connect service.
MSP360 Connect is a multifunctional solution that can help you in managing most of your users' IT issues. It is easy to use, stable, fast, and safe; with the options of file transfer, talking, and recording a session, you won't need any additional software. MSP360 Connect is a complex solution that can address any problem that doesn't require you to be at the user's office in person.