Enabling Remote Access in Your MSP360 Backup Panel
When you're solving users' problems as an MSP, there's often no necessity to go to them in person. Many issues can be addressed remotely – much more quickly and cheaply. All you need in this case is an appropriate solution for remote access, such as MSP360 Connect (formerly MSP360 Managed Remote Desktop).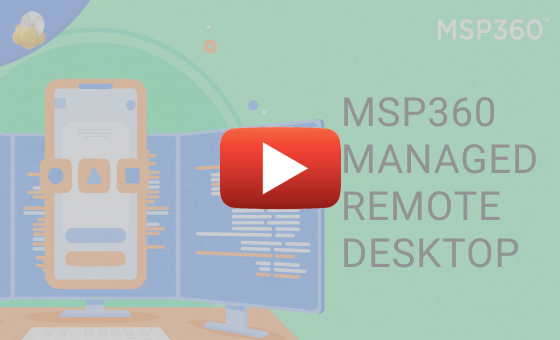 MSP360 Connect allows you to monitor the computers of all the users and companies you support and connect to these computers when needed. Currently, MSP360 Connect users can access Windows PCs from any computer or mobile device – that includes Windows, macOS, iOS and Android.
In this article, we'll describe how to install the solution on your PC and your customers' computers. Also, we'll cover monitoring with usage statistics.
How to Enable Remote Access for all Сomputers
MSP360 Connect should be installed on every PC you're going to work with; this solution needs a two-way connection.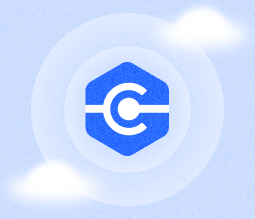 Before setup, in the Settings tab, click General, scroll down and make sure the checkbox Enable Remote Access for all computers is marked. If not, mark it and hit Save. This will allow you to work with other computers remotely. You can also skip this step and proceed to the installation; the solution will remind you to enable this option during your first remote connection.
How to install MSP360 Connect on the Main Computer
Now, get the solution for your PC. Go to Downloads and click the Download Build button near the Connect.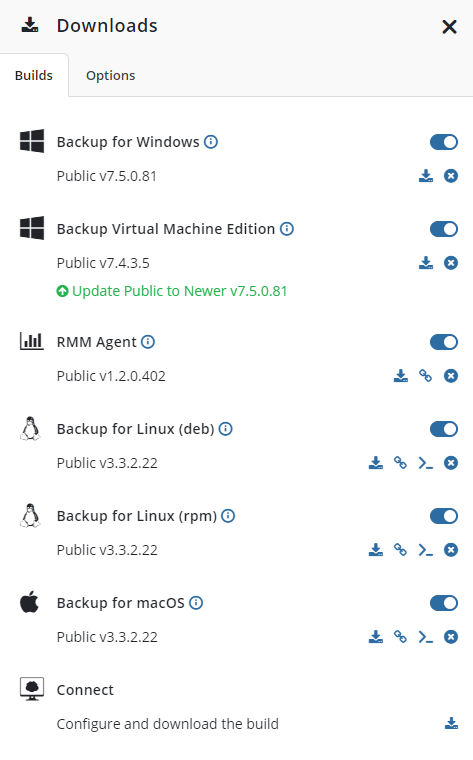 A slide-in will open:
Connect from - to install the agent on your computer to control others
Connect to - to install the agent on your clients' computers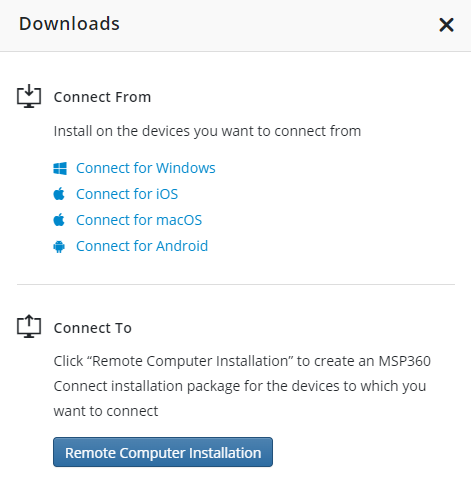 Then, in the Connect to section, hit Connect for Windows. The download will start automatically. This installation file is for your main computer - the one you're going to use to control other machines. After it downloads, find the file in your Downloads folder and double-click it. The wizard will guide you through the process of installation.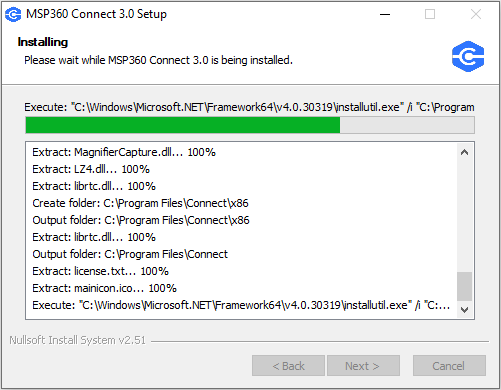 Once the installation is finished, you are ready to proceed to the next step.
How to Install the Solution on Target Computers
Now it's time to set up MSP360 Connect for your customers' PCs.
After you've installed the solution for yourself, don't close the page. In the Connect to section, click Remote Computer Installation. Here, you can generate a build for one of the companies you work with and install it on the relevant computers. Please note that this build will fit this company only.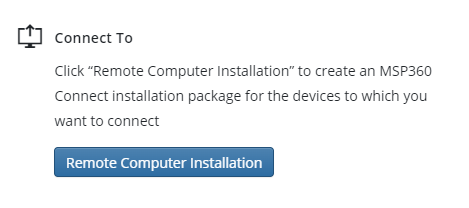 The expiration date is the date when your build will become inactive. By default, it works for a week.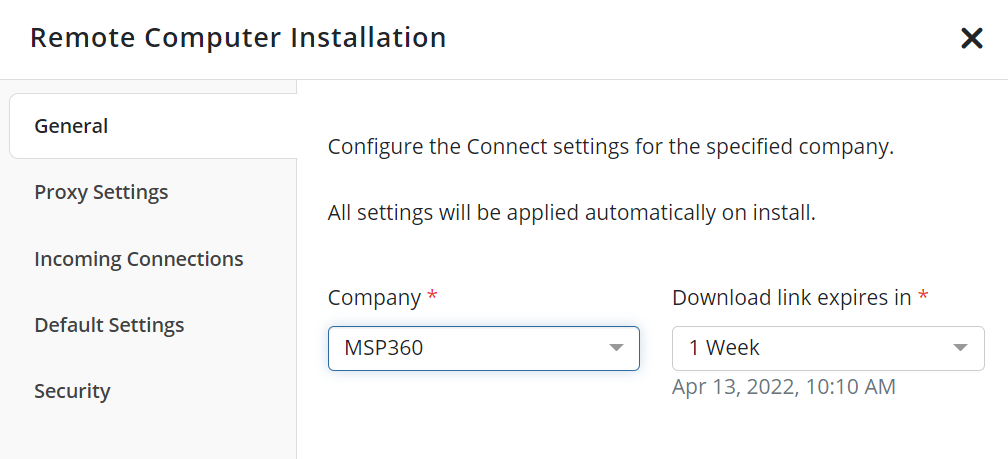 If the company uses a proxy server, define its settings in the Proxy Settings tab.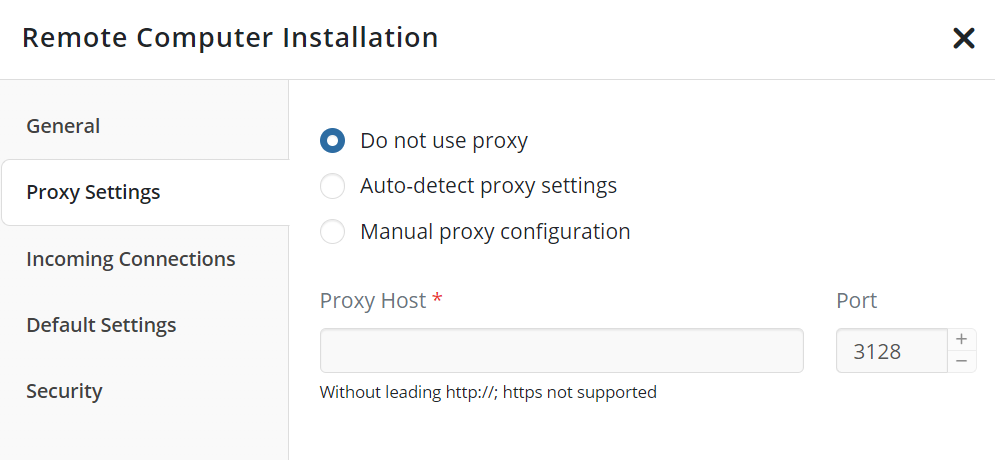 Use the Incoming Connections section to specify the connection parameters.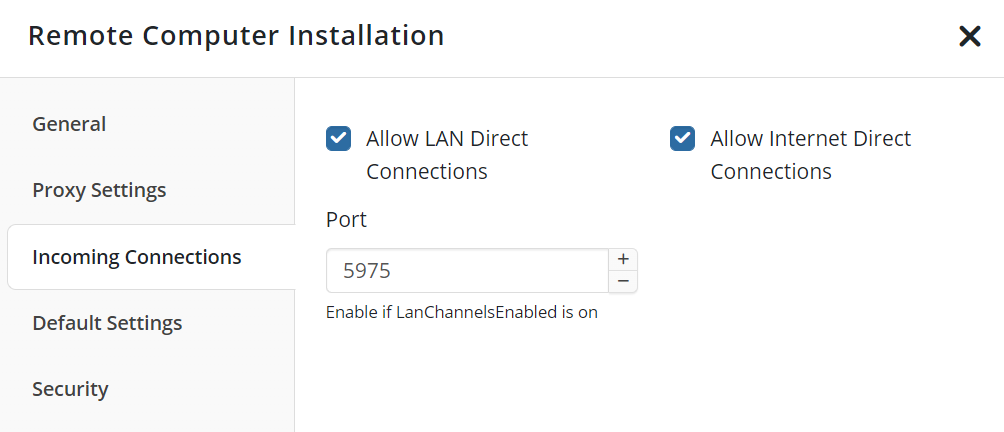 The Default settings tab contains keyboard shortcuts, sound, and tray options.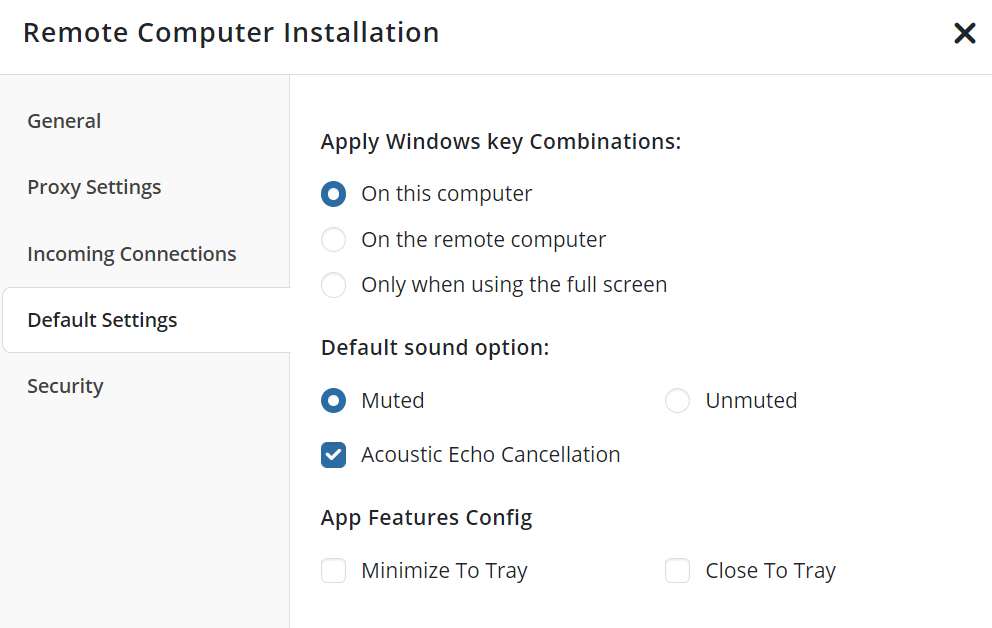 In the Security tab you can set the PIN length and its frequency of change, and specify that unattended access should be permitted only with a custom password.
You can also restrict outgoing connections, as well as access to configuration and the GUI, if needed.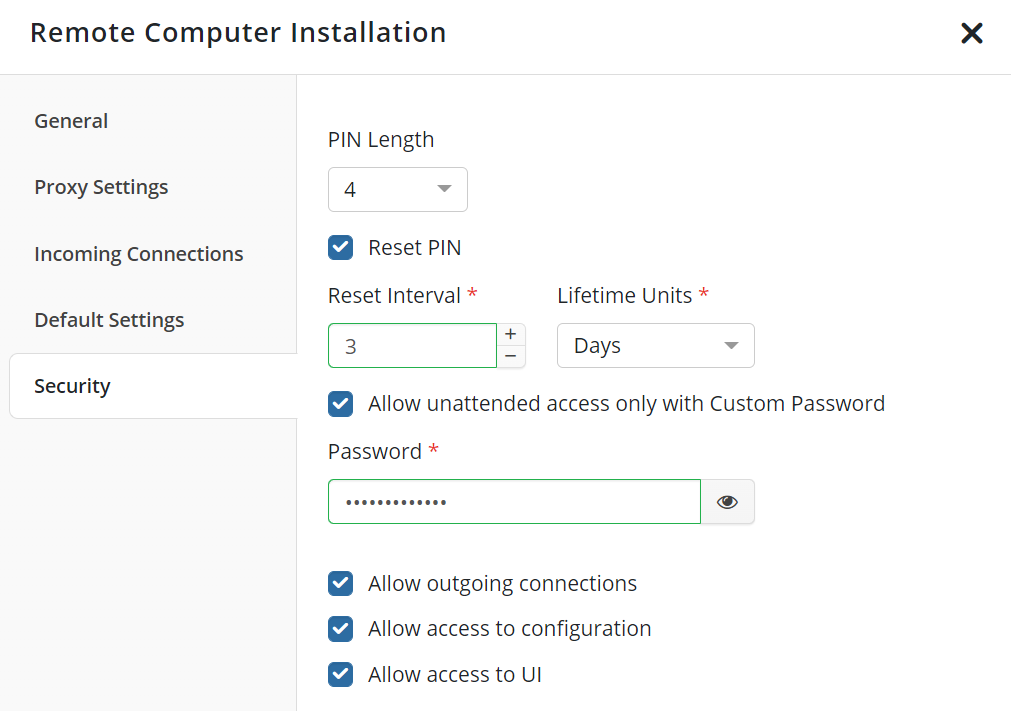 After you've set everything, click Generate Installation Script at the bottom. You'll get two options for applying your preconfigured build: the URL and the command line script that should be used with the installation file. The first one is for your customers; they will be able to download the build version for their company. The second one is used mostly for bulk installation – for instance, with an RMM solution.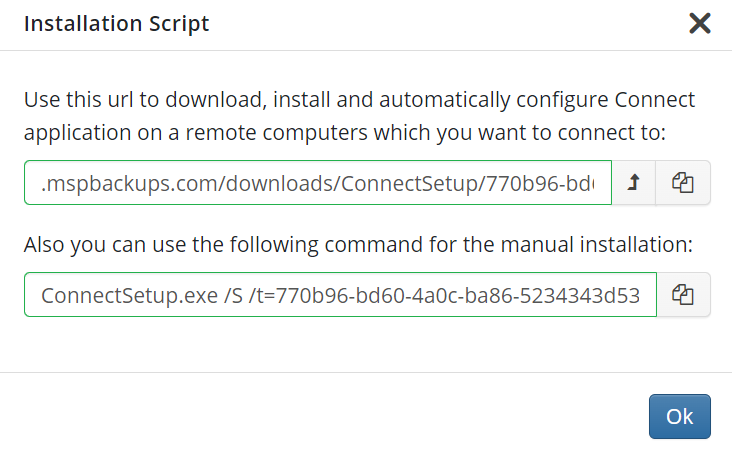 When your customers receive the URL, they should copy and paste it into the address line of their browser and press Enter. The download will start automatically.
MSP360 Connect Usage Statistics
The usage statistics help you to track all your connections and check their duration. It can be useful for analytics. For example, if you want to calculate your expenses, you will always know how many man-hours were spent on an issue. To check this information, proceed to Reporting / Connect Statistics. Here, you can see:
The administrator responsible for the remote session
The client's company
The client's computer
The start of the session
Session duration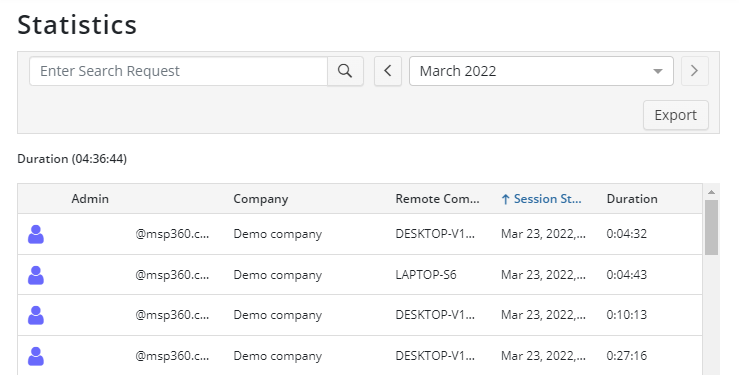 Also, you can sort this information by date.
As you can see, there's nothing difficult in the installation of MSP360 Connect. If you have any questions, please contact us.